ECB Said to Raise ELA Limit for Greek Banks by 700 Million Euros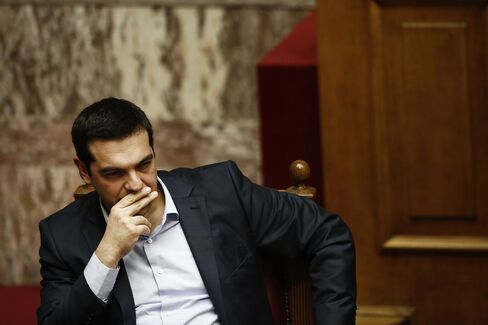 The European Central Bank approved an increase in the emergency funds available to Greek lenders that was smaller than the amount granted last week, two people familiar with the decision said.
At a meeting in Frankfurt on Wednesday, the Governing Council raised the cap on Emergency Liquidity Assistance provided by the Bank of Greece by 700 million euros ($754 million), the people said, asking not to be named because the decision is confidential. An ECB spokesman declined to comment.
As customers withdraw deposits on concern the Greek government is heading for a debt default and a banking crisis, the ECB is ensuring the country's lenders have sufficient liquidity to operate. At the same time, it's keeping them on a tight rein to prevent them from financing the state and so breaching European Union law.
Net withdrawals from Greek banks slowed to 3 billion euros in March, bringing outflows since October to almost 28 billion euros, according to officials familiar with the matter. The Governing Council is assessing ELA weekly and last Wednesday granted an increase of just over 1 billion euros, the most in a month. That took the overall amount to just over 71 billion euros.
Euro-area finance-ministry deputies held a teleconference on Wednesday to discuss Greece's proposals for meeting the conditions for further aid payments. They pledged to press ahead with efforts to release the funds after progress in recent days, according to a Greek Finance Ministry official.
Greek Prime Minister Alexis Tsipras, who is resisting demands for austerity measures, has said the ECB is treating his government unfairly, and unsuccessfully lobbied the central bank's regulatory arm to be allowed to sell more short-term debt to the country's banks. The regulator last month banned Greek banks from increasing their sovereign exposure.
Before it's here, it's on the Bloomberg Terminal.
LEARN MORE