Daimler Board to Extend CEO Zetsche's Contract Through 2019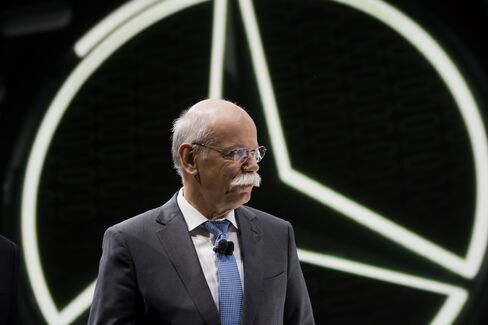 Daimler AG's supervisory board plans to prolong Chief Executive Officer Dieter Zetsche's contract through 2019 as he leads a drive by the world's third-biggest luxury-car maker to regain the industry's top sales ranking.
"Based on our point of view today, it's the unanimous intention of the board to extend Mr. Zetsche's contract for another three years" when it convenes in early 2016, Chairman Manfred Bischoff told investors Wednesday at the annual shareholders meeting in Berlin. Zetsche's term as CEO expires at the end of next year.
Zetsche, 61, has vowed to return Daimler's Mercedes-Benz car brand to the No. 1 spot in global luxury-car sales that it lost to BMW in 2005. Volkswagen AG's Audi division has been the second-biggest manufacturer of premium cars since 2011. In China, where Zetsche is pursuing expansion to tap into vehicle-market growth that's outpacing demand elsewhere, Audi ranks first in deliveries of luxury autos, while BMW is second.
Mercedes outlined a goal on Wednesday to add four all-new models in the first seven months of 2015. The nameplate is expanding its lineup with the 500,000-euro ($538,000) Pullman version of the S-Class sedan, the $129,000 GT sports car and the CLA Shooting Brake wagon, its fifth compact model. Zetsche is targeting significant gains in revenue and profit this year.
Chrysler Background
A member of the management board at Stuttgart, Germany-based Daimler since 1998, Zetsche led U.S. carmaker Chrysler, a division of the German company at the time, from 2000 to 2005. Zetsche became head of the Mercedes-Benz car division in September 2005 and succeeded Juergen Schrempp as Daimler CEO three months later.
The works council will back a new term for Zetsche because "we see the company on a good path," Michael Brecht, the head of the labor-representative body and vice chairman of Daimler's supervisory board, said in a statement. "To stay on course, the company needs continuity at the top."
Daimler rose as much as 0.9 percent to 90.57 euros and was trading up 0.6 percent at 1:16 p.m. in Frankfurt, reversing a decline earlier in the day. The stock has gained 31 percent this year, valuing the manufacturer at 96.5 billion euros.
A three-year contract extension would be the second for Zetsche, who's still seeking to lift profitability at Mercedes-Benz Cars to levels of competitors. In 2012, He indefinitely postponed a deadline for generating operating margins of 10 percent of sales at the unit, which also includes the Smart city-car brand. The target was originally supposed to be reached in 2010.
The CEO outlined a medium-term goal today for a return on sales of 9 percent at Daimler's vehicle-manufacturing businesses and reiterated the car division's profitability target. The company is also the world's biggest maker of heavy trucks.
Before it's here, it's on the Bloomberg Terminal.
LEARN MORE