China Enters Stock Frenzy as Rookie Traders Open Record Accounts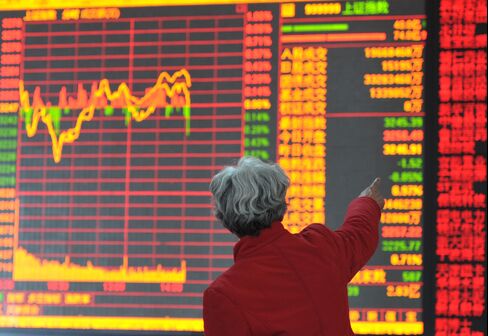 To get a sense of the frenzy in China's world-beating equity market, consider this: In a two-week span last month, the rally lured 2.8 million rookie stock pickers, almost the equivalent of Chicago's entire population.
The number of new equity accounts surged to a record during the two weeks ended March 27, five times the average of the past year, data from China Securities Depository and Clearing Co. showed on Tuesday. About 4 million were opened in March, enough for every person in Los Angeles. More than two-thirds of new investors have never attended or graduated from high school, according to a survey by China's Southwestern University of Finance and Economics.
Signs of inexperienced investors' growing influence on the $6.5 trillion market have already shown up in the outperformance of China's equivalent of penny stocks and a jump in share-price volatility to the highest level in five years. While fresh capital may feed market momentum as the government steps up efforts to support economic growth, foreign money managers have been selling shares on concern the gains are overdone.
"A lot of speculative money has come into the market," Michael Wang, a strategist at hedge fund Amiya Capital LLP, said by phone from London. The rally "is not fundamentally driven. It's much more of a flow-driven phenomenon," he said.
The Shanghai Composite Index advanced 16 percent in the first quarter, extending its gain since the end of June to 83 percent, the most among the world's major stock indexes. The gauge rose 1.7 percent to the highest level since March 2008 at the close on Wednesday. The $1.2 billion Deutsche X-trackers Harvest CSI 300 China A-Shares ETF rose 2.1 percent to $42.53 at 9:46 a.m. in New York.
Monetary Stimulus
Chinese shares climbed to seven-year highs on Monday as the government lowered the downpayment requirement for second-home buyers, the latest step to boost the economy following two interest-rate cuts since November. Central bank chief Zhou Xiaochuan signaled on Sunday that further stimulus may be on the way, saying growth has tumbled "a bit" too fast.
Individual investors, who account for about 80 percent of China's stock trading, are flocking to equities as slumping home prices and government curbs on wealth-management products make alternative investments less attractive.
More than 10 million stock accounts have been opened since the start of December, equivalent to the total number for all of 2012 and 2013 combined. About 37 percent of the new investors were middle-school graduates and 25 percent only attended elementary schools, according to a December survey of some 4,000 households by the Southwestern University of Finance and Economics in Chengdu, Sichuan Province.
Euphoria Signs
Stocks in China's large-capitalization CSI 300 Index that were quoted below 5 yuan (81 cents) at the end of September -- shares that have long held an allure for amateurs -- jumped an average 63 percent through mid-January, versus a 35 percent gain for all index stocks and 11 percent for those priced above 50 yuan. The gauge's 200-day historical volatility has climbed to the highest level since January 2010.
Bank of America Corp. downgraded its recommendation on Chinese shares to the equivalent of hold from buy last month, citing signs of "euphoria." Overseas investors sold a net 1.7 billion yuan ($274 million) of stocks via the Shanghai-Hong Kong exchange link in the week through Monday, while the two biggest Hong Kong ETFs tracking mainland equities had withdrawals of $622 million.
While the momentum can carry on for a while as individual investors chase the gains, the stock market is increasingly diverging from economic reality, said Tom Orlik, a Bloomberg Intelligence economist in Beijing.
No Bubble
China's expansion rate slowed to 6.28 percent in February from a year earlier, the weakest since 2009 and below the official target of 7 percent for 2015, Bloomberg's monthly growth tracker shows. Dual-listed mainland companies traded 36 percent above their equivalent shares in Hong Kong on March 26, the biggest premium since October 2011, according to data compiled by Bloomberg.
Stock ownership by individuals is still low, with room to increase as China becomes a more mature market, said Michelle Gibley, the director of international research at San Francisco-based Charles Schwab Corp.
Equities account for 20 percent of financial assets in Chinese households, compared with 45 percent in cash and bank deposits, according to a Charles Schwab survey released in January.
"Chinese domestic investors entering the stock market may be chasing gains, but this occurrence doesn't necessarily indicate a bubble," said Gibley, whose firm oversees about $2.5 trillion. "That said, valuations of Chinese A-share stocks appear extended relative to H-share stocks, and may be due for a breather."
Chinese traders are accustomed to booms and busts, partly because the market is dominated by individuals who may be less committed to long-term equity holdings. The Shanghai Composite surged 353 percent in two years through 2007 before crashing 65 percent the following year.
For as long as new investors keep piling in, "it will be good for the market as the bubble expands," Tony Hann, the head of emerging markets at Blackfriars Asset Management Ltd. in London, said by e-mail. "But it will surely end in tears."
Before it's here, it's on the Bloomberg Terminal.
LEARN MORE