'Furious' With $1.37 Billion Profit Helps Universal Chase Record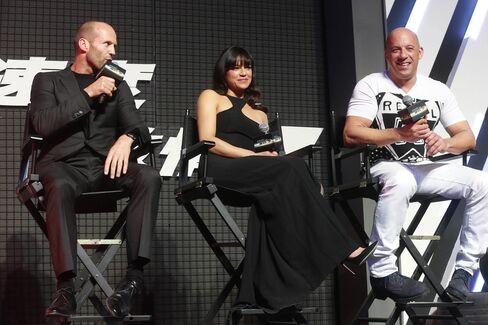 The "Fast & Furious" franchise, thrown into doubt after the death of actor Paul Walker, has emerged stronger than ever as Universal Pictures plans more in a series that's so far earned an estimated profit of $1.37 billion.
"Furious 7" may collect $119 million in ticket sales in its opening weekend and $283 million in its entire theater run in the U.S. and Canada, according to BoxOffice.com. That would make it the richest "Fast & Furious" ever, a rare feat for a franchise that's more than a decade old.
"To be seven movies deep and for it to be the most successful tells me there is a lot of potential to keep going," said Phil Contrino, Boxoffice.com's chief analyst.
Universal may make at least three more "Furious" movies, according to Donna Langley, chairman of the Comcast Corp.-owned studio. The first six recorded $2.38 billion in global ticket sales, based on data from researcher Box Office Mojo.
Now "Furious 7" will help Universal in the race for the top spot in what will likely be the domestic box office's biggest year in history. The studio has the third largest market share so far this year, behind Time Warner Inc.'s Warner Bros. and 21st Century Fox Inc.'s film unit.
Last year was the most profitable Universal's film unit has had, according to Philadelphia-based Comcast, with $711 million in operating cash flow, a measure of earnings. The studio's already scored this year with "Fifty Shades of Grey," and still to come are the potential blockbusters "Jurassic World" and "Minions." Matthew Harrigan, an analyst at Wunderlich Securities Inc., said 2015 operating cash flow could be $846 million.
'Multi-Picture Arcs'
Walker died at age 40 in November 2013 when the Porsche Carrera GT his business partner, Roger Rodas, was driving slammed into a light post and a tree in Valencia, California. Rodas was also killed. "Furious 7" was in the midst of filming and was completed with computer generated imagery and Walker's two brothers helping finish the late actor's scenes. He'd played Brian O'Conner, one of the protagonists, since the series' start.
Universal's Langley said in a November interview with the Hollywood Reporter that there were at least three more films to make. While the studio hasn't discussed details, the next episode is set in New York, actor Vin Diesel told talk-show host Jimmy Kimmel.
"You can be certain that the loss of the Paul Walker character will set the course for the next three films, and the audience will be right there with them," said Jeff Gomez, chief executive officer of the consulting firm Starlight Runner Entertainment. "They are now following multi-picture arcs, similar to what we're seeing in 'Star Wars.'"
The first film, "The Fast and the Furious" in 2001, cost $38 million to make, according to Box Office Mojo. The production budget for "Furious 7" was $190 million, according to a studio official who asked not to be named because the figure isn't public.
Mr. Nobody
Wade Holden, an analyst with SNL Kagan, said he determined the profitability of the first six was $1.37 billion using public information and his own estimates on production and marketing costs and revenue from ticket sales, video-on-demand fees and other sources. (In the U.S., studios split income from ticket sales with movie theaters.)
The fifth and six films generated $396 million and $421.7 million in profit, respectively, Holden estimates. "Furious 7" could be even more lucrative, though the larger budget "may weigh down net profit to some extent," he said.
"Fast & Furious 6" cost $160 million, according to Box Office Mojo.
Kori Bernards, a spokeswoman for Universal, declined to comment on the SNL estimates.
"Furious 7" was filmed in locations including Abu Dhabi, Canada and Georgia and directed by James Wan, whose recent hits include "The Conjuring" and "Insidious."
Diesel reprises the role of Dominic Toretto, and also co-produced the installment. Other returning actors include Michelle Rodriguez, Dwayne Johnson and Tyrese Gibson. Djimon Hounsou, of "Gladiator" fame, is new to the franchise, as a terrorist called Jakarde; another newcomer is Kurt Russell, playing a shady government official called Mr. Nobody.
'Impossibly Infectious'
Diesel told the trade publication Variety that the new "Furious" should win the best-picture Oscar, "unless the Oscars don't want to be relevant ever."
The plot revolves around Toretto and his crew discovering that Deckard Shaw, played by Jason Statham, is seeking revenge for the death of his brother in the previous installment.
"The 'Fast & Furious' saga is growing up and maturing and offering aspects that you might not have ever imagined in such an explosive action film," Diesel says in a extended trailer.
He also talks about the relationships the actors have on and off the screen; Diesel named his new baby daughter Pauline in honor of his friend Walker. "That sense of family that exists in the film actually bleeds off screen," he says in the trailer, "and the whole world gets to feel a part of that."
Film critics have generally praised the movie, which will be on 4,003 screens in the U.S. and Canada. It's garnered 85 percent positive reviews, according to the aggregator Rottentomatoes.com.
"The face-to-face punch-ups are a lot more fun, the Statham-Johnson smackdown resembles nothing more than two shaved pitbulls in a tumble dryer and the sheer sense of ludicrous, punch-the-air joie de vivre is impossibly infectious," Tom Huddleston wrote in a review for Time Out.
"Furious 7" will sell more-opening weekend tickets than any other movie so far this year and will also overtake "Captain America: Winter Soldier" as film with the biggest opening ever in April, Contrino said. He said foreign tickets sales are likely to surpass the $550 million recorded by "Furious 6."
Before it's here, it's on the Bloomberg Terminal.
LEARN MORE