Saudi Coalition Hits Houthi Stronghold as Aden Battle Rages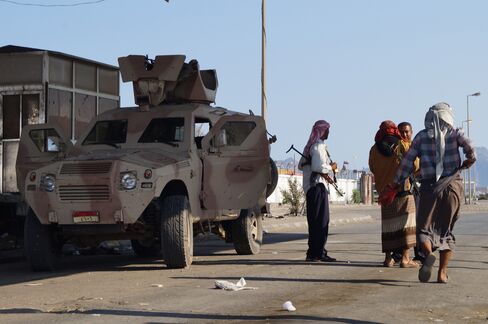 An alliance of Sunni-led nations bombed Yemeni rebels in their northern stronghold, while in the south the insurgents fought into the center of the port city of Aden.
Houthis fighters entered Aden's Khour Maksar district, where there are foreign consulates and government institutions, after fierce clashes, Nabil al-Salemi, a local resident, said by telephone. The fighting there on Wednesday killed eight rebels, five fighters loyal to Hadi and six civilians, al-Khader al-Aswar, director of the health ministry office in Aden, the Yemen government's last stronghold, said by phone.
Saudi Arabia has assembled a coalition of Sunni Muslim countries to carry out airstrikes against the Houthis and restore President Abdurabuh Mansur Hadi to power. Yemen's conflict has escalated the regional rivalry between Saudi Arabia and Iran, which has ties to the rebels, and created new turmoil in the oil-rich region, already wracked by war in Syria and Iraq.
Saudi-led coalition airstrikes have destroyed all Houthi ballistic missiles and airpower, Ahmed Asseri, a Saudi military officer and spokesman for the Gulf-led coalition, said at a news conference in Riyadh. The allies are creating a united ground command center, he said.
Coalition warships shelled Houthi positions at the Aden airport, Saleh Salem, a resident, said by telephone. Airstrikes killed six Houthi rebels, including officers, late Tuesday at the port city of Midi near the border with Saudi Arabia, Al-Masirah reported.
Key Waterway
On Tuesday, the Houthis took over the Bab el-Mandeb base, near the major commercial waterway of the same name.
The rebels have formed an alliance with former President Ali Abdullah Saleh, who still commands the loyalty of parts of the army.
Human rights organizations condemned the mounting civilian casualties from the airstrikes, which began last week. At least 93 have been killed and 364 wounded, according to the United Nations. An attack on a dairy factory Tuesday killed 20, Houthi-controlled Saba news agency reported.
"The situation in Yemen is extremely alarming, with dozens of civilians killed over the past four days," Zeid Ra'ad Al Hussein, the UN High Commissioner for Human Rights, said in a statement Tuesday. "The country seems to be on the verge of total collapse."
Hospitals, schools and infrastructure have been destroyed, and airports and electricity supplies have been targeted in the air strikes, Al Hussein said. Ahmed Asseri, a Saudi military officer and spokesman for the coalition, said coalition forces are coordinating to support and provide relief to Yemenis.
Before it's here, it's on the Bloomberg Terminal.
LEARN MORE