Putin Seizes on Armenia Dispute to Buttress Iron Curtain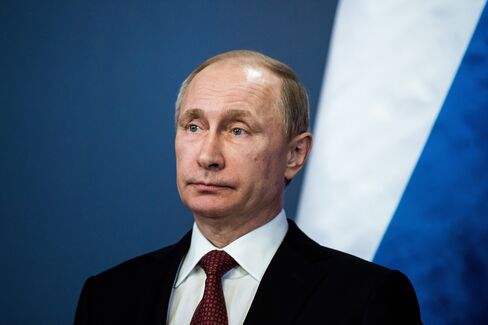 Turkey's closed border with Armenia is a final remnant of the Iron Curtain. It may also be the first building block of a new cold war border taking shape across former Soviet satellites.
Russian President Vladimir Putin will arrive in Yerevan in April to mark the 100th anniversary of Armenian massacres during World War I, his spokesman said Monday. He will also be asserting Russia's dominant position in a country that was wooed by the West yet chose to join the Eurasian Economic Union, the Kremlin's rival to the European Union.
Armenia's decision in January was a victory for Putin after losing sway in Georgia, which signed an association agreement with the EU in 2013, and war-torn Ukraine. Yet the deal runs the risk of further isolation for Armenia under Russia's protectorship, according to Alev Kilic, head of the Ankara-based Center for Eurasian Studies.
"While Ukraine turned its face toward the West at the risk of civil war, Armenia without any power was forced to bow to Putin," Kilic said. The closed borders with Turkey and nearby Azerbaijan mean that without Russian support, "life in Armenia would come to a standstill."
As part of the Eurasian Economic Union, Armenia has entered into a free trade zone with other members while agreeing to a common customs regime that's seen its duties to rise in line with Russia's. With the Russian economy struggling amid low oil prices and sanctions, the expected stimulus from joining the Eurasian Economic Union has not materialized. Armenia's foreign trade declined 28 percent in February, according to the state statistics service. Remittances sent home from Armenians working in Russia have declined more than 10 percent on a year earlier to about $1.5 billion.
Turkish Border
The Turkish-Armenian border was a former front line between NATO and the Soviet Union. Putin's determination to keep Western influence out of what he considers Russia's backyard in the Caucasus was a factor in tensions that led to war with Georgia over South Ossetia and Abkhazia in 2008.
Apart from a brief period after the Soviet collapse, Turkey has kept its Armenian border closed since April 3, 1993, as a gesture of support for Azerbaijan in its conflict with Armenia over the enclave of Nagorno-Karabakh.
The dispute has left Armenians with access to the outside world only through Iran to the south and Georgia in the north.
Russia is the country's largest single trading partner, with total trade of 1.27 billion euros ($1.36 billion) in 2013, according to a European Commission report, although the EU as a whole is its largest market.
Russian Business
A 2013 energy deal handed the Armenian government's 20 percent stake in ArmRusGazProm, the country's main gas supplier, to Russia's Gazprom, which already owned the remaining 80 percent, in return for a reduction in prices.
Two of the three mobile phone companies serving Armenia are Russian-owned, Gazprom controls the country's gas pipelines, Russian Railways its rail tracks, and Inter Rao UES owns 100 percent of Armenia's electrical grid.
While joining the economic bloc reflects Armenia's dependency on Russia, it may dim prospects of resolving the country's longstanding disputes with Turkey and Azerbaijan.
Chances of opening Turkey's border with Armenia are "worse than they were in 2010," when a brief thaw between the countries led to discussions about re-establishing diplomatic ties, according to Tom de Waal, senior associate at the Carnegie Endowment for International Peace in Washington.
Turkey's imports from Armenia fell to $1.5 million in 2014 from $2.6 million in 2010, according to Turkey's state statistics institute. Turkey exported no goods to Armenia last year, it said. An air link between the countries is operating.
Genocide Dispute
Tensions between the countries date back to the breakup of the Ottoman empire during World War I, when the Turkish authorities' decision to expel Armenians from their homes led to mass killings. Armenia says 1.5 million died in actions that amounted to genocide, a charge Turkey rejects.
The unresolved conflict in Nagorno-Karabakh led Azerbaijan to broker a $10 billion deal with Turkey and Georgia for the Trans Caucasus Anatolian gas pipeline to Europe - even though a much shorter route would cross Armenia. Turkey is also building a new highway and rail-link to Azerbaijan that bypass the country.
"We have no hostility toward anyone, but it is our duty to defend the rights of our brothers and ask the price of their blood and suffering," Turkish President Recep Tayyip Erdogan said March 17 in Kars, in reference to Azerbaijan, with which Turkey shares linguistic and cultural affinities.
Armenia took over Nagorno-Karabakh, a mountainous enclave made up of mostly ethnic Armenians, from Azerbaijan in a war after the Soviet Union's collapse in 1991. About 30,000 people died and 1.2 million were displaced before Russia brokered a cease-fire in 1994. Armenia has a mutual defense pact with Russia that ensures the presence of a 4,000-strong Russian military base in Gyumri until 2044.
Putin's Choice
Relations between Turkey and Armenia hit a new low as the centenary of the Armenian massacres approaches this April. Erdogan turned down an invitation from Armenian President Serzh Sargsyan to attend commemorations in Yerevan and moved a ceremony marking the 1915 Gallipoli battle to the same day.
Putin was invited to both events but chose to travel to Armenia.
"It serves Russia's interests to see Armenia's border closed," Tevan Poghosyan, a member of the opposition Heritage party in the Armenian parliament, said by phone. Armenia's entry into the Eurasian Union was linked to the standoff between Russia and the West because "Russia wants to show that the EU's Eastern Partnership program failed," he said.
Before it's here, it's on the Bloomberg Terminal.
LEARN MORE