The Saudis Are Losing Their Lock on Asian Oil Sales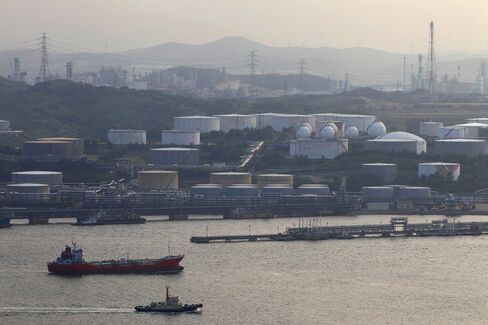 Ships carrying oil from Mexico docked in South Korea this year for the first time in more than two decades as the global fight for market share intensifies.
Latin American producers are providing increasing amounts of heavy crude to bargain-hungry Asian refiners in a challenge to Saudi Arabia, the world's largest exporter and the region's dominant supplier.
"By diversifying, more Asian refiners will be able to reduce the clout that Saudi Arabia has on the market," said Suresh Sivanandam, a refining and chemical analyst with Wood Mackenzie Ltd. in Singapore. "They will be getting more bargaining power for sure."
The U.S., enjoying a surge of light oil from shale formations, has raised imports of heavy grades from Canada, displacing crude from nations such as Mexico and Venezuela. That's boosting South American deliveries to Asia even after Saudi Arabia cut prices for March oil sales to the region, its largest market, to the lowest in at least 14 years.
The shale boom also has transformed the flow of oil to Asia. South Korea received its first shipment of Alaskan crude in at least eight years as output from Texas and North Dakota displaces oil that fed U.S. refineries for years. The country was one of the first to receive a cargo of the ultralight U.S. crude known as condensate after export rules were eased.
Brazilian Shipments
Petroleo Brasileiro SA and partner operators are also shipping to Asia and were scheduled to load nine tankers bound for the region in March, according to Energy Aspects Ltd., as Latin American oil's discount to Middle East benchmark Dubai widens to almost double the average of the past year.
Asian-Pacific refiners are forecast to add 5.4 million barrels a day of capacity in the next five years, according to Gaffney, Cline & Associates, a petroleum consultant. Many of the new plants are being built to process cheaper oils to increase margins, raising demand for heavier crudes from Latin America, said Ehsan Ul-Haq, a consultant with KBC Energy Economics in London.
Saudi Arabian Oil Co. declined to comment.
The state oil company, known as Saudi Aramco, shipped 53.8 percent of its 2013 oil exports to Asia, according to the company's latest annual report. It may be keeping more heavy oil for its new Yanbu and Jubail refineries, according to Ul-Haq and Sivanandam. Once Yanbu is fully operational this year the two plants will have a combined capacity of 800,000 barrels a day.
Less Heavy
"There is less and less heavy crude coming from Saudi Arabia," said Ul-Haq. "They are using more and more of it in their own refineries."
Latin American crude exports to Northeast Asia are increasing, analysts including Erik Nikolai Stavseth at Oslo-based Arctic Securities ASA said in a March 12 note. Crude shipments to China in March are estimated at as much as 6.8 million barrels a day, up from "strong" February deliveries of 6.69 million, the analysts wrote, citing industry sources.
South Korea's imports from Colombia, Ecuador and Bolivia surged to about 8 million barrels last year from just 329,000 in 2013, according to data from state-run Korea National Oil Corp.
Petroleos Mexicanos, the national oil producer, sold its Isthmus light crude in February to Asian buyers at $7.85 a barrel below the average of the benchmark Oman and Dubai grades. That was the biggest discount since at least 1995, data compiled by Bloomberg show. The discount for its Maya heavy grade in January was the most in six years.
Chinese Demand
West Texas Intermediate for May delivery rose $2.49 to $50.09 a barrel Wednesday on the New York Mercantile Exchange. Brent advanced $1.99 to $57.10.
China Petroleum and Chemical Corp.'s Yangzi refinery in the country's east processed Brazil's Lula oil for the first time on March 15, the company said on its website on March 30.
Hyundai Oilbank Co., which operates the Daesan refinery in South Korea, ordered at least four shiploads of oil from Mexico for delivery this year.
Essar Oil Ltd., which operates a 400,000-barrels-a-day refinery in western India, gets about 35 percent of its crude from Latin America, Chief Executive Officer Lalit Kumar Gupta said by phone March 12 from Mumbai.
Essar and Mumbai-based Reliance Industries Ltd. are among Indian refiners who started importing Talam, a Mexican heavy crude, this year, according to tanker-tracking data compiled by Bloomberg.
Asia will account for two-thirds of the increase in global oil demand this year, according to the Paris-based International Energy Agency, which advises 29 nations. Daily consumption of 31.2 million barrels will take the region above the Americas at 31.1 million barrels.
Latin American producers are seeking to diversify and capture some of that Asian growth, said Victor Shum, a Singapore-based vice president at IHS Inc. "They want to get a slice of the market," he said.
Before it's here, it's on the Bloomberg Terminal.
LEARN MORE