Vietnam Labor Unrest Over Pension Change Spreads to Second Plant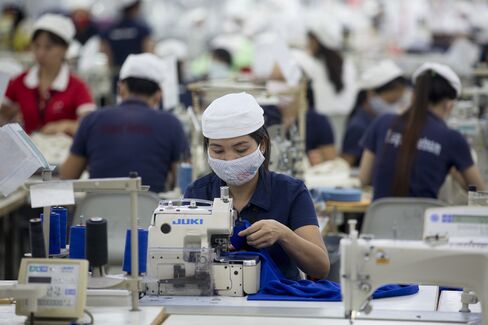 A strike over the Vietnamese government's pension rule change has spread to a second factory as the protest enters a sixth day.
Employees at a unit of Taiwanese footwear manufacturer Pou Chen Corp. in Tien Giang province were on strike, joining the several thousand workers outside the same company's Ho Chi Minh City factory, some blocking a highway that leads into the complex. As many as 90,000 of the Ho Chi Minh City workers went on strike last week, VnExpress reported.
The new pension rules will stop many workers from being eligible for lump-sum social insurance payments when they leave a company, delaying payouts until they retire. Workers have said they are concerned the money may not be there in the future. Vietnam's Communist government restricts large, unsanctioned gatherings.
"We will continue to strike," Le Van Tin, 30, said outside the plant gate in a suburban district of Ho Chi Minh City this afternoon. "Our company does not support us. It just calls us to get back to work."
On Wednesday, workers crowded the Ho Chi Minh City factory complex, chanting and unfurling banners as police with batons stood by. The company blared a recorded message beckoning workers to return to the assembly lines.
At about noon, hundreds of workers blocked an eight-lane highway near the factory as police ordered them to disperse and redirected traffic away from the highway.
'Speak Out'
"The workers want to raise their voices and speak out on this government policy," Serena Liu, chairwoman of the Council of Taiwanese Chamber of Commerce in Vietnam, said by phone. "They feel this is the only way they can do it. It's not about working conditions."
Pou Chen shares rose 3 percent at the close in Taipei, rebounding from a 6.9 percent slump on Tuesday.
Workers at the Ho Chi Minh City facility said they make footwear for Nike Inc. and other companies, while Nike denied sourcing from the factories affected.
All of the workers at the factory in the southern province of Tien Giang went on strike, Le Thanh Tien, deputy chairwoman of Tien Giang Labor Union, said by phone today. She declined to say when the strike began or give the number of workers involved. Calls to Pou Chin's unit Du Duc Co. went unanswered.
Pou Chen called on the Vietnamese government to provide assurances to workers on the social insurance issue, spokesman Amos Ho said by phone. The work stoppage, which began March 26, may cause some production delays, he said.
No Impact
Pou Chen manufactures shoes for Nike and Converse, according to its website. "There has been no impact to Nike or Converse production at contract factories in Vietnam," Nike said in the statement. "We are aware of the situation and will continue to monitor."
The Vietnamese government pledged to prevent more labor unrest after workers damaged foreign factories following China's placement of an oil rig in contested waters off Vietnam's coast last year.
The labor ministry is in talks with the shoe-factory workers and has ordered government agencies across the country to explain the purpose of the new policy, which goes into effect in 2016, to head off further protests.
The strike occurred after officials from Ho Chi Minh City's social insurance office met with factory workers to inform them about the new pension law, Doan Mau Diep, deputy labor minister, said by phone today.
Law Change
The change in the law is designed to encourage workers to save more money for retirement by not allowing them to withdraw their pension contributions before they retire, Diep said. Under the current law, workers are permitted to withdraw money from their pensions with a penalty that reduces future government retirement payments, he said.
Because of the strike, the ministry is considering amending the law that goes into effect next year to give workers the option of receiving their pension as a lump sum when they leave a company or after they retire, he said.
"Given this incident, we will have to carefully look into ways to improve our communications to avoid something like this from happening again," Diep said.
Most strikes in Vietnam are focused on the practices of a company rather than the government. More than 100 Vietnam Airlines Corp. pilots called in sick at the start of 2015 amid discontentment over salaries. Last May, two people died during anti-Chinese protests at foreign factories. More 1,000 workers at Levi Strauss & Co.'s factory in northern province of Ninh Binh engaged in a three-day strike in November 2013 to demand better working conditions.
Before it's here, it's on the Bloomberg Terminal.
LEARN MORE