Scramble for Women Directors as Indian Companies Miss Deadline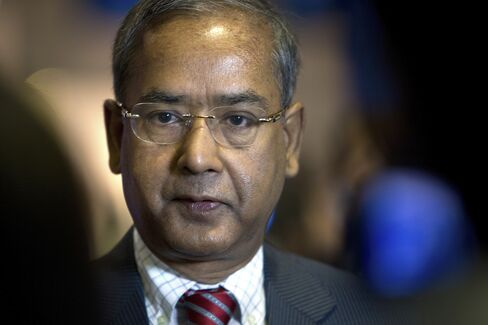 India's publicly traded companies scrambled to comply with an order requiring at least one woman director on their boards, with almost 17 percent of the available positions still to be filled when the deadline ended Tuesday.
About 28 companies in the S&P BSE 200 index lagged behind in following the directive, Pranav Haldea, managing director at PRIME Database, said by e-mail. Of the 1,478 slots to be filled in listed companies, 247 were vacant, he said. That's a drop from 526 on Feb. 3, he said.
With the passing of the new Companies Act of 2013, India's lawmakers sought to tighten corporate governance norms by making it mandatory for firms to hire women directors. Failure may invite "very serious" consequences, U.K. Sinha, chairman of Securities and Exchange Board of India, said in Mumbai on Monday. The regulator had extended the deadline by six months.
"There has been a massive rush in the past few weeks to appoint women directors," said Kalpana Unadkat, a partner at Mumbai-based law firm Khaitan & Co.
The law seeks to ensure more female oversight on running of companies in the Asian nation, which according to the 2011 census, is battling the worst sex ratio since independence in 1947. The world's largest democracy is rated below Guatemala and Nigeria for efficacy of its corporate boards in the latest rankings by the World Economic Forum.
Hero MotoCorp Ltd., India's biggest motorcycle maker, appointed Shobana Kamineni to its board on Friday, according to an exchange filing. Kamineni is the co-vice chairman of Apollo Hospitals Enterprise Ltd.
Shameful Attitude
Punita Kumar-Sinha, managing partner at Pacific Paradigm Advisors, joined the board of Hexaware Technologies Ltd. starting Thursday, according to a filing. Essar Oil Ltd. said Tuesday it hired Rugmani Shankar.
"It is shameful that so many companies are not able to find competent women for their boards," SEBI's Sinha said at a conference. "This attitude needs to be condemned."
A 2007 study by McKinsey & Co. had found that European companies with women in senior management reported higher return on equity, better earnings and steeper stock-price gains than their peers.
A study of 556 firms published in December 2012 by American Accounting Association's journal 'Accounting Horizons' found that U.S companies run by boards with even one female director were 38 percent less likely to restate financial results due to errors or fraud.
"Recognizing, nurturing and growing the talent pool takes time," said Khaitan's Unadkat. "Companies need to make the extra effort to train women and graduate to the board level."
Before it's here, it's on the Bloomberg Terminal.
LEARN MORE