Etsy Seeks Up to $1.78 Billion Value as Artisan Site Readies IPO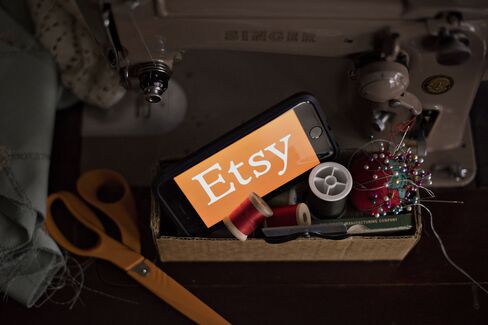 Etsy Inc. is seeking a valuation as high as $1.78 billion as the website for handmade and vintage goods hits the road to market its initial public offering.
The company and existing stockholders intend to sell 16.7 million shares for $14 to $16 apiece, according to a regulatory filing Tuesday. The high end of that range implies an IPO of $267 million and a valuation of $1.78 billion, based on about 111 million shares outstanding.
Today's terms allow Etsy to hit the road and convince fund managers to invest in the site, which offers unique items such as personalized pen holders and organic shaving cream. After the IPO, Brooklyn-based Etsy plans to expand its business globally, enhance services offered to sellers, boost marketing, and develop the manufacturing options, according to the filing.
The company, which was co-founded by Robert Kalin as a place to sell his wooden computers, is seeking a valuation at a premium to its e-commerce peers. Etsy is seeking as much as 9.1 times 2014 sales of $195.6 million, data compiled by Bloomberg show. That compares with about 1.4 times at Zulily Inc., which runs a shopping website targeted at moms, and online furniture retailer Wayfair Inc.'s 2 times.
B Corp.
Etsy makes revenue from commissions and listing fees charged to sellers, as well as other services. While sales last year surged 56 percent, losses widened to $15.2 million. Etsy's captured a loyal following: 78 percent of transactions in 2014 were conducted by repeat purchases.
The company had 1.4 million active sellers and nearly 20 million active buyers last year, its prospectus showed. The sellers generated $1.93 billion in volume, with 36 percent conducted by mobile over that period.
Etsy became a B Corporation in 2012, a certification encouraging the company to consider the impact of its decisions on employees, suppliers, consumers, the community, environment - - and shareholders. The company plans to donate $300,000 of the proceeds from the IPO to Etsy.org, a non-profit for educating women and under-represented groups how to build businesses.
Goldman Sachs Group Inc., Morgan Stanley and Allen & Co. are managing Etsy's offering.
The company plans to list its shares on the Nasdaq Stock Market under the symbol ETSY.