China's Big Stock Market Rally Is Being Fueled by High-School Dropouts
Everyone is a trader now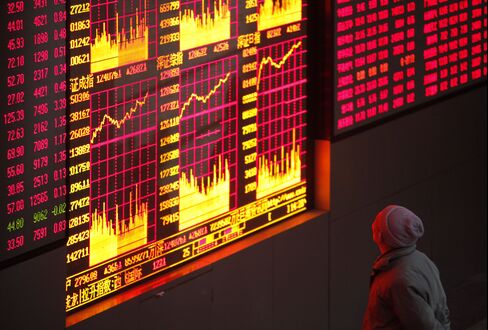 There's a story that Joseph Kennedy sold his stocks on the cusp of the Great Crash of 1929 after a shoe shine boy shared trading tips with him. If even the shoe polisher is buying stocks, he reasoned, the market must be riding for a fall.
New data from the China Household Finance Survey, a large-scale survey of household income and assets headed by Professor Li Gan of Southwestern University of Finance and Economics, provides fresh insights into who has been driving the recent rally in China's markets. It is not reassuring.
Gan's survey, which was conducted at the end of 2014 and covers some 4,000 households across the country, finds that the biggest new investors in China's equity markets have below a high school education and relatively low levels of asset ownership.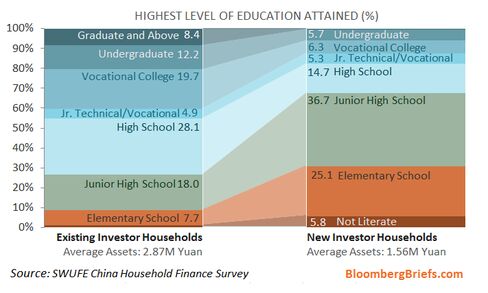 More than two thirds of new equity investors exited the education system by middle school — which in China means around the age of 15. More than 30 percent exited at age 12 or below. Household wealth for new investors is about half the level of existing investors.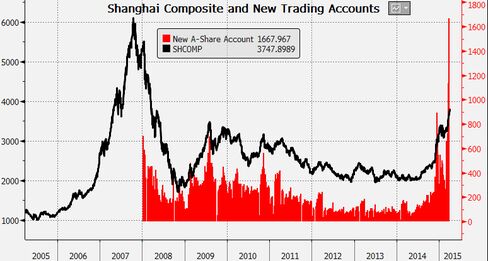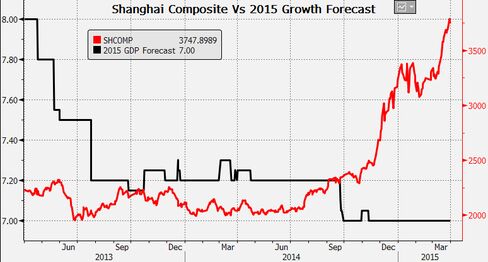 There was already strong evidence that the 78 percent surge in China's equity markets in the past year was driven by momentum rather than fundamentals. New trading accounts and trading volumes have soared. Expectations on growth and profits have not.
The new survey data adds to the impression of a rally fueled by inexperienced retail investors. That doesn't mean it can't be sustained. China has a large population with a substantial volume of savings and limited alternative investment options. It does mean that the trajectory of China's markets will be unpredictable, and prone to sudden reversals as sentiment shifts.
The survey also highlights the growing appeal of equities relative to the slumping property sector. For survey participants with multiple homes, expectations on share prices are markedly higher than expectations on property. That adds to the evidence that the speculators who were a major driver of property demand are now steering clear.
In theory, a shift away from investment in property toward equities is a positive development. China's property sector is already oversupplied. As central bank governor Zhou Xiaochaun has said, rising equity markets make it easier for firms to raise funds. In practice, an unsustainable rally where retail investors get burned would do no one any favors.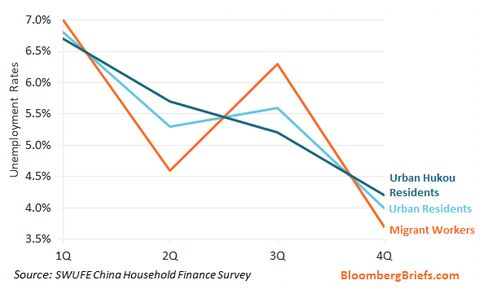 The survey has better news on labor markets. The results show unemployment at 4 percent in the fourth quarter, down from 5.6 percent in the third. The pronounced drop likely reflects seasonal effects or surveying issues. Seeing through that, the headline assessment that unemployment is low.
At the National People's Congress, Premier Li Keqiang promised additional stimulus if the slowdown in growth started to dent employment. The latest evidence suggests that condition has not yet been met.
This post is courtesy of Bloomberg Intelligence Economics.
Before it's here, it's on the Bloomberg Terminal.
LEARN MORE