Nigeria's President-Elect Buhari Says Change Has Come to Nation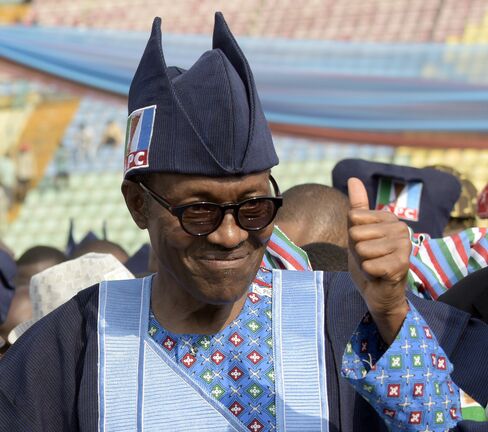 Nigeria's incoming President Muhammadu Buhari said the nation has voted for change in an election that marks the first peaceful shift in power since the end of colonial rule in 1960.
"You voted for change and now change has come," Buhari, 72, said in his first speech on Wednesday since winning the March 28-29 presidential election with 52.4 percent of the votes cast. He defeated incumbent Goodluck Jonathan, who received 43.7 percent support.
The election in Africa's biggest economy and largest oil producer was declared relatively free and peaceful by domestic and international observers. Jonathan conceded defeat hours before the official results were announced by the electoral commission, reducing the threat of post-election violence that's marred votes in the past.
"The good people of Nigeria answered the call of history," Buhari said. "When the account of this fine moment is written, it will be said that it was the people themselves who led this nation to democracy."
Buhari, a northern Muslim who heads the All Progressives Congress, faces the tasks of ending a six-year-old war against the Islamist militant group Boko Haram that's killed more than 13,000 people and restoring investor confidence in an economy that's reeling from a 50 percent drop in the price of oil, its main export, since June.
Nigerian stocks rose the most since September 2010 and bonds rallied with investors encouraged by the peaceful handover of power. The all-share index jumped 8.3 percent to 34,385.81 by 11:24 a.m. on Wednesday in Lagos, the commercial capital.
Bond Yields
Yields on the nation's $500 million of dollar bonds due July 2023 fell 19 basis points to 6.02 percent.
Jonathan's People's Democratic Party has governed Nigeria since the end of military rule in 1999.
"It's a massive, massive democratic revolution for Nigeria," Clement Nwankwo, executive director of the Policy and Legal Advocacy Center, which monitored the election, said by phone from Abuja. "It's a boost to accountability, to the power of the people to bring a government to account through the ballots."
In the northeastern city of Maiduguri, the birthplace of Boko Haram, young people spilled into streets where they danced, played music, honked car horns and chanted "only Buhari" in the Hausa language. Rowdy celebrations were also staged in several other northern cities and Abuja.
Retired General
"We are putting our feet on the first rung of the ladder of democracy," Folarin Gbadebo-Smith, managing director of the Center for Public Policy Alternatives in Lagos, the commercial capital, said by phone. "We have been able to change a government that did not meet our expectations."
A retired major general who lost three previous elections, Buhari has led Nigeria before, when he overthrew a democratically elected government on Dec. 31, 1983. He built a reputation among his backers as a ruler who cracked down on corruption and crime before being ousted by the army 20 months later.
His detractors say his government was remembered for human rights abuses, with hundreds of politicians, businessmen and journalists jailed.
"No one truly knows what it will look like under a democratic system," Manji Cheto, a London-based vice-president at consultancy Teneo Intelligence, said by phone. "He has a reputation of incorruptibility in a country where this attribute is believed to be a rarity for individuals occupying top positions."
Weak Naira
During the campaign, Buhari pledged to clamp down on corruption, boost average annual growth to 10 percent and create at least 1 million jobs a year.
The decline in the price of oil, source of 90 percent of the West African nation's foreign-exchange income and more than two-thirds of government revenue, will reduce the economic growth rate to 4.8 percent this year from 6.1 percent in 2014, the International Monetary Fund said in a report Monday.
The naira has weakened 18 percent against the dollar in the past six months, the steepest drop of 24 African currencies tracked by Bloomberg. It was trading at 199.20 per dollar as of 11:27 a.m. in Lagos on Wednesday.
Nigeria is ranked 136 of 175 countries in Transparency International's 2014 Corruption Perceptions Index, on par with Russia and Iran.
Fitch Ratings cut Nigeria's credit-rating outlook to negative on Monday, citing the drop in oil prices and the tight election contest, while affirming the country's BB- rating, three steps below investment grade.
Buhari extended his friendship to Jonathan, saying he will work with the incumbent to ensure a smooth transition to a new administration. Jonathan's tenure ends on May 29.
"President Jonathan engaged in a spirited campaign and was a worthy opponent," Buhari said. "He will receive nothing but understanding, cooperation and respect from me and my team."
Before it's here, it's on the Bloomberg Terminal.
LEARN MORE