U.S. Consumers Are Saving at Highest Rate Since 2012
Households are opting to save instead of spend, even though they're benefiting from a better job market and cheaper gas prices
A booming job market and cheaper fill-ups at the gas pump should be giving millions of Americans more reasons to spend. Instead, they're salting away the extra savings.
The saving rate jumped in February to 5.8 percent, the highest since December 2012 and up from 4.4 percent just three months earlier, government data showed Monday.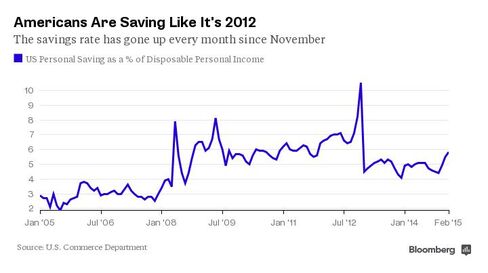 The equation is simple: Incomes, boosted last month by a surge in dividends, grew faster than purchases.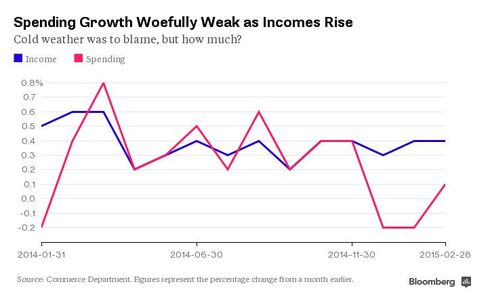 Part of this most-recent trend is probably weather-related, which suggests that households will be happy to shop as temperatures rise, according to Chris Rupkey, chief financial economist at Bank of Tokyo-Mitsubishi UFJ.
It was punishingly cold in many unfortunate parts of the country in February, which made shopping less fun (unless you do most of your spending online anyway). It was evident in February retail sales data earlier this month and in Monday's report, which showed a slump in durable goods purchases -- think cars -- and weaker receipts at restaurants, a category that's been going gangbusters in recent months.
"After years of spending as if there were no tomorrow, consumers are now saving like there is a tomorrow," Richard Moody, chief economist at Regions Financial Corp., said in a note.
Indeed, there was a time not long ago when a higher saving rate would have been welcome news. The rate slumped to as low as 1.9 percent in the run-up to the recession, a sign too many Americans were spending beyond their means, and which later culminated in the debt-fueled bust of the 2008 financial crisis.
In the subsequent years, households focused on mending their finances. After peaking at 10.5 percent at the end of 2012, when the rate was boosted big time by earlier-than-usual dividend payments before a tax hike, the savings rate declined steadily as consumers felt secure once again to spend a little more and hoard a little less. Or so we thought. Since a couple months ago, they've started to do the opposite.
It makes one wonder if the rising saving rate is also a sign that Americans -- deeply scarred from having lost their jobs in the depths of the recession with so little stashed away -- are still more cautious than some believe. Wage gains have been sluggish too, adding to reasons why consumers may be inclined to build up a bigger rainy day fund. If that's the case, it will take a lot more than the summer heat for consumer spending to come back.
Before it's here, it's on the Bloomberg Terminal.
LEARN MORE