India to Rich World: Give us Cash and We'll Cut Emissions Faster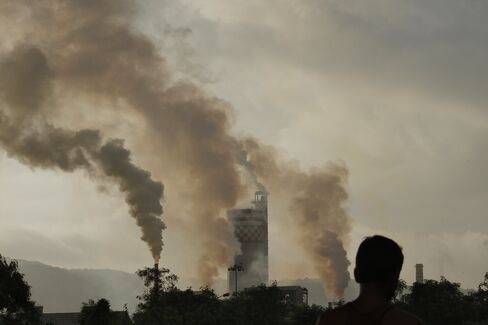 India, the world's third-biggest polluter, is considering a sharper cut in emissions if rich nations cough up money and technology.
Environment Minister Prakash Javadekar says he may present the world with a choice ahead of a December global climate meeting: one set of commitments India can fund itself to reign in emissions, and a second more ambitious set if it gets money pledged by developed economies.
"The world has to decide what they want," Javadekar said in an interview at his office in New Delhi. "Every climate action has a cost. I can't make my poor pay for somebody who has polluted the world."
The climate talks are one of Indian Prime Minister Narendra Modi's most important diplomatic tests since he swept to power last May. India could make or break a global deal, and pressure is mounting after the U.S. and China -- the world's top two polluters -- agreed in November to cap emissions.
"The big negotiation for this year is going to be Paris," Foreign Secretary S. Jaishankar said in his first public speech since Modi handpicked him in January as the top bureaucrat in the diplomatic corps. Speaking at March 16 conference in New Delhi, he called for "India to change the narrative from a negative one on emissions capping to a more positive one on cleaner energy and energy efficiency."
The British government has put 80 attaches at its embassies working solely on issues related to the talks, David King, the U.K. Foreign Secretary's Special Representative for Climate Change, said in a March 20 interview in New Delhi.
HIV Comparison
Fractious negotiations to replace the 1997 Kyoto Protocol - - the only international treaty to control greenhouse gases -- have stretched over a decade. They've pitted rich nations that created the problem against poor nations unwilling to make environmental pledges that could sacrifice growth.
"Why does the developed world want to profit from disaster?" Javadekar said, adding that rich nations should finance climate technologies just as they backed moves to provide life-saving drugs to the poor.
"Is climate change not more serious a problem than HIV AIDS?" he said. "Then why can't we come up with such solutions?"
India is calculating what promises it could make if developed nations provide "finance and technology free of intellectual property rights cost," he said. Under a 2003 World Trade Organization deal, global patent rules were loosened to allow drugmakers in countries including India to sell inexpensive copies to poor nations to battle AIDS and malaria.
Uninhabitable Earth
In 2009, the world agreed in Copenhagen to limit the rise in global temperatures below 2 degrees Celsius. Rich nations also pledged to help get $100 billion a year by 2020 to poor nations to nudge them onto a greener developmental path.
By a December summit in Paris, more than 190 nations are supposed to say how those targets will be met.
The stakes couldn't be higher. The outcome will determine the level of carbon dioxide in the atmosphere millenia from now. Scientists warn a failure in leadership could make swathes of the Earth uninhabitable by the end of the century.
What matters for the climate is how much cumulative carbon dioxide is in the air -- not how much the U.S. or India or China puts in, said Daniel Schrag, director of Harvard University's Center for the Environment. Last year, the concentration of CO2 in the atmosphere hit a 4-million-year high, a level no hominid has ever experienced.
"There is nothing that I can think of more that requires global cooperation more than climate change," Schrag said. "But there is no political system in the world set up to think of these long-term timeframes."
'We Are Coming'
India, in particular, has complicated the debate. It's still poor but its population of 1.2 billion people, almost a fifth of humanity, already makes it the third-largest polluter.
Getting it on board is critical: it's forecast to surpass China in both population and energy usage within the next two decades. It has already promised to cut its carbon intensity -- the amount of heat-trapping carbon dioxide released per unit of gross domestic product -- by 25 percent.
Even so, India has refused to cap its emissions like China or the U.S. because per capita its people contribute a fraction of global emissions. The average Indian emits 1.7 tons of carbon dioxide a year, compared with 6.2 tons in China and 17.6 tons in the U.S., according to World Bank data.
"You have occupied the carbon space," Javadekar said. "Vacate it, we are coming."
Before it's here, it's on the Bloomberg Terminal.
LEARN MORE