Munger Mocks Greek 'Idiotic Idea' You Can Vote Yourself Rich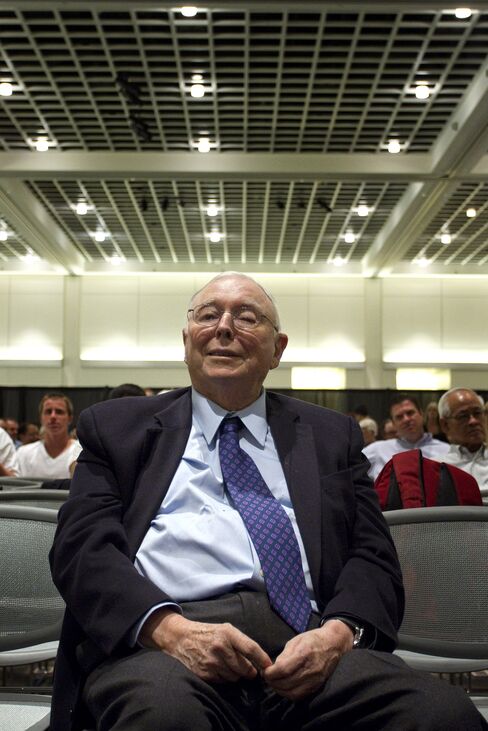 Billionaire investor Charles Munger faulted Greek citizens for their notion that you can "vote yourselves rich."
"It's an idiotic idea," Munger, 91, said Wednesday during the annual meeting for Daily Journal Corp., a Los Angeles-based newspaper publisher where he serves as chairman.
Munger, better known as the vice chairman at Warren Buffett's Berkshire Hathaway Inc., has long been critical of Greece, saying in 2011 that the bailed-out nation has been hobbled by insufficient contributions from its citizens. Greek politics were shaken up in January when Alexis Tsipras's Syriza party was voted in on a pledge to ease austerity and negotiate a writedown of some of the country's debt.
"The Greek solution is idiocy," Munger said Wednesday. "If we're going to prosper, we have to work."
Munger has built a persona on criticizing those he believes are financially reckless, whether citizens who shun hard work and tax obligations, or bankers who make risky bets. In 2010, speaking at the University of Michigan, he told students that people in financial distress should "suck it in and cope."
Wednesday he criticized politicians who rely on revenue from casinos or lotteries to balance their budgets. And he faulted some Wall Street practices.
'Witch Doctors'
"What do you think a derivatives trading desk is? It's a casino in drag," he said. "They make the witch doctors look good."
Munger's partnership with Buffett has been one of the most enduring and profitable in business history. In a February report reflecting on Berkshire's last 50 years and its future, Buffett said Munger helped his investment process evolve.
"The blueprint he gave me was simple," Buffett wrote. "Forget what you know about buying fair businesses at wonderful prices; instead, buy wonderful businesses at fair prices."
Munger was also responsible for persuading Buffett to purchase See's Candies, a California chocolate maker, in 1972. The company has earned $1.9 billion since then, much of which Buffett was able to spend on other businesses.
Earlier Wednesday, Buffett announced that H.J. Heinz, which is jointly owned by Berkshire and 3G Capital, was taking over Kraft Foods Group Inc. in his latest bet on grocery staples. 3G, co-founded by Brazilian billionaire Jorge Paulo Lemann, runs operations at Heinz, which has cut thousands of jobs in the past two years.
"What's interesting about 3G is that they're teaching us something about reality," Munger said. "3G has -- through enormous discipline, enormous will and enormous intelligence -- they have adopted a zero-based budgeting system that's more extreme than anybody else's."
Before it's here, it's on the Bloomberg Terminal.
LEARN MORE