From Snitch Pill to Xbox Sensors, Novartis Goes Digital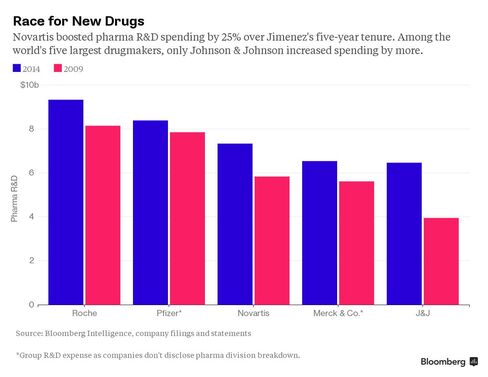 A decade ago, Joe Jimenez was peddling ketchup and baked beans. Now he's using Microsoft Corp.'s gaming technology and embedding Google Inc. sensors in contact lenses to reinvent the world's biggest drugmaker.
As Novartis AG's chief executive, Jimenez is barreling down untested paths at the frontier of biology and digital technology to prepare for a future in which the use of smartphones and other digital devices to monitor health will be the key to getting paid.
Jimenez is also taking an axe to the empire built by his flamboyant predecessor, Daniel Vasella, with a complex asset swap worth more than $30 billion that closed this month. By offloading vaccines and adding cancer drugs, the 55-year-old former competitive swimmer is preparing Novartis for the loss of patents on medicines that make up a fifth of its sales.
"Our view has to be based on how health-care is going to change," Jimenez said in an interview at the company's headquarters in Basel, Switzerland. "If you look at what led to the transformation that we just went through, it was a view of what's going to happen in 10 years externally."
Projects and products include pills and inhalers with sensors that tell on patients who miss a dose; clinical tests that rely on Microsoft's Kinect, the motion-sensing technology used with Xboxes, to measure walking speed and balance in people with multiple sclerosis; and Google contact lenses that focus automatically and can deduce diabetics' blood-sugar levels from their tears -- a gamble that Jimenez says could transform eyesight.
Prudent Steps
"Novartis 10 years ago would not have embraced the team that brought that deal forward," said the American, who ran European operations for H.J. Heinz Co. until he joined the Swiss drugmaker in 2007.
There's more to come. Novartis and U.S. chipmaker Qualcomm Inc. in January agreed to invest up to $100 million to find and fund startups that enable devices such as smartphones to monitor a patient's health remotely.
Vasella built Novartis with acquisitions and a handful of blockbusters like Gleevec, a leukemia drug that garnered $4.7 billion in sales last year but will face a generic contender next February. Jimenez, who took over as CEO in February 2010, started out with prudent steps as long as Vasella remained as chairman, buying out the Alcon eye-care unit and trimming costs.
Eight months after Joerg Reinhardt replaced Vasella as chairman in August 2013, Jimenez announced a set of deals in which Novartis sold vaccines to GlaxoSmithKline Plc, bought the London-based drugmaker's stable of cancer drugs and the two rivals pooled over-the-counter products like the headache pill Excedrin and Sensodyne toothpastes in a joint venture. Eli Lilly & Co. bought the Swiss company's animal-health business.
Some Setbacks
"Jimenez is finally stepping out from Vasella's shadow," said Birgit Kulhoff, an analyst at Rahn & Bodmer Co. in Zurich, who also credits Reinhardt for some of the transformation. Jimenez was praised for the asset swap, but Kulhoff called the $16 billion he agreed to pay for Glaxo's cancer drugs "crazy."
As the company's second CEO, the native of the San Francisco area "has listened and he's taken on those things that are key for the success of the company," said Paul Herrling, who oversaw research in a series of roles at Novartis between 2002 and 2012 and now works as a consultant. "And he's tried to reduce or eliminate those things which are not."
Among Novartis's top 10 drugs, at least four have lost or will lose U.S. patent protection in the next year, endangering $10 billion in revenue. Some of the company's newer products, including a therapy for smoker's cough, have suffered setbacks.
Stock Discipline
Analysts have trimmed their forecasts for Tasigna, a cancer medicine designed to be Gleevec's successor, and the breast cancer drug Afinitor hasn't lived up to expectations because it came with discouraging side effects, said Michael Leuchten, an analyst at Barclays Plc in London.
"There's been a lot of hope value which had to be scaled back," Leuchten said. "That's been a drag on the business."
Novartis ranks sixth among the world's top 10 drugmakers based on sales growth over five years, behind Bayer AG and Johnson & Johnson, according to data compiled by Bloomberg.
While the stock has more than doubled during Jimenez's tenure including reinvested dividends, reaching a market value equivalent to $278 billion, it's trailed the Bloomberg index that tracks European pharmaceutical shares. Jimenez says he tries not to check it more than once a week, a discipline that's harder to abide by when the stock is doing well. Today it traded at 98.10 Swiss francs in Zurich, down from the record 99.70 francs reached on March 20.
Get Bigger
Jimenez tore apart the tentacular structure Vasella had painstakingly assembled to bulk up in areas where Novartis was dominant, like cancer care, and leave behind those where the company lacked scale or innovation power. "The transactions were all about either getting bigger or getting out," he said.
What stood out was the way he used some of Novartis's existing assets as currency against others he coveted.
"Many companies were thinking about potential swaps, nobody had ever done them," said Leopoldo Zambeletti, a former head of healthcare at JPMorgan Chase & Co. and Credit Suisse Group AG and now an independent adviser. "Jimenez did it in a very clever manner. He brought in a business, the cancer one, that he would have had trouble acquiring otherwise. The execution risk of such a transaction is high but he managed it in a very smart way."
Science Tutor
The last step of the deal with Glaxo closed March 2.
"It's absolutely a different company," said Mike Rea, CEO of Idea Pharma, an industry consultancy. "If you had to caricature the Vasella era, it was belief in his own ability to spot the future." Under Jimenez, he said, Novartis "is both making the future and is invested in whatever future turns out to be true."
Jimenez joined Novartis after a career at Heinz, ConAgra Foods Inc. and Clorox Co. As the freshly appointed head of the drug division at the end of 2007, he could be found in his office in the early hours of the morning, locked up with a tutor who introduced him to the company's medical pipeline, as well as disease areas and the science behind the medicines.
"Everyone knew he didn't have the science background," said Julie Smith, a behavioral psychologist who first worked with Jimenez when he was at Heinz and struggling to turn around the company's European division. "He would stay up to 3 or 4 in the morning reading science articles."
Courage Award
While Vasella had the Swiss-French border moved to accommodate a campus that boasts buildings designed by Frank Gehry and Kazuyo Sejima, Jimenez has put a clamp on costs to the tune of $2.9 billion last year. One area he spared: the company's labs.
"I've told analysts: don't look at research as a place for margin improvement," he said. "If we let unmet medical need be the decider of resource allocation, that's when magic happens."
Jimenez has boosted research and development spending in the pharma unit by 25 percent in his five years at the helm, an increase second only to Johnson & Johnson's 64 percent among the world's five biggest drugmakers. Besides ensuring Novartis researchers get funds and autonomy, Jimenez says he's working to foster an environment in which they feel safe to take risks -- even if that means admitting defeat.
At a leadership meeting in the Swiss lakeside town of Interlaken in January, Jimenez handed the company's first "courage award" to a scientist called John Hastewell. Hastewell's achievement: throwing away five years of cutting-edge research by scrapping a project on gene-modifying technology.
When to Stop
Hastewell said the distinction baffled him until he understood he'd done something unusual in putting the company's interest first when he abandoned a project that wasn't delivering.
"What normally happens is, as long as you've got the budget to do something, and as long as you can show it's progressing, it just keeps going," he said in an interview. But at one point last year, he said he realized that "for all the efforts we were putting in, there was a very slim chance that the company would benefit."
Novartis sold the research portfolio this month to Arrowhead Research Corp. for $35 million in cash and stock.
"One of the reasons why spending in the pharmaceutical industry is so high is that many scientists keep their products alive far beyond when they should be," Jimenez said. "If you help them feel like it's okay to stop the project, you're going to save hundreds of millions of dollars."
Vasella's Shadow
Even as Jimenez tries to fashion Novartis's future, its present remains in part Vasella's making. Older drugs such as Gleevec and the blood pressure pill Diovan are still among the company's best-sellers, and promising new therapies such as Cosentyx, a treatment for psoriasis with blockbuster potential, and LCZ696, which two analysts say could become a $6 billion-a-year mega-hit against heart failure, were born on Vasella's watch. Vasella declined to be interviewed for this article.
The push toward digital medicine comes from Jimenez, though. As head of the pharmaceutical division, he oversaw the company's first foray into the area by signing a deal with Proteus Digital Health Inc. to develop pills with tiny sensors that alert patients when they fail to take a drug as prescribed.
"That was the signal that they had lights on about this stuff," said Eric Topol, director of the Scripps Translational Science Institute in La Jolla, California, and the author of a book on the digital future called The Patient Will See You Now: The Future of Medicine is in Your Hands. "You're starting to see it across the industry, but Novartis was there early."
Beyond Pills
Since the Proteus deal, others including J&J and Merck & Co. have made their own investments in digital medicine.
For Jimenez, the digital initiative is about bracing for the day when public health spending will be so stretched that drugmakers will get paid only when they can show a patient's condition improved. That means delivering technology to show the treatment works. Novartis is planning about 10 pilot projects, including one in the U.K. with Google designed to experiment with conditional reimbursement for heart failure by using remote patient monitoring systems in conjunction with its LCZ696 drug.
"It is terrific that companies like Novartis are increasingly recognizing that it is critical to not just make drugs but also ensure that they are delivered effectively," said Bob Kocher, a former health policy adviser to U.S. President Barack Obama who helped shape the Affordable Care Act. An outcomes-based reimbursement system could save $1 trillion in U.S. health-care costs over a decade, according to a McKinsey & Co. report.
Stay Tuned
"We would go in with a package of services including the pharmaceutical, the technology that will help that patient comply, a warning system that showed if that patient was not complying," Jimenez said. "We will have to partner with companies that have like interests in the tech space."
That points toward more upcoming transactions. Novartis is looking for bolt-on acquisitions worth between $2 billion and $5 billion as it keeps a lookout for promising new drugs and tools to ensure they're used properly, according to Jimenez.
The company is also "in the process of assessing a whole range of potential collaboration options," Vas Narasimhan, Novartis's head of development, said in an interview. "Stay tuned, there'll be more coming."
Before it's here, it's on the Bloomberg Terminal.
LEARN MORE