Ukraine Conflict Flares as Government Fights 'Oligarch' Crisis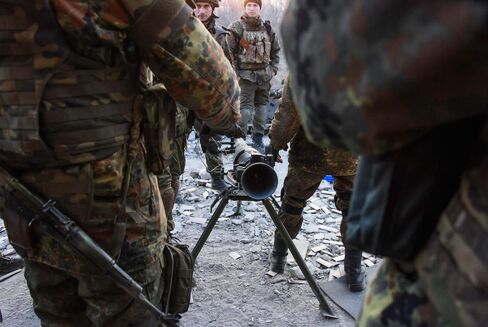 Clashes between government troops and rebels intensified in southeast Ukraine, undermining a cease-fire as the country's government vowed to prevent an "oligarch-supported political crisis."
Prime Minister Arseniy Yatsenyuk said his government would crack down on "total corruption and smuggling," and the cabinet gave private security services 24 hours to disarm after a group of men seized state-controlled oil company Ukrnafta. The Organization for Security and Cooperation in Europe, responsible for monitoring a Feb. 12 cease-fire signed in Minsk, Belarus, condemned a flare-up around the village of Shyrokyne, near the Sea of Azov port Mariupol.
"An outbreak of heavy fighting east of Mariupol over the last two days is unacceptable," OSCE Chairman Ivica Dacic said in a statement on the organization's website. The organization added in a separate statement: "Both sides in this area continue to violate numerous provisions of the Minsk agreements."
The bloodshed continues to underscore the tenuous nature of the truce. While the cease-fire has checked the worst of the fighting, both sides are accusing each other of violations that are threatening to return the conflict to open war and deepen the worst standoff between Russia, the U.S. and Europe since the Cold War.
Ukrainian Wrangling
Ukraine's government also vowed to tackle domestic dissent. Interior Minister Arsen Avakov announced tighter gun-control measures and referred specifically to Dnipropetrovsk Governor Igor Kolomoisky, who has served as a board member at Ukrnafta, Ukraine's richest man Rinat Akhmetov, second-wealthiest Viktor Pinchuk, and other tycoons.
"A scenario of oligarch-supported political crisis will not pass," Yatsenyuk, who dismissed the first deputy head of the fiscal service in charge of the tax police and the deputy head of the customs service on Monday, said during a government meeting. "We will not let anyone rob the country , which is at war."
State Security Service chief Valentyn Nalyvaychenko said on Monday that Dnipropetrovsk regional government officials are financing armed gangs and threatening investigators.
Threatening Investigators
Following his comments, four lawmakers in President Petro Poroshenko's party left the parliamentary faction, saying that discrediting the regional administration was a violation of the ruling coalition pact, news service Interfax reported.
The clashes follow efforts by Ukraine's government to crack down on graft that has sunk the country to 142nd place out of 175 countries in Transparency International's Corruptions Perception Index, the worst in Europe. Its efforts include forcing wealthy Ukrainians to pay taxes and cutting out middle-men in energy contracts tied to state-owned companies, Finance Minister Natalie Jaresko said last week.
The political tension is also adding pressure on an economy already devastated by war. The United Nations raised its death toll estimate to at least 6,072 and said 15,345 people have been wounded in the conflict that started last April. Of Ukraine's more than 40 million people, about 1.2 million people have registered as displaced within the country and 747,357 have fled abroad, including 610,558 to Russia, the UN Office for the Coordination of Humanitarian Affairs said in a report.
Fighting Flares
The hryvnia, the world's worst-performing currency this year with a 30 percent plunge against the dollar, weakened 3.19 percent to 22.65 to the dollar at 7:50 p.m. in Kiev, after a 5 percent gain in the previous session. The country's dollar-denominated bond maturing July 2017 rose 0.1 cent to 39.61 cents on the dollar, advancing for a second day from a record-low 39.27 cents.
Separatists shelled Ukrainian positions overnight, wounding six soldiers and "blatantly" breaching the cease-fire three times, National Security and Defense Council spokesman Andriy Lysenko told reporters in Kiev on Monday.
Shooting by government forces wounded five rebels, separatist-run DAN news service reported, citing the Defense Ministry in the self-proclaimed Donetsk People's Republic.
A column of as many as 12 tanks entered the rebel-controlled city of Horlivka, as insurgents amassed tanks, artillery, rocket systems and personnel along the front line, according to a Ukrainian Interior Ministry website statement.
Last week, insurgent leaders said that they are preparing for a new offensive to expand their territory.
Ukraine and its allies in the European Union and the U.S. have accused Russia of pouring arms and troops over its border to the insurgents. Russian President Vladimir Putin's government denies military involvement.
While violence in Ukraine has "significantly" eased during the truce, it's still "not enough," German Foreign Minister Frank-Walter Steinmeier said in Bratislava, Slovakia.
"We are far away from being satisfied," he said.
Before it's here, it's on the Bloomberg Terminal.
LEARN MORE