Rare Earth Stock Soars After Showing Up on 60 Minutes Last Night
Remember Molycorp?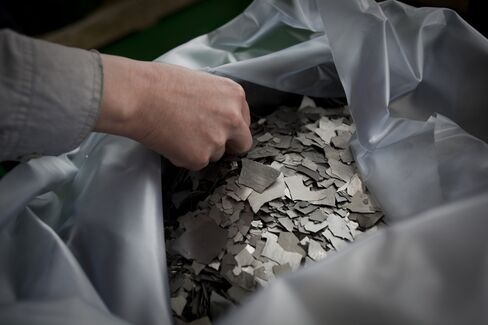 The stock of Molycorp spiked on Monday morning. The company mines rare earth metals in the Mojave Desert.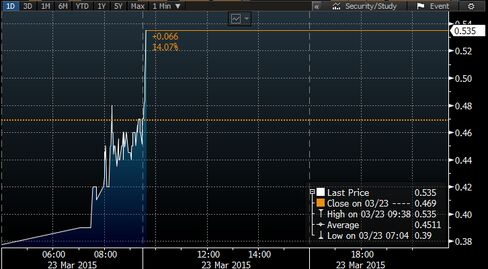 Why the sudden interest? Because Molycorp and its chairman, Constantine Karayannopoulos, were the stars of a 60 Minutes story on Sunday night about rare earth metals and their prevalence in such things as miniaturization, electronics, fiberoptics, and other technologies that have come to dominate modern life.
The premise of the story is that China has cornered the market on rare earth minerals and thus has the ability to corner the U.S. on everything from cellphone use to defense. (Sample quote from the story: "A prime example of that is the new F-35 fighter jet, the most technologically advanced weapons system in history. Each one contains nearly half a ton of rare earths.")
You may remember rare earths being a big deal about four or five years ago, when investors first started freaking out about China's dominance of rare earth mining. Deng Xiaoping first mentioned rare earths in a speech more than 20 years ago, and the country has since used its cheap labor and disregard for environmental concerns to become the world leader in rare earth mining.
The panic subsided after analysts started pointing out that rare earth metals are neither rare, nor expensive, and China's monopoly could easily be broken (a point raised again after last night's story). But that obsession pushed Molycorp—the owner of the only domestic rare earth mine in the U.S.—to huge heights. In early 2011, its stock soared, peaking at $77.54 a share.
Today, it's still below $0.50 per share. And that's after the surge caused by the 60 Minutes story. The timing of the story (which CBS News was working on since at least September 2014) was also interesting, because just one week ago, Molycorp stated it "may not be able to continue as a going concern," unless it can restructure its debt. Declining mineral prices and production slowdowns have seriously hurt their ability to meet obligations and they been seeking advisers to help with restructuring talks.
Take a look at the five-year chart of its stock price: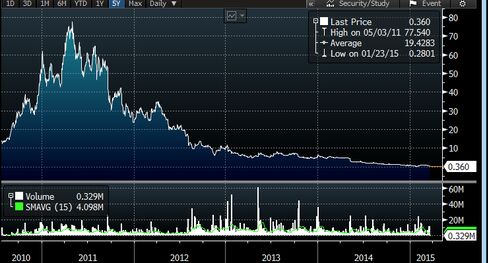 Before it's here, it's on the Bloomberg Terminal.
LEARN MORE