Monsanto Says It's 'Outraged' by WHO Cancer Risk Report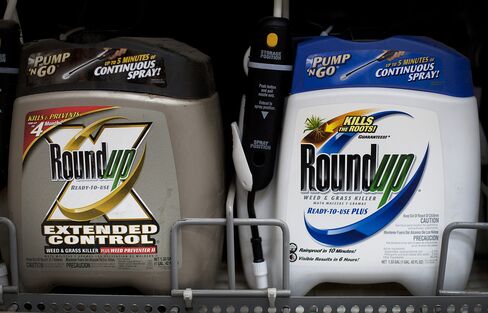 Monsanto Co. said it's "outraged" by the World Health Organization's assessment that its Roundup weedkiller probably causes cancer, the latest defense by the world's biggest seed company of its best-selling product.
In an extended response to Friday's WHO assessment of glyphosate, the active ingredient in Roundup, Monsanto Chief Technology Officer Robb Fraley said Monday that the WHO's International Agency for Research on Cancer, or IARC, reached its conclusions by "cherry picking" data.
Monsanto's core business is closely tied to Roundup. It's the world's most used herbicide, and most of Monsanto's sales come from crops genetically engineered to survive the weedkiller. Two other WHO programs have determined glyphosate isn't carcinogenic, and regulators in the U.S. and European Union are among those concluding it's not a human health risk, Monsanto said.
"IARC's process is not transparent, its decision is irresponsible, and it has the potential to cause confusion about such an important issue as safety," Fraley said in a statement from St. Louis-based Monsanto.
IARC reached its conclusion as part of a review of five pesticides, including glyphosate, conducted from March 3 to 10. Regulators in the U.S. and EU typically spend years reviewing such data.
Meeting Request
Monsanto wrote WHO Director General Margaret Chan on Friday to "request an urgent meeting" to find ways to "rectify this highly questionable review and conclusion," according to a copy of the letter obtained by Bloomberg News.
"It is our understanding that IARC participants purposefully chose to disregard dozens of studies and publicly available regulatory assessments that support the conclusion that glyphosate does not pose a human health risk," Philip Miller, Monsanto vice president for global regulatory affairs, said in the letter.
The classification doesn't affect glyphosate's registration or use, which in the U.S. is the responsibility of the Environmental Protection Agency. The EPA, which in 2013 found "glyphosate does not pose a cancer risk to humans," is due to complete its re-registration of the chemical this year.
Before it's here, it's on the Bloomberg Terminal.
LEARN MORE