Saudi's Naimi Optimistic on Oil With Output Close to Record High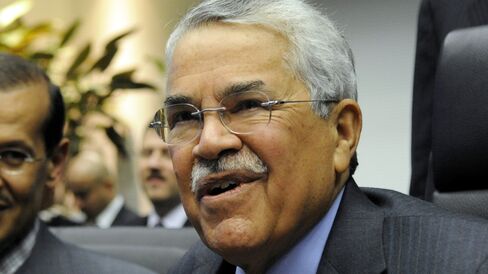 Saudi Arabia's Oil Minister Ali al-Naimi is "optimistic" about the oil market and the world's biggest exporter is pumping about 10 million barrels of crude a day, close to the record amount produced in 2013.
Saudi Arabia is able to meet demand from any customer, al-Naimi said at a conference in Riyadh, Saudi Arabia, on Sunday. While global demand for oil is improving, there isn't enough need to raise the nation's production capacity beyond its current level of 12.5 million barrels a day, he said.
OPEC's refusal to cut production amid the surge in U.S. shale output fed a surplus that contributed to a drop of almost half in prices over the past year. The Organization of Petroleum Exporting Countries would have lost market share if it had cut output at the group's Nov. 27 meeting, al-Naimi said.
"Saudi Arabia cut output in 1980s to support prices. I was responsible for production at Aramco at that time, and I saw how prices fell, so we lost on output and on prices at the same time," al-Naimi said. "We learned from that mistake." Saudi Arabian Oil Co. is the state oil company known as Saudi Aramco.
Crude dropped about 30 percent since OPEC signaled it would leave shale producers and other suppliers to bear the brunt of the glut. OPEC pumps about 40 percent of the world's oil, and Saudi Arabia is its biggest producer. Its output was 9.85 million barrels a day in February, according to data compiled by Bloomberg.
Not Opposed
Brent crude, a benchmark for more than half of the world's oil, rose 89 cents to $55.32 a barrel on the London-based ICE Futures Europe exchange on Friday. OPEC is not opposed to shale oil or specific countries and oil prices will be determined by the market, al-Naimi said.
Kuwait Oil Minister Ali Al-Omair said at the same conference he would welcome an agreement with non-OPEC producers to cut output.
OPEC producer Algeria is seeking to coordinate a global response from outside the group to tumbling prices, Algeria Press Service reported March 17, citing Energy Minister Youcef Yousfi. OPEC members are not eager to cause prices to fall because it hurts their economies, al-Omair said.
Before it's here, it's on the Bloomberg Terminal.
LEARN MORE