Eclipse Tests European Power Grid Flooded by Solar Farms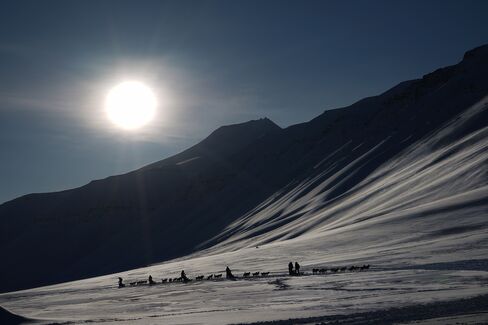 The first major eclipse of the solar age is placing unprecedented strain on Europe's electricity grids this morning as power panels switch off and then on again.
The moon will block about 80 percent of the sun's light across Europe from about 8 a.m. to 11 a.m. London time. In Germany, the eclipse will briefly halt output from thousands of panels, which provide about 40 percent of the nation's power on the most sunny days.
Grid operators are working to switch on usually idle natural gas and coal plants to make up for the lost solar power. Success will inform nations from the U.S. to China about how to integrate the variable supplies from renewables generators into their systems. Failure would add to pressure for higher investment in grid-control technology -- and boost power prices.
There's "good expected sunshine across the southern half of Germany," said Stephen Davenport, senior energy meteorologist for MeteoGroup, a forecaster. "Assuming cloud does not increase too quickly, then there will be a surge of about 14 to 15 gigawatts to a peak of about 19 to 20 gigawatts once the event is over."
The darkest part of the eclipse is tearing across the north Atlantic Ocean past southern Iceland, the Faroe Islands and reach the west coast of Norway in the Arctic. Mainland Europe will see the sun partly obscured, with 87 percent cover in London, 83 percent in Denmark and about 25 percent in Turkey.
Plunging Production
Previous eclipses such as one in 1999 passed without affecting power markets because photovoltaics only took off around 2004. Germany has about 38 gigawatts of Europe's 81 gigawatts of solar capacity and will see a 70 percent slump in PV generation at about 10:40 a.m., MeteoGroup said. A gigawatt is about the same as a nuclear reactor's capacity.
"Managing this event on the world's largest interconnected grid is an unprecedented challenge," said Konstantin Staschus, secretary-general of the European Network of Transmission System Operators for Electricity, or ENTSO-E.
Electricity markets will ripple from the effects of the eclipse all morning. Generators every day bid in a tender to provide extra power as quickly as 30 seconds after it is requested to prevent blackouts, according to Amprion GmbH.
Those with plants ready to produce could earn as much as 89,111 euros ($94,700) a megawatt-hour for providing electricity to balance Germany's grid during the eclipse, grid data show. That's more than the 35.30 euros a megawatt hour price for baseload power delivered around the clock on Friday, data from the Epex power exchange shows.
Power Market
German intraday power for deliver from 10 a.m. to 11 a.m. Berlin time rose as much as 123 percent to 89 euros per megawatt hour before trading at 44 euros per megawattt hour at 9:58 am, Epex Spot data on Bloomberg show.
The German grid was running "smoothly" shortly after the eclipse started, Peter Hofmann, head of the control at TenneT TSO GmbH said at a station near Lehrte. TenneT brought online 8 gigawatts of balancing power this morning, double the normal level, he said. It also doubled staffing for the event.
Solar plants may generate as much as 22.1 gigawatts for the grid on Friday. "In 10 years, when we probably have double the amount of PV then what we have today, what we see as a crisis will be a daily phenomenon," he said.
Danske Commodities A/S, a power broker, is increasing staff because consumption is hard to predict and may shift depending on "how many people go outside to look at it," said Bo Palmgren, the company's head of intraday trading.
Blackout Risk
"When you have plants ramping up and down, there is the potential for outages," Palmgren said by phone from Aarhus, Denmark. "The hours before and after the eclipse will be interesting."
Swedish utility Vattenfall AB will seek to profit by selling output from power plants that normally aren't competitive, including gas- and oil-fired generators that "cost several hundred euros per megawatt-hour to operate," Hartmuth Fenn, head of intraday market access and dispatch, said by phone from Amsterdam on March 12.
Italy has the region's second-biggest solar market and will also be affected, although more of the sun will be visible at that latitude. Terna Rete Elettrica Nazionale SpA, the nation's grid operator, expects to lose about 7 gigawatts of the 19 gigawatts of available PV supplies.
Linked Grids
Failures in one region would have an impact everywhere else because of interconnections between 34 national grids in Europe, according to RTE, the French network operator.
European grid companies organized their control rooms to be in constant communication during the eclipse. They are using power reserves to balance the system and helping others in the region. For this, they rely on additional close to real-time data provided by the coordination initiatives like TSC in Munich and Coreso in Brussels, ENTSO-E said.
"Not all incidents can be ruled out even in normal operational times," ENTSOE's Staschus said. Transmission system operators are "taking the event seriously but are confident that they will be able to manage it."
Before it's here, it's on the Bloomberg Terminal.
LEARN MORE