What's Wrong With China's Army?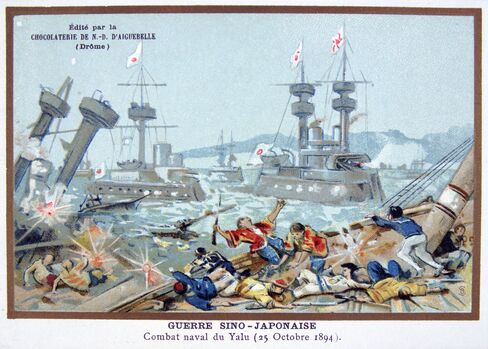 In the "century of humiliation" that President Xi Jinping often evokes for his goal of turning China into a great power, one particular episode resonates: The defeat of China's navy by Japan in 1894.
The Battle of Yalu in the Yellow Sea was a mortifying defeat in the first Sino-Japanese war, a conflict that China's leaders assumed they would win against a smaller, if recently modernized opponent.
China had better, newer guns. But its navy was furnished with shells that were either filled with cement or porcelain, or were simply the wrong caliber, S.C.M. Paine writes in "The Sino-Japanese War of 1894-1895: Perceptions, Power, and Primacy." To blame? Ordnance officials on the take.
Now, Xi is seeking to transform the military into a modern outfit that can "fight and win wars," acknowledging the effect of corruption on the People's Liberation Army -- the world's largest ground force -- alongside decades of patchy training and tolerance of underperformers. At an annual meeting of lawmakers this month, he said stamping out graft would make for better troops.
Xi has embarked on a sweeping anti-corruption campaign that has seen 30 generals named this year as under investigation, as part of a broader purge to root out a problem he has said threatens the future of the Communist Party.
"The Battle of Yalu has an earthshaking influence on both Chinese people and Chinese military forces," Major General Zhu Heping said on the sidelines of the legislative meeting in Beijing. "The primary cause for China's failures is because the corruption was deeply rooted in the military and the government at the time," said Zhu, the vice-president of the Air Force Command Academy.
Bulky, Ineffective
Xi, who became ultimate military commander early after coming to power in late 2012, faces a long road ahead. Military watchers say despite his efforts the armed forces remain plagued by graft and hindered by a command structure that favors the army, limiting China's ability to assert its claims to territory in the contested South China Sea and protect vital trade routes through the Indian Ocean.
"The PLA is big, bulky, ineffective and unable to fight," said Zhang Baohui, director of the Center for Asian Pacific Studies at Lingnan University in Hong Kong. "Xi is remodeling the Chinese military and corruption is only a part of that."
Defense Spending
The PLA's structural weaknesses contrast with U.S. expressions of concern about its potential to challenge America's military influence in the region. The PLA has modernized since the 1990s, when it was known in some circles as a "junkyard" army for its outdated equipment and dizzying array of commercial activities. China's military was forced in 1998 to start exiting its business interests, which have over the years included such things as real estate.
China does spend more on its military than any other nation apart from the U.S., spooking neighbors and spurring countries from Vietnam to India to boost their own military outlays. Its defense budget will rise 10 percent this year to 886.9 billion yuan ($143 billion), dwarfed by the $534.3 billion the Pentagon has requested for the year starting Oct. 1.
China is both the world's third-biggest weapons exporter and importer for the five years through 2014, according to the Stockholm International Peace Research Institute. It imports mostly from Russia and France, with helicopters and engines accounting for a large proportion. The bulk of its exports go to Pakistan, Bangladesh and Myanmar, according to Sipri.
10 Reasons
Still, Dennis Blasko, a senior analyst at CNA Corp.'s China Security Affairs Group and former U.S. military intelligence officer, last month published an article listing 10 factors undermining China's ability to fight. A Rand Corp. report in February commissioned by a panel created by the U.S. Congress found the PLA suffers from "potentially serious weaknesses" that should be analyzed by foreign military strategists.
Both cited the joint command structure of a military that is the armed wing of the Communist Party, not the nation. PLA commanders share responsibility for their units with political officers, who can oversee ideological training and officer promotions.
"At times there may be friction between commanders and their political counterparts," Blasko wrote. "This shared responsibility system may suffice in peacetime situations, but it has not been tested under the stress of fast-moving, modern combat operations."
Steamed Rice
The PLA has a tendency to avoid training under challenging conditions, and exercises are seen as opportunities to impress rather than identify problems -- and even state media have begun to notice.
In a recent exercise one soldier was lauded as an invincible superman after emerging unscathed from a hail of dummy fire. It was later discovered he'd covered the sensors dotted on his body with steamed rice, dodging "hits" from lasers mounted on "enemy" rifles, the PLA Daily reported Jan. 21.
Graft abounds in the lower ranks of the PLA, according to the Rand report. It cites stories of officers privatizing their military assigned housing and selling it on the open market, or putting military license plates on personal vehicles to get free gas.
"Many soldiers only want to live a good life, for them military exercises are like a stage performance," said Colonel Liu Mingfu, a professor at China's National Defense University. "That's why Xi ordered soldiers to be full-blooded. They must not fear hardship and must not fear death."
Army Dominance
China's Defense Ministry didn't immediately respond to a faxed list of questions about its bid to improve training and root out graft.
The traditional dominance of the army over the navy and air force hinders cooperation within the PLA as a whole, according to Yue Gang, a retired PLA colonel. "You can see the commander is always from the army background and doesn't have enough understanding of the other two forces in his commanding."
The PLA is getting some on-ground exposure with the planned participation of 700 troops in the United Nations peacekeeping mission in South Sudan. Naval vessels have become increasingly active in the South China Sea and around islands in the East China Sea also claimed by Japan.
Still, its army hasn't fought a sustained conflict since the Korean War more than 50 years ago, according to Rand. For the navy it's longer -- not since the battle of Yalu.
"You've got more soldiers who want to become officers than who want to win a battle," said Liu from the National Defense University. "You've got more officers capable of doing bureaucratic work than winning a war."
Before it's here, it's on the Bloomberg Terminal.
LEARN MORE