Russia Declares Worst Is Over as Economy Adapts to Sanctions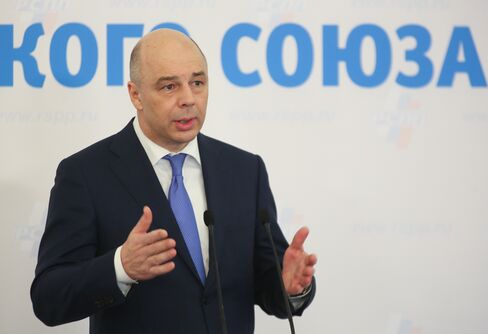 The worst is over for Russia's economy after a tailspin in oil prices and sanctions over Ukraine sparked the biggest currency crisis since 1998, putting the nation on the brink of its first recession in six years, according to Finance Minister Anton Siluanov.
"The negative peak is behind us and instead we are seeing certain signs of stabilization," Siluanov said in Moscow Thursday at a conference organized by the Russian Union of Industrialists and Entrepreneurs, the nation's big-business lobby. "The situation in the financial sector is also stabilizing. We see rising returns on debt markets, and the financial market is showing momentum toward growth."
Reeling from a plunge in the ruble and economic punishment over Ukraine, Russia is just entering a recession that's ravaging industries from carmaking to banking. As weekly inflation started to stabilize, the central bank has embarked on an easing cycle and focused more on jumpstarting growth.
While the financial turmoil wanes and the economy bottoms out, the slump is still rippling through consumer demand and inflation remains at 16.7 percent, the fastest since 2002. Russia is on track for the biggest drop in consumption in more than two decades, with the central bank predicting the economy may shrink as much as 4 percent this year.
The ruble weakened from a 2015 high as oil fell, paring gains made after the Federal Reserve cooled expectations on the pace of U.S. interest-rate increases. The Russian currency dropped 1 percent to 59.95 against the dollar at 6:11 p.m. in Moscow. The Micex Index retreated 1.3 percent.
Cars, Capital
Lingering tensions over Russia's involvement in Ukraine are threatening to trigger an exodus of foreign investors from a country bleeding capital. General Motors Co. announced on Wednesday that it planned to idle a plant in St. Petersburg and halt sales of its Opel brand and most Chevrolet models in Russia.
Auto sales in Russia fell 10 percent last year and declines have accelerated in 2015, dropping 38 percent in February. Capital outflows more than doubled in 2014 to $151.5 billion, forcing authorities to respond with spending cutbacks and an emergency increase in the benchmark rate in December.
Russia is amassing an anti-crisis fund of almost 234 billion rubles ($3.9 billion) in this year's budget, which will be used to support systemically-important companies, President Vladimir Putin said at the same conference on Thursday, adding that borrowing costs remain excessive.
'Rather High'
"The key rate is still rather high," he said. "Further fundamental conditions haven't yet been created for us to feel confident, and targeted help is important."
The Bank of Russia last week lowered its main interest rate for the second time this year and signaled more policy relaxation ahead if consumer-price growth continues to ease. Russia may be able to keep inflation at 11 percent to 12 percent this year, according to Siluanov.
The central bank, which earlier came under criticism from Putin for not reacting to the crisis more quickly, continues to face questions from Russia's wealthiest entrepreneurs. Billionaire Oleg Deripaska, a long-time critic of Russia's monetary policy, said Thursday that borrowing costs remain at punishing levels for businesses and households and authorities are failing to make economic development their priority.
Policy Disorder
"We can't put internal economic policy in order, primarily from the side of the central bank -- their measures are unpredictable and unclear for us," Deripaska told reporters in Moscow. "We are seeing a lack of any incentives for the consumer to go out and undertake long-term investment.'"
The central bank raised the benchmark rate six times last year, including a 6.5 percentage-point increase in December that was the biggest since 1998, to defend the ruble.
Underscoring the difficulties facing domestic demand, February data released Thursday showed retail sales, unemployment and real wages fared worse than forecast by economists. Wages adjusted for inflation shrank the most since 1999 and retail sales fell for a second month, the Federal Statistics Service in Moscow said in a statement. Fixed-capital investment contracted for the 14th month.
'Economic Adjustment'
The ruble's collapse and Russia's ban on food imports in retaliation for sanctions over the conflict in Ukraine helped to more than double inflation from the start of last year. Gross domestic product contracted 1.5 percent in January from a year earlier, according to a preliminary estimate by the Economy Ministry.
Russia's current account in 2015 may post a surplus of about 6 percent of economic output and remain strong in the future, allowing the country to meet this year's debt payments and overcome the impact of capital outflow, Siluanov said.
"In general, we see the process of adaptation to new economic conditions," he said. "We are talking about an economic adjustment and adaptation of the financial markets."
Before it's here, it's on the Bloomberg Terminal.
LEARN MORE