Moonves Said to Have Mulled Time Warner Deal as CBS Plots Future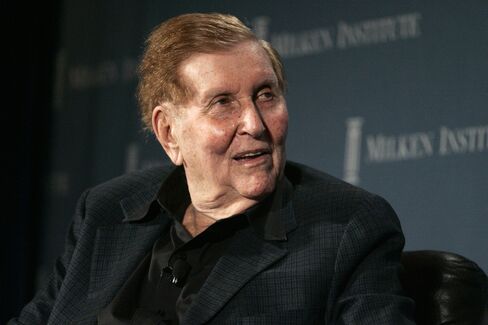 CBS Corp. Chief Executive Officer Les Moonves has been preparing for the future -- and how Time Warner Inc. might be part of it.
Moonves and his counterpart at Time Warner, Jeff Bewkes, discussed the idea of combining their companies in meetings last year, three people with knowledge of the matter said. Bewkes wasn't interested, said two of the people, who asked not to be named because the discussions were private.
CBS's CEO is weighing options as controlling shareholder Sumner Redstone takes a less active role. His alternatives also include doing nothing, reuniting with Viacom Inc. or taking CBS private. Redstone is 91 and when he dies his empire will be overseen by a five-member trust that doesn't include CBS's CEO. Moonves has made clear CBS should command a premium, and that bids "had better start with $100" a share, or almost $50 billion. Time Warner could offer $80, Bank of America Corp. analyst Jessica Reif Cohen said in a March 2 note.
"I don't see any way that we consolidate in the near or distant future unless it's under terms that are really favorable to us," Moonves, a 20-year CBS veteran, said last week at a Deutsche Bank investor conference.
With the Redstone era winding down, some investors have called for CBS and Viacom to reunite. The trustees who will eventually oversee the interests in both companies include Philippe Dauman, CEO of Viacom, and Redstone's daughter, Shari. She owns 20 percent of National Amusements Inc., the family company that holds 80 percent voting stakes in CBS and Viacom.
Moonves, 65, doesn't see Viacom as a strategic fit, one of the people said. He has considered buying New York-based CBS with the help of partners, the New York Post reported last month.
Shared Interests
CBS, which owns the most-watched U.S. TV network, isn't actively pursuing a deal with New York-based Time Warner, according to two people. Moonves has said CBS doesn't need a deal to grow. He has his own board of directors, separate from the Redstone trustees, who would have a big say.
CBS and Time Warner jointly own the CW network and share TV rights to college basketball. Time Warner is a major supplier of hit TV shows to CBS. The two CEOs once worked under the same roof -- Moonves as head of Warner Bros. TV in the mid-1990s, Bewkes as president of Time Warner's HBO.
"If things come up, we look at them," Bewkes said in December at investor conference. "We don't have to buy anything. If something was up and it didn't fit us and it went to one of our other competitors, it's not really a problem for us."
Estate Tax
Complicating a CBS transaction is an estate tax that National Amusements will owe when Redstone dies.
If Time Warner or any other bidder were to offer a substantial premium for CBS, the tax would rise. That's an incentive for the trust and CBS to delay any big moves until after such a tax is paid, one person said.
Under Moonves, CBS has led the networks' efforts to win fees from pay TV systems and local stations that retransmit their programming. CBS generated $2.36 billion in such fees last year, about 17 percent of its $13.8 billion in revenue.
CBS shares have risen more than 150 percent since January 2006, when the broadcaster split from Viacom. CBS has also returned $13.1 billion to investors in dividends and buybacks since the 2006 split.
Time Warner
Bewkes, 62, has said he's content keeping Time Warner, owner of CNN and TNT, independent after rejecting an unsolicited bid last year from Rupert Murdoch's 21st Century Fox Inc. Murdoch's July gambit led to talk of a CBS deal.
Time Warner shares have already exceeded Murdoch's $85-a-share bid, justifying Bewkes's rejection. Time Warner has focused on boosting licensing fees for its cable networks and finding new online audiences. The company plans to offer a Web-only subscription to HBO in April and has made some cable networks available on Dish Network Corp.'s new online service.
Time Warner has quadrupled since Bewkes became CEO in January 2009. Over his six years as CEO, the company has returned than $23 billion to shareholders in buybacks and dividends.
Before it's here, it's on the Bloomberg Terminal.
LEARN MORE