Dijsselbloem Says Capital Controls May Help Avert Grexit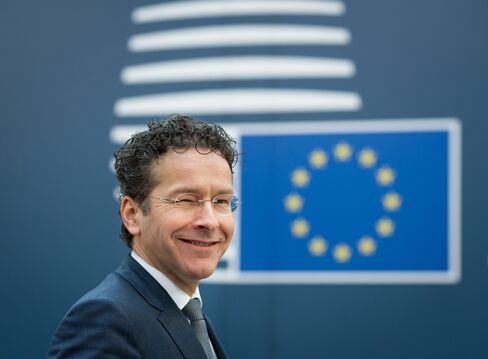 Dutch Finance Minister Jeroen Dijsselbloem raised the possibility of using capital controls to prevent Greece from leaving the euro, the most explicit mention of that option to date by a top European policy maker.
Dijsselbloem, who heads the group of euro area finance ministers, told BNR Nieuwsradio Tuesday that the 2013 Cypriot bailout shows temporarily shutting banks and restricting the flow of capital could stabilize Greece's financial system and allow it to remain part of the currency union.
"It's been explored what should happen if a country gets into deep trouble -- that doesn't immediately have to be an exit scenario," he said. For Cyprus, "we had to take radical measures, banks were closed for a while and capital flows within and out of the country were tied to all kinds of conditions, but you can think of all kinds of scenarios."
Euro-region finance ministers are urging the Greek government to draw up a rigorous plan to fix their economy so the bloc's taxpayers won't balk at further support. The Greeks could run out of cash as early as this month, forcing Prime Minister Alexis Tsipras to decide whether to bow to European demands or strike out alone by abandoning the euro.
"It would be useful for everyone for Mr. Dijsselbloem to respect his institutional role in the euro zone," Greek government spokesman Gabriel Sakellaridis said in an e-mail. "We don't easily understand the reasons that drove him to make statements that don't fit the role he's been entrusted with. All the rest are fantasy scenarios. Needless to say, Greece won't be blackmailed."
Burning Cash
Greece's parliament began debating measures this evening to boost liquidity as the cash-strapped country braces for more than 2 billion euros ($2.12 billion) in debt payments due Friday.
Unable to access bailout funding and locked out of capital markets, the government will outline emergency plans that include incentives for tax delinquents to pay up before March 27, when Greece needs money for monthly salaries and pensions.
The government is burning through cash while trying to get creditors -- euro area member states, the European Central Bank and the International Monetary Fund -- to release more money from a 240 billion-euro bailout program.
Euro-area finance ministry officials held a call Tuesday to discuss Greece's deteriorating finances, according to two European officials who asked not to be identified because the talk wasn't been publicized.
"It's important to get Greece back on track again," Dijsselbloem said. "Last year, it went remarkably well."
EU Summit
Greek bonds fell, with the yield on the Greek government 10-year bond gaining 5 basis points to 10.83 percent. Yield on the 3-year bond rose 27 basis points to 20.44 percent at 5:59 p.m in Athens. The Athens Stock Exchange gained 0.9 percent to 769.77 at the close of trading.
Tsipras has asked to meet with European Central Bank President Mario Draghi, German Chancellor Angela Merkel, French President Francois Hollande and other leaders at an European Union summit starting Thursday to discuss Greece's finances.
European governments have said they won't disburse any more emergency loans unless the government in Athens implements a set of economic overhauls agreed last month, including pension and sales tax reform. Tsipras has pledged to meet the country's obligations while also ending austerity measures.
Before it's here, it's on the Bloomberg Terminal.
LEARN MORE