Here's one sign of the U.S. economic recovery that few Americans will rejoice over: The average cost of a wedding just hit a five-year high.
Spending on nuptials reached an average $31,213 in 2014, up 3 percent from the year before and the most expensive since 2009 adjusted for inflation, according to an analysis of data released Thursday by XO Group Inc., which owns wedding website TheKnot.com. Spending per head was at its highest level since the company began surveying brides in 2007, as the size of the average guest list shrank to 136 people, the lowest on record.
The return of big-budget weddings may be one sign that the U.S. consumer is finding her economic footing again following the biggest recession in the post-World War II era.
Consumer spending, which accounts for about 70 percent of the U.S. economy, climbed at a 4.2 percent annualized rate in the fourth quarter from the previous period, the most since 2010, Commerce Department figures show. And Census Bureau data released Wednesday indicate that figure could be revised up to show a 4.9 percent gain, which would be the best since 2003, according to Daniel Silver, an economist at JPMorgan Chase & Co. in New York.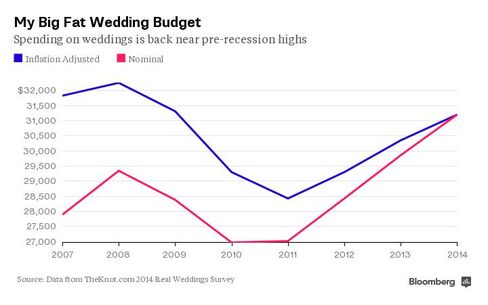 The Knot's survey, which included responses from 16,000 brides, showed that spending increased last year in every wedding category except favors and invitations. The chart below shows the breakdown of costs for last year.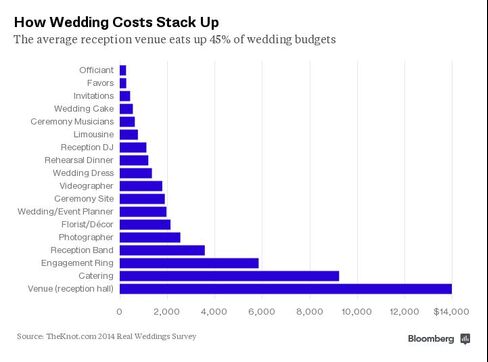 Budget differences varied widely across geographic regions. For example, getting married in Manhattan cost newlyweds an average $76,328 in 2014. That was actually down almost $10,000 from the year before.
The least expensive weddings were in Utah, with an average price tag of $15,257, according to The Knot's survey.
With wedding costs on the rise, you can't really blame millennials for putting off marriage. They're already crushed by debt, and many still live with family. When asked to weigh their priorities, 38 percent said they would or have put off getting hitched in order to afford buying a home, according to a Feb. 13 Redfin survey of the age group.
If parents are eager to see their sons and daughters settle down, they'd better be ready to foot the bill.
Before it's here, it's on the Bloomberg Terminal.
LEARN MORE