Norway Bets Cutting Pollution Abroad Is an Easier Battle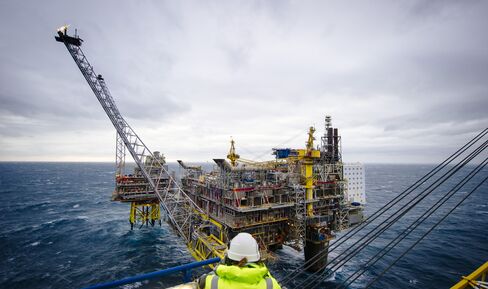 Norway is wagering it will be easier to cut carbon emissions overseas than at home.
The nation may pay about 1.5 billion euros ($1.6 billion) for emission cuts in European Union nations, or if that negotiation fails, buy permits elsewhere under a planned global climate deal. Norway currently expects its own greenhouse gas levels to be about the same in 15 years, so will meet its 40 percent reduction goal by paying for curbs abroad.
Rich nations from Japan to Luxembourg have bought emissions rights under the United Nations' Kyoto Protocol, or from poorer countries that don't have mandated targets. China, the biggest polluter, plans a national carbon market by next year after agreeing to limit emissions by 2030, and some U.S. states are considering their own programs.
"Carbon trading can speed up the global transition away from a fossil economy," said Jens Froelich Holte, a political adviser at the Norwegian ministry for climate and environment. "Trade creates benefits and this is as true for carbon as it is for other commodities," he wrote in an e-mail Feb. 16.
At current EU carbon allowance prices, the purchase of emission reductions by Norway would be valued at about 1.5 billion euros for the decade through 2030. Norway on Feb. 4 adopted a plan to cut emissions by the equivalent of 40 percent below 1990 levels by 2030. Its emissions from energy were at a record in 2013.
Price Boost
Norway's plan may boost EU carbon prices, which fell 81 percent since 2008, said Tim Yeo, chairman of the U.K. parliament's energy and climate change committee. Higher prices will in turn influence investment decisions, he said by phone Feb. 25.
Norway, which is not an EU member, is the bloc's second-biggest oil and gas supplier, and participates in Europe's carbon market for certain industries including oil and natural gas production. Norway's emissions from those industries rose 80 percent since 1990, with the total from all uses up 4.6 percent.
By buying from Europe, Norway leaves less space for others in the bloc to emit, Yeo said. Fifteen EU nations including Germany and the U.K. are seeking "urgent" rule changes to the market to deal with a glut of allowances that has reached about 2 billion metric tons, more than a year's supply.
Norway said Feb. 4 it has an option to use carbon allowances from the existing EU market to cover an unspecified portion of its emissions currently outside it, including those from transport and agriculture. This could erode the accumulated surplus in the EU carbon market, the world's biggest.
Environment Groups
Trading alone won't save the climate, according to environment groups. Over-reliance on carbon markets "is more than lazy, it's counterproductive to the basic task of cutting emissions," said Rasmus Hansson, the only Green Party member of parliament in Norway.
Still, the EU can "now put pressure on Norway that Norway is not willing to put on itself," Hansson said Feb. 9 by phone.
Under the so-called joint fulfillment trade for the decade through 2030 planned by Norway and the EU, the Nordic nation may buy 195 million tons of allowances, equal to what Germany produces in about two months. The details are still being negotiated, said Holte, the Norwegian official. At that size, Norway's agreement to cut emissions would represent the biggest trade ever, according to a list of transactions from Bloomberg New Energy Finance.
Paris Talks
The Nordic nation will continue other environmental spending, such as 3 billion kroner ($370 million) a year on forest protection through 2020, that is not designed to help it comply with climate targets, Holte said.
Most of the world's nations will meet in Paris in December to negotiate a new international climate deal. If the targets set are "ambitious," then Norway would seek to be carbon-neutral by 2030 at the latest, implying that its trading program could be much bigger, according to a statement on a government website overseen by the country's environment agency.
The global climate agreement should allow cuts under a commitment by one country or group of countries "to be claimed towards the commitment of another," the European Commission, the EU's executive arm, said Feb. 25 in a statement outlining its preferences.
Trades are already happening under the Kyoto Protocol. Japan and its companies have bought about 165 million tons of UN emission credits, UN data show. Norway bought 29 million tons.
Estonia, Switzerland
In 2010 and 2011, Luxembourg spent 44 million euros on emissions rights from Estonia and Lithuania. Switzerland said last month it planned to buy credits.
New environmental rules may spur U.S. states to introduce cap-and-trade policies to protect the market share of their power industries from incursions by neighbors, according to a report published last week by Resources for the Future, an environment policy think tank in Washington.
In China, the planned national market will replace test programs in states and cities. Together, China, the U.S. and the EU made up 55 percent of global emissions from energy in 2013, BP Plc data shows.
If other countries choose not to trade, they will either adopt weaker climate targets or pay more to meet their goals, Daniel Rossetto, director of Climate Mundial, which advises on carbon trading, said Feb. 20 by phone from Maputo, Mozambique.
Norway's plan "throws down the gauntlet to every other nation," he said.
Before it's here, it's on the Bloomberg Terminal.
LEARN MORE