Citigroup Has Cleanest Fed-Test Pass of Wall Street Rivals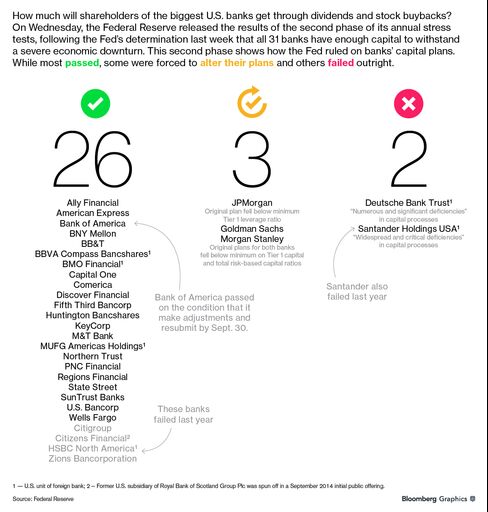 Citigroup Inc.'s plans to return capital to shareholders got the cleanest approval from the Federal Reserve among top Wall Street banks, a year after the firm failed the regulator's annual stress tests.
Bank of America Corp. got a conditional pass requiring it to shore up internal processes and resubmit its plan for managing capital, while Goldman Sachs Group Inc., JPMorgan Chase & Co. and Morgan Stanley cleared after revising proposals, the Fed said Wednesday in a statement. U.S. units of Deutsche Bank AG and Banco Santander SA failed because of qualitative concerns about their processes. The Fed didn't place any conditions in passing Citigroup or 24 other firms, including Wells Fargo & Co.
Michael Corbat, Citigroup's chief executive officer, had staked his job on passing this year's test after the Fed found the bank's processes inadequate last year. He spent more than $180 million to improve the bank's systems and asked Eugene McQuade, a veteran executive with close regulatory ties, to delay his retirement to oversee this year's submission.
"Citigroup came through with flying colors," Gerard Cassidy, an analyst at RBC Capital Markets, said in an interview. "They have put an enormous amount of effort and money that was spent to do it right."
Citigroup's Payout
The tests are a cornerstone of the Fed's strategy to prevent a repeat of the 2008 financial crisis and another taxpayer bailout of the largest banks. The results released Wednesday are the annual exam's second and final round, determining whether firms can withstand losses and still pay dividends, buy back stock or make acquisitions.
It's high stakes for investors: Analysts estimated before Wednesday's results that publicly traded U.S. banks in the exam are strong enough to boost quarterly payouts 53 percent on average, disbursing $109 billion over the next 15 months.
Citigroup, which was stuck with a token 1-cent quarterly dividend after last year's failure, announced Wednesday that it will pay 5 cents a share and buy back as much as $7.8 billion of stock during the next five quarters, up from $1.2 billion over the past four.
Dividends will jump 50 percent at Morgan Stanley, 10 percent at JPMorgan, 8 percent at Goldman Sachs and 7 percent at Wells Fargo. Bank of America left its dividend at 5 cents. Morgan Stanley will repurchase as much as $3.1 billion in stock, JPMorgan will buy up to $6.4 billion and Bank of America $4 billion. Goldman Sachs and Wells Fargo didn't disclose plans to buy back stock.
Citigroup climbed 3.2 percent to $54 in extended trading at 5:18 p.m. in New York, Morgan Stanley advanced 3.3 percent, and Bank of America slipped 1.1 percent.
Corbat's Turmoil
If all of the banks that passed return the capital they asked for, they would pay out almost 60 percent of their projected income over five quarters, a senior Fed official said.
Failing the test -- either because the Fed faults a bank's strength or internal systems -- can prevent larger payouts, leaving executives to shore up balance sheets or controls while facing shareholders eager for more cash.
For Corbat, 54, passing may end a year of turmoil that included the Fed's rejection of the bank's plan last March because of what regulators described as deficiencies in the firm's processes for projecting revenue and losses across its global operations.
BofA Faulted
Bank of America's revenue and loss models and parts of its internal controls were lacking and need to be resubmitted by Sept. 30, the Fed said Wednesday. If the lender hasn't fixed its capital planning by then, the Fed can restrict payouts.
The firm, led by CEO Brian T. Moynihan, said Feb. 25 that regulators had demanded changes to models, including those for wholesale credit, which would probably decrease capital ratios. The Fed didn't say whether the requested changes in models were related to its critique of the Charlotte, North Carolina-based company's stress-test process.
Deutsche Bank Trust Corp. and Santander Holdings USA can't pay dividends to their foreign parent companies or any other shareholders. That may not have a significant impact, because a Fed rule approved last year will require foreign banks to inject more capital into their U.S. units by July 2016.
That rule forces the largest foreign firms to consolidate U.S. operations into one subsidiary and abide by the same capital and liquidity minimums as domestic peers. It came after lenders including Deutsche Bank and Barclays Plc dropped the bank holding company status of their primary U.S. units.
Changing Proposals
"Deutsche Bank has hired 1,300 employees dedicated to ensuring that its systems and controls are best in class and has hired over 500 employees across its various control functions in the U.S.," the firm said in a statement. The unit didn't ask to pay a dividend or buy back stock, it said.
Last week, the Fed said all 31 banks have enough capital to absorb losses during a sharp and prolonged economic downturn. That review didn't factor in their capital plans.
Firms can modify those proposals in the week before the final results. Regulators don't hold it against companies if their original plans are so aggressive that they're forced to resubmit, or if they do it in subsequent years, because that's now a part of the process, a senior Fed official said.
Goldman Sachs got closest among the top six U.S. banks to breaching regulatory thresholds in the first phrase of the test, surpassing the 8 percent minimum for total risk-based capital by
0.1 percentage point.
Corrected Data
Goldman Sachs, which paid out the highest percentage of earnings among Wall Street firms in 2014, had to resubmit its capital plan to win Fed approval for a second straight year. The firm has pushed to give back capital to shareholders as it tries to boost return on equity, which has been 11 percent in each of the past three years.
Morgan Stanley canceled a request to buy back $4.9 billion in trust-preferred securities as part of its capital plan resubmission that won Fed approval, a person briefed on the matter said. That let the firm maintain its application for common stock buybacks and an increased dividend, said the person, who asked not to be identified because the bank's original proposal hasn't been disclosed.
Also on Wednesday, the Fed released corrected results from last week's tests. Four participating firms -- Goldman Sachs, Wells Fargo, American Express Co. and State Street Corp. -- submitted incorrect data, which affected their starting Tier 1 common capital ratios and by extension their performance in the scenarios. The corrections led to increases in the ratios for the affected firms.
Before it's here, it's on the Bloomberg Terminal.
LEARN MORE