Apple ITunes, App Stores Reopen After Unusually Long Outage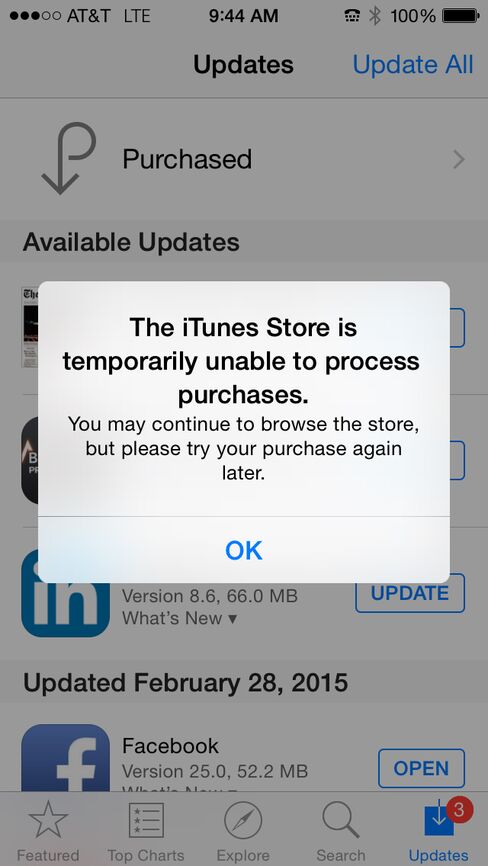 Apple Inc. restored services to iTunes and App stores Wednesday after an unusually extensive outage that lasted more than 11 hours.
The iTunes, App and Mac App stores were available for users, according to a message on the iPhone maker's system-status Web page at 4:45 p.m. in New York. Service for the iBooks Store also had also been interrupted, while users of iCloud Mail and other Web tools couldn't gain access for four hours, according to the timeline.
The disruption was an internal system error, the Cupertino, California-based company said in an e-mailed statement. "We're working to make all of the services available to customers as soon as possible," the statement said. The interruptions came two days after the company released details of its Apple Watch, a new device that could fuel further demand for apps when it goes on sale next month.
"I can't recall an outage this long before," Daniel Ernst, an analyst at Hudson Square Research, said in a telephone interview. "I think that we'll see more and more of this across the industry as we become more dependent on the cloud, but I don't think it's going to have a material impact."
Apple's shares fell 1.8 percent to $122.24 at the close, the lowest since Feb. 10.
September Interruption
While service interruptions aren't unusual for online services, they generally aren't as widespread as Wednesday's. An Apple outage in September affected some users of the iTunes Store for less than six hours.
"If it's a data-center breach, it could be meaningful, but it's very hard to say what the impact will be without knowing what the cause is," said Stuart Jeffrey, an analyst at Nomura Securities International said earlier on Wednesday.
Before service was restored, users in countries including the U.S., Switzerland, Hong Kong and the U.K. reported getting error messages or having difficulty when trying to install or update apps or log in to their accounts. Users posted on Apple's online support bulletin board getting the message "STATUS_CODE_ERROR" on the App Store's login window. On Twitter, people aired grievances using the hash tags #appstoredown and #itunesdown.
Apple on Monday unveiled details of its smartwatch and a new MacBook at an event in San Francisco. The Apple Watch will be priced from $350 to more than $10,000 and go on sale April 24.
Before it's here, it's on the Bloomberg Terminal.
LEARN MORE