Japan's Emergence From Recession Weaker Than First Thought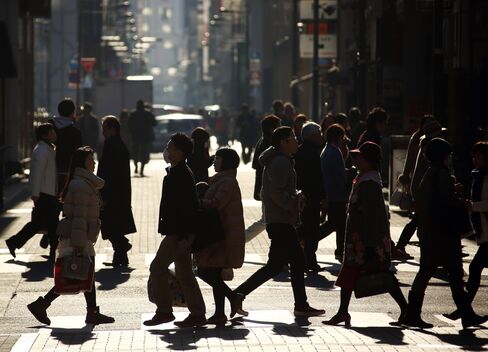 Japan's emergence from recession was weaker than first estimated as companies unexpectedly cut investment and drew down their inventories, offsetting a pickup in consumer spending.
Gross domestic product expanded an annualized 1.5 percent in the three months through December from the previous quarter, less than a preliminary 2.2 percent, revised government data show. The rebound followed a contraction caused by an increase in the sales tax last April.
The third straight quarter of falling investment indicates companies remain reluctant to plow their record cash holdings into the economy as they work off inventories that swelled after the tax hike. A sustained recovery in consumer spending hinges on employers boosting pay faster than rising living costs.
"Companies are still holding back from aggressive spending on capital investment," said Junko Nishioka, an economist at Sumitomo Mitsui Banking Corp. "We need to see a recovery in the corporate mindset to get further recovery of the economy in the domestic market."
Exports added to growth as large manufacturers continued to benefit from the weak yen while import costs rose, adding to pressure on many smaller companies.
Shipments to the U.S. rose 5.6 percent last year. China is also drawing support from U.S. demand, with its exports to the world's biggest economy surging 48.5 percent in February from a year ago.
Japanese exports to China advanced 6 percent last year.
Inventories Decline
The Topix index of shares declined 0.6 percent at 10:28 a.m. in Tokyo while the yen was little changed at 120.77 per dollar.
Business investment fell 0.1 percent from the previous three-month period, the third straight quarter of decline.
Inventories subtracted 0.2 percentage point from expansion in the quarter, a revision down from the preliminary 0.2 point boost to growth. Net exports added 0.2 percentage point, unchanged from the first reading.
Separate data released Monday showed Japan's current account balance was a 61.4 billion yen surplus in January, versus an estimate of a 270.4 billion yen surplus.
Bank of Japan Governor Haruhiko Kuroda is counting on a pickup in growth to reduce slack in the economy and increase inflationary pressure. While he says the tumble in oil prices will benefit the country in the longer term, cheaper energy is threatening to trigger a decline in consumer prices in coming months that challenges his 2 percent inflation target.
"There is no doubt Japan's economy has already hit bottom," said Atsushi Takeda, an economist at Itochu Corp. "At the same time, this data does suggest the strength of rebound won't be impressive."
Before it's here, it's on the Bloomberg Terminal.
LEARN MORE