Phony Facebook Claimant Dumps Tracker, Vanishes Before Trial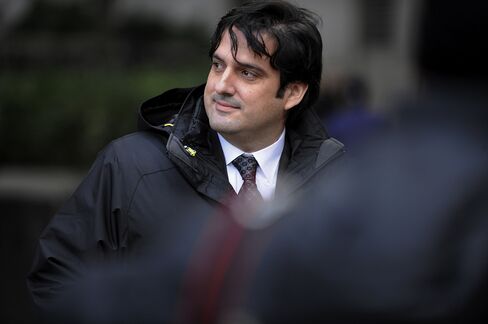 A western New York man facing fraud charges for claiming ownership of half of Facebook Inc. based on a phony contract is missing after having removed his electronic monitoring device.
Paul Ceglia is scheduled to go on trial in May in Manhattan federal court, where Facebook co-founder Mark Zuckerberg is slated to testify against him. U.S. authorities are looking for Ceglia and his family after finding the ankle bracelet, but not Ceglia, in his Wellsville, New York, home. His lawyer said he doesn't know where he is.
"It appears he has fled," U.S. District Judge Vernon Broderick said at a hearing Tuesday, before revoking Ceglia's bail.
Ceglia, 41, is believed to be with his wife and two sons, as well as the family's dog, said Charles Salina, the federal marshal for western New York state. He said he doesn't know whether Ceglia is now in the U.S.
"Our responsibility is to locate him," he said in a phone interview.
Ceglia sued Zuckerberg in 2010, claiming that seven years earlier they had signed a contract entitling Ceglia to half of Facebook. The world's biggest social network is now valued at about $219 billion. A federal judge in Buffalo, New York, dismissed Ceglia's lawsuit last year, calling the contract "a fabrication."
Facebook and Zuckerberg, now the company's chief executive officer, have said from the start that Ceglia's claim is fraudulent. Zuckerberg, who in 2003 was a freshman at Harvard University, signed an unrelated contract to do website coding for Ceglia, they said.
No Response
U.S. marshals were sent to Ceglia's home Sunday after he failed to respond to attempts by a pretrial services officer to contact him, Assistant U.S. Attorney Janis Echenberg told Broderick in the Tuesday hearing. Defense attorney Robert Ross Fogg learned about his client's disappearance from Echenberg.
Fogg and Gil Messina, another lawyer for Ceglia, told Broderick they have tried to contact him by phone and e-mail, with no success. Both lawyers participated in the hearing by phone.
"I don't know where he is," Fogg said in an interview Monday. "I haven't got a clue."
Passport Surrendered
Ceglia was released on $250,000 bond, guaranteed by real estate and by his brother and parents. He was required to surrender his passport to the government while awaiting trial.
Broderick questioned whether Ceglia was planning his escape in September, when he asked the court to reduce the amount of property to guarantee his appearance in court, claiming it was worth much more than the bond amount.
Ceglia moved to Ireland for several months in 2011 and was ordered back to the U.S. to turn over evidence in the lawsuit against Facebook.
Broderick declined to reschedule the trial.
"I'm cautiously optimistic he will return to the jurisdiction in the near future," the judge said.
The case is U.S. v. Ceglia, 12-cr-00876, U.S. District Court, Southern District of New York (Manhattan).
Before it's here, it's on the Bloomberg Terminal.
LEARN MORE