Denmark Lifts Euro-Peg 'Tsunami Warning' as Speculators Quit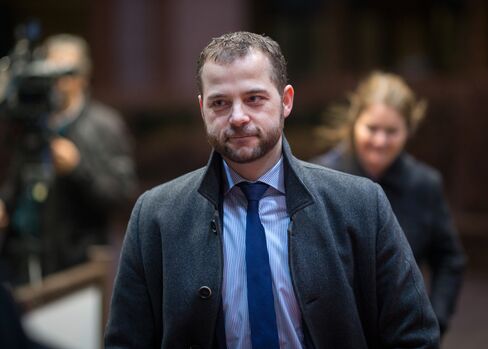 Denmark's government sees the latest currency flow data as evidence speculators have been beaten back in their efforts to break the krone's peg to the euro.
"The tsunami warning is off," Economy Minister Morten Oestergaard said in an interview in Copenhagen. Policy makers in Denmark are "very confident that we have the upper hand in this little bout" of exchange-rate turbulence, he said.
Denmark has spent the past eight weeks fighting back conjecture it would follow the Swiss and abandon its ties to the euro. The attack against the Danish currency regime has provoked an unprecedented package of measures designed to deter investors from hoarding AAA rated krone assets. The main deposit rate is now minus 0.75 percent and reserves have soared two-thirds to about 40 percent of gross domestic product.
Central bank Governor Lars Rohde said in a Feb. 5 interview there's no limit to how far he's willing to cut interest rates or raise reserves to defend the peg. He's also agreed with the government to suspend debt sales to drive down longer-dated yields and reduce the supply of krone assets that speculators can buy.
The measures look to be succeeding. Denmark's biggest commercial pension fund, PFA A/S, said in February that the appeal of holding kroner is waning. London-based hedge fund LNG Capital said the same month it had abandoned its bet against the peg. Denmark's biggest fund, ATP, says it hasn't bothered putting up any hedges against the peg because the scenario of the regime failing is unthinkable.
NY Meeting
The latest central bank reserve data suggest it "hasn't had to intervene as much" to prevent the krone strengthening, Oestergaard said. The Economy Ministry has also cut back on the number of meetings it holds with the central bank as the situation normalizes, he said.
When Switzerland sent its franc into a free float on Jan. 15, Oestergaard was in New York to meet with Standard & Poor's and discuss the AAA rating that has attracted so many investors into Danish assets. He sees Denmark's status as a haven for investors as something positive that economic policy should seek to support.
Hedge funds expecting Denmark to follow Switzerland need to understand the context in which the krone peg exists, Oestergaard said. The cap Switzerland imposed on the franc in 2011 was always intended to be temporary, whereas Denmark's regime has existed for more than three decades, first against the deutschmark and since 1999 against the euro.
Only Job
The Danish central bank's only job is to target 7.46038 against the euro in a 2.25 percent official tolerance band. In practice, it only allows swings of 0.5 percent. One euro cost 7.4507 kroner as of 9:06 a.m. in Copenhagen. That compares with as strong as 7.4327 on Jan. 15.
"You probably can't find a single politician in parliament who will argue we should leave the peg," Oestergaard said. "That's the strongest mandate the central bank can have."
And while Denmark's peg is built into the country's economic foundation, Switzerland's temporary currency regime was a "political tool introduced to handle a crisis," he said.
Lottery Ticket
Denmark can't yet assume that pressure on its currency regime won't return, according to Oestergaard.
"I've seen the reports interventions have come down," he said. "We're still not in a place where we can just shrug it off."
While speculators may have been deterred from taking bets against the peg, demand for krone assets is also coming from Denmark's own pension industry. Oestergaard said the government has no reason to believe the country's biggest institutional investors are betting against the currency regime.
"We expect" the Danish pension funds "not to speculate, not to buy a lottery ticket," Oestergaard said. "They should obviously be serving their clients."