Imbalance in Crude Oil Price Will Even Out Soon: OPEC Chief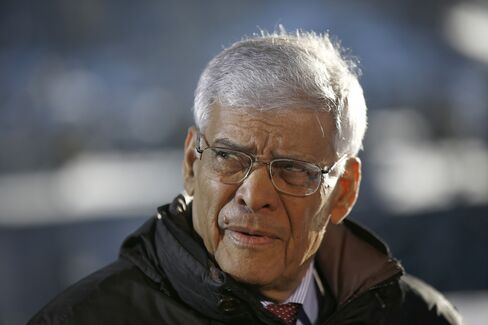 The global crude-oil market will return to balance in the second half of this year as demand growth picks up and high-cost producers trim output amid lower prices, OPEC Secretary-General Abdalla El-Badri said.
Consumption in 2015 will increase by 1.2 million barrels a day after rising more slowly than expected last year by less than 1 million barrels a day, El-Badri said Sunday at a conference in Manama, Bahrain.
Crude has lost half its value since June, raising risks for suppliers with comparatively high costs of production. The U.S. is idling rigs and delaying wells even as it pumps oil from shale and other deposits at the fastest pace since 1983. Cheaper crude is a boon to countries such as China and India that rely on energy imports, and OPEC's decision on Nov. 27 to maintain production rather than sacrifice market share has added to the glut.
"If we made a cut in the November meeting, then we would have needed to make another cut in January, and then we would need another cut in June as supply will keep increasing from non-OPEC," El-Badri said.
Non-OPEC supply has grown by 6 million barrels a day since 2008 while production by members of the Organization of Petroleum Exporting Countries has remained at about 30 million barrels, he said. Brent oil futures, a benchmark for more than half of the world's crude, dropped 0.2 percent today to $59.62 a barrel in London.
Shale Output
OPEC pumped 30.6 million barrels a day in February, an increase of 163,000 a day led by gains from Saudi Arabia, the world's biggest crude-oil exporter. It was the ninth consecutive month that the 12-member group has produced more than its collective target of 30 million barrels, data compiled by Bloomberg show.
OPEC shouldn't subsidize the high-cost shale oil producers and that's why the group decided to keep its output target unchanged, El-Badri said. For shale oil production to be sustainable, prices need to be at least $100 a barrel, he said. Shale oil "is not a challenge for us," and the market should be left alone to determine prices that will decide which suppliers can survive, El-Badri said.
Price Test
He urged OPEC nations to continue investing in oil while also diversifying their economies, many of which rely mostly on crude exports.
"The current lower price environment is a test for all producers and investors. Low oil prices means less revenues, and less revenues means tighter budgets," El-Badri said. OPEC made more than $1 trillion in revenue from 2010 to 2014 with oil at $100 a barrel, he said.
Kuwait is in a "critical situation" because crude oil accounts for 94 percent of the Persian Gulf nation's gross domestic product, Oil Minister Ali al-Omair said at the conference.
Over the next 25 years, the oil industry will need to invest $10 trillion to meet a forecast 60 percent increase in energy demand, El-Badri said. "Fossil fuel will remain central to the energy mix," he said.