German Split Opens Over Blocked Sale of Tanks to Saudi Arabia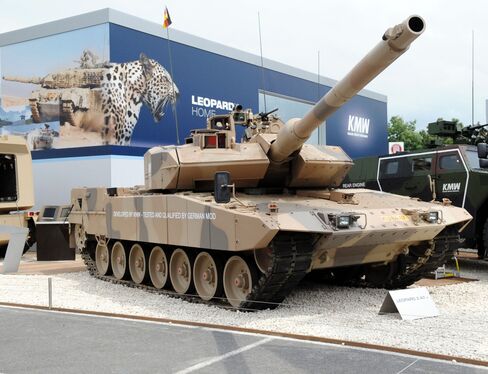 A split opened in Germany's ruling coalition over the blocked sale of Leopard 2 tanks to Saudi Arabia as a growing number of lawmakers call for supporting an ally in the battle against terror.
Signs that opposition to selling the Leopard may be weakening emerged last week as a 120-strong German delegation headed to Riyadh for talks with King Salman Bin Abdulaziz Al Saud and other Saudi leaders. The group is led by Economy and Energy Minister Sigmar Gabriel, who has partly justified a clampdown on the sale on Saudi Arabia's human rights record.
Chancellor Angela Merkel's Christian Democratic Union party backs the plan of Gabriel, leader of the Social Democrats, to address human rights in the talks but are worried about "letting down reliable partners" over the tank sale, CDU lawmaker Joachim Pfeiffer said in an interview late Friday in Riyadh. Gabriel told reporters in Riyadh on Sunday that Merkel opposes selling the Leopard to Saudi Arabia and that German parliamentarians must defer to her.
Pressure on Germany to rethink its stance on selling the Leopards will probably grow as tensions in the Persian Gulf persist with the Islamic State threat and as Merkel seeks to underpin the stability of the Saudi kingdom. Islamic State leaders can't be beaten by "appealing to morals," CDU parliamentary caucus leader Volker Kauder said in a March 7 interview in Leipziger Volkszeitung newspaper, calling on Merkel to reconsider military policy to Saudi Arabia.
Leopard's History
In service with the German army since 1979, the Leopard is made by Krauss-Maffei Wegmann GmbH and was designed initially for Cold War deployment. The model has evolved as a global competitor to the U.S.'s Mark 1 Abrams tank, finding customers from Indonesia to Canada and operational use in Afghanistan.
Talks today between King Salman and Gabriel will focus on alleviating the plight of jailed Saudi blogger Raif Badawi and how to bolster German direct investments in the kingdom.
Jeddah-based daily Arab News reported Sunday that Saudi authorities expressed "dismay" at "provocative reports" in foreign news media against Badawi's treatment. Gabriel said Friday that German companies are holding back from investing in Saudi Arabia amid concerns over the country's stability.
Germany's arms export policy has become "somewhat blind to reality," said Pfeiffer, who is the CDU's senior economy spokesman.
Gabriel vowed to roll back arms exports after the country grew to rank third in the trade worldwide, after the U.S. and Russia, in the five years through 2012. A sale of the Leopard to Saudi Arabia has been under discussion for about five years, though Gabriel said in October that the possible contract was "not justified" and may indicate a larger shift in arms-supply licensing policy.
German-Saudi Contracts
German contractors signed agreements to supply defense goods to Saudi Arabia that include patrol ships and small arms, Gabriel told reporters Friday.
In a March 1 interview on Germany's ZDF television network, Gabriel dismissed concerns that policy was inconsistent after the government supplied small arms to Kurdish Peshmerga fighters challenging Islamic State, calling the move justifiable to head off genocide of the Yazidi religious minority. Exports to Saudi Arabia raise the question of whether the weapons would be used against the kingdom's own population or fall into Islamic State militants' hands, he said.
Gabriel's comments "obscure what's at issue here" to the point of "absurdity," and jeopardize European interests, Pfeiffer said. Islamic State territorial gains underline the urgency of supporting the Saudi government, which is a "key country" in the "tinderbox" Persian Gulf area, he said.
"For decades, it's been a reliable partner of the West and an anchor of stability in the region," Pfeiffer said. "Would we have stopped the IS and done the right thing by not supplying arms to the Peshmerga?"
Before it's here, it's on the Bloomberg Terminal.
LEARN MORE