Cheaper Biotech Drugs Come to U.S. as Novartis Gets FDA Approval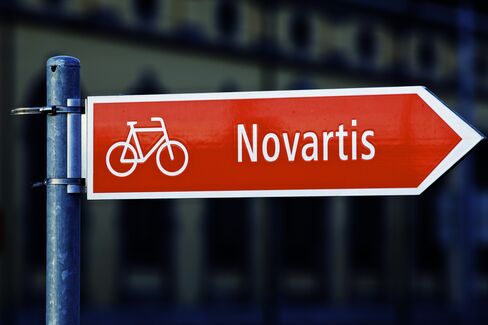 Americans are poised to gain access to cheaper therapies for serious ailments from cancer to arthritis with approval today of the first biosimilar in the U.S., Novartis AG's version of Amgen Inc.'s Neupogen.
For years, pharmaceutical and biotechnology companies have manufactured and sold expensive, complex medicines that have no less-expensive alternatives -- unlike cheap generic copies of pills that become available when their patents run out.
Thanks to a 2010 law, that's now changing. On Friday, the Food and Drug Administration cleared the first-ever imitation of a bioengineered drug, which Novartis will call Zarxio, according to a statement from the agency. Novartis agreed to delay selling the biosimilar in the U.S. until a lawsuit with Amgen is resolved or until April 10, whichever is earlier, said Julie Masow, a spokeswoman.
Neupogen generated $1.2 billion in sales last year as a therapy to help increase cancer patients' white blood cell counts and fight infections. The drug is part of a class of medicines called biologics that have never faced generic competition. The 2010 Patient Protection and Affordable Care Act authorized the FDA to approve imitations of biologics. They are called biosimilars rather than generics because biologics are manufactured from living organisms and can't be precisely copied.
Biosimilars aren't expected to reduce prices by 80 percent like traditional generic drugs. A Rand Corp. report in November 2014 estimated biosimilars would save $44 billion over a decade, and economic and actuarial studies included in the report assumed the imitations would cut prices by 10 percent to 50 percent.
Underused Drug
Neupogen "is underused in the U.S. for a variety of reasons, including price," Louis Weiner, chairman of the department of oncology and director of the Lombardi Comprehensive Cancer Center at Georgetown University, said in a statement from Novartis. "Biosimilars have the potential to increase access and the approval of Zarxio may reduce costs to the healthcare system."
Others are on the way. Apotex Inc. has an application pending with the FDA for a biosimilar of Amgen's Neulasta, an updated version of Neupogen. Hospira Inc. also has an application before the FDA for a biosimilar that would compete with Amgen's Epogen and J&J's Procrit, drugs that treat anemia associated with chronic kidney disease patients on dialysis. Celltrion Inc.'s version of Johnson & Johnson's arthritis drug Remicade is under review as well.
Zarxio will save the U.S. health-care system $5.7 billion in the next 10 years, assuming that it's 30 percent cheaper than Amgen's drug, according to an estimate by Express Scripts Holding Co., the largest pharmacy benefit manager in the U.S.
$3,500 a Month
Amgen charges wholesalers $314.80 for a 300-microgram syringe of the drug before rebates and other discounts, Kelley Davenport, a spokeswoman for Amgen, said in January. Express Scripts estimates that 30 days' worth of Neupogen cost about $3,500 last year.
The FDA approved Zarxio for all five conditions Neupogen is approved to treat related to white blood cell counts.
Novartis is working on five other biosimilars, including versions of AbbVie Inc.'s Humira used to treat arthritis and psoriasis and Rituxan from Roche Holding AG and Biogen Idec Inc., which treats certain blood cancers, Carol Lynch, head of biopharmaceuticals and oncology injectables at the Basel, Switzerland-based drugmaker's Sandoz generics unit, said in an interview ahead of approval.
Novartis won't reveal pricing information until Zarxio is on the market, Masow, the company's spokeswoman, said in an e-mail, adding "it will be competitively priced."
Names Matter
A big question the FDA hasn't answered yet as it establishes a biosimilars pathway to approval is what the drugs will be called. For example, all generic copies of Pfizer Inc.'s Lipitor are given the name of the cholesterol-lowering drug's active ingredient atorvastatin. The uniform name helps doctors, pharmacies and health insurers identify a drug and it may have an impact on how the treatments are perceived.
The debate over biosimilars is whether the differences that make them similar to, but not the same as, their brand-name counterparts require some kind of qualifier. The active ingredient in Neupogen is filgrastim and FDA made Zarxio's name filgrastim-sndz.
The FDA said this is an interim approach while the agency figures out its naming policy. The FDA plans to release a draft of the naming policy "hopefully, in the very near future," John Jenkins, director of the Office of New Drugs in FDA's Center for Drug Evaluation and Research, said on a call with reporters today.
Market Share
Novartis argues that giving a different chemical name to a biosimilar will make physicians and patients pause and potentially affect whether it's used, Lynch said.
Lynch said she expects Zarxio's market share in the U.S. will be similar to that in Europe, where Novartis's biosimilar of Neupogen, called Zarzio, has 30 percent of the market. European regulators don't require different names.
Zarzio was approved in 2009 in the European Union, the last of eight biosimilar filgrastims to come to market there, according to the European Medicines Agency.
An FDA advisory panel of outside experts unanimously voted Jan. 7 to support U.S. approval of Novartis's biosimilar.
"I think it's really significant but it's also recognized as a relatively simple molecule," Gillian Woollett, senior vice president at Avalere Health, said in a phone interview.
A more complex biosimilar, Celltrion's version of J&J's Remicade, was scheduled to come before an advisory panel on March 17 before the FDA delayed the meeting because of pending information requests with Celltrion.
Complex Antibodies
Remicade is a monoclonal antibody, a class of drugs that represent some of the best-selling cancer treatments, including Roche's breast cancer therapy Herceptin, which generated $6.9 billion in 2014 sales, according to data compiled by Bloomberg.
Novartis didn't seek approval of Zarxio as interchangeable with Neupogen, which would have allowed it to be automatically substituted at the pharmacy. Instead, a doctor must be involved in the decision to give a patient Zarxio, whether they write a prescription specifically for the biosimilar or a pharmacist calls to confirm making the switch. The biotechnology drug industry is waiting for the FDA to release guidance on what studies are needed to prove interchangeability.
Before it's here, it's on the Bloomberg Terminal.
LEARN MORE