Fed Says 31 U.S. Banks Could Weather an Economic Storm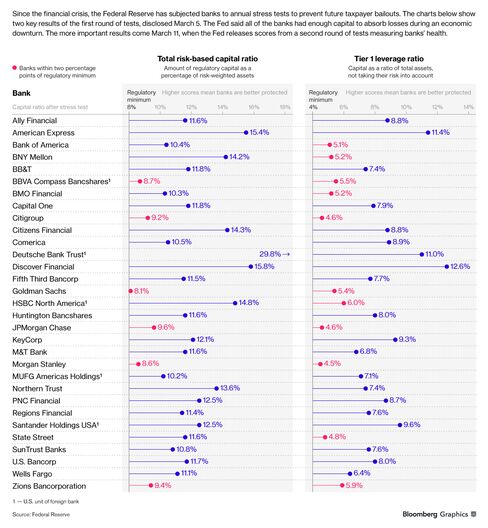 The Federal Reserve said all 31 big banks subjected to a stress test have sufficient capital to absorb losses during a sharp and prolonged economic downturn.
It's the first time since the central bank started stress tests in 2009 that no firm fell below any of the main capital thresholds. Goldman Sachs Group Inc. surpassed the 8 percent minimum for total risk-based capital by 0.1 percentage point, potentially restricting its room to return capital to shareholders.
The annual tests, using hypothetical scenarios that are not forecasts, are the cornerstone of the Fed's efforts to prevent a repeat of the 2008 financial crisis and to gauge the ability of banks to withstand economic turmoil.
The largest U.S.-based banks "continue to build their capital levels and to strengthen their ability to lend to households and businesses during a period marked by severe recession and financial market volatility," the Fed said in a statement Thursday.
The Fed uses the exams to prod lenders into building up capital buffers. Banks that don't meet a second round of tests released next week may face restrictions in buying back stock and paying dividends.
This year's results are being released as the Fed faces scrutiny from lawmakers critical of its supervision of the biggest banks. Fed Chair Janet Yellen countered the criticism, saying this week the central bank works hard to avoid the trap of "regulatory capture," or the risk that bank examiners get too cozy with the firms they oversee.
Six Largest
Bank of America Corp. was the only bank among the six largest to improve in every capital measure from its performance in last year's test. Wells Fargo & Co. surpassed every minimum by at least 2 percentage points. Morgan Stanley's ratio in three capital measures fell in a severely adverse scenario to within 1 percentage point of the required minimum.
Loan-loss estimates for the 31 banks totaled $490 billion under a hypothetical severely adverse scenario, down from $501 billion for the 30 banks tested last year. The losses include a $102.7 billion hit to trading. JPMorgan Chase & Co. would suffer the most from trading losses, estimated at $23.6 billion.
The heaviest damage was to consumer lending, with 39 percent of projected losses from such activity as mortgages and credit cards.
Goldman Sachs's small buffer over the required minimum would appear to leave the firm with less than $1 billion in excess capital to pay out to shareholders. In 2014, the bank returned $6.52 billion in dividends and share repurchases.
Citigroup Losses
Citigroup Inc. lost the most among banks in an accounting line known as accumulated other comprehensive income, which measures losses that can erode equity, even if they aren't immediately reflected in the firm's net income.
The New York-based bank's losses in that category were estimated to reach $20.5 billion, or about three quarters of the industry's total, under the severely adverse economic scenario. Under the less severe scenario, the bank's $29.3 billion in losses accounted for about one third of the total.
The Fed didn't specify what part of Citigroup's business fueled the loss estimate. Accounting rules require banks to record unrealized gains and losses from items such as "available-for-sale" security holdings and foreign-currency moves under that line item.
Adverse Scenario
The adverse scenario assumes a weakening in global economic activity while domestic inflation spurs an increase in Treasury yields. Short-term rates would reach more than 2.5 percent in 2015 and 5.25 percent in 2017.
Banks also had to account for a mild, three-quarter U.S. recession starting in the last quarter of 2014, during which time real gross domestic product falls half a percent and unemployment rises above 7 percent, going on to reach 8 percent by the end of 2016.
Under the severely adverse conditions, stocks fall by 60 percent by the fourth quarter of 2015 and housing prices drop by about 25 percent. Unemployment peaks at 10 percent, gross domestic product declines by 4.5 percent and the price of oil rises to $110 per barrel. Long-term Treasury yields fall to 1 percent in the fourth quarter of 2014 and then rise slowly.
The first round of tests analyzes whether companies have enough capital to withstand nine quarters of stressful economic conditions. The second round, to be released March 11, assesses their ability to weather losses and still pay dividends, buy back stock or make acquisitions.
2014 Test
In the first round last year, Zions Bancorporation was alone among the banks to come in below one of the Fed's main capital thresholds.
In the second set, the capital plans of five banks didn't pass muster. Citigroup Inc. and the U.S. units of Royal Bank of Scotland Group Plc, HSBC Holdings Plc and Banco Santander SA fell short because of qualitative concerns about their processes. Zions was rejected as its capital fell below the minimum required.
Zions again had the lowest Tier 1 common ratio among the banks this year. The Salt Lake City, Utah-based firm's Tier 1 common ratio would drop to as low as 5.1 percent in a severely adverse scenario, just above the 5 percent minimum.
"It's a little surprising they came in so close just given all the risk they've taken off their balance sheet this year," said Brad Milsaps, an analyst at Sandler O'Neill & Partners LP. "The expectation is that they aren't going to be asking for a lot in payouts."
Management Actions
Deutsche Bank AG's U.S. unit was added to the list of banks required to undergo the tests for 2015, bringing the total to 31.
The severely adverse scenario this year included deep recessions in the euro area, U.K. and Japan, and "below-trend" growth in developing Asia, according to guidelines the Fed released in October.
While the test released on Thursday gauges banks' strength, the firms aren't said to pass or fail, because the exam doesn't account for their plans to preserve or bolster capital. In the tests to be released March 11, the Fed will take into account the companies' requested capital distributions and other measures, requiring they leave banks above a minimum Tier-1 common ratio of 5 percent over nine quarters in harsh economic scenarios.
Fed officials have cautioned that even banks that exceeded all the thresholds in Thursday's test may still find their requests for higher payouts rejected next week if regulators find the quality of the planning is flawed. The scrutiny can extend to management, systems and boards of directors.
Before it's here, it's on the Bloomberg Terminal.
LEARN MORE