Alibaba's Jack Ma Says Company Followed Taiwan Regulations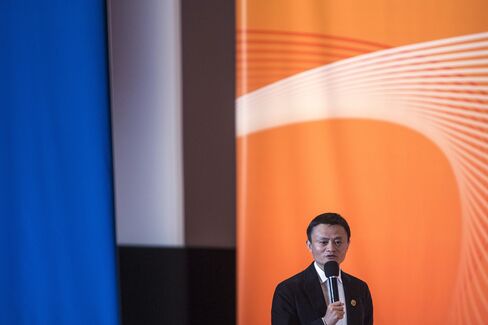 Alibaba Group Holding Ltd. Chairman Jack Ma, whose company was told to leave Taiwan within six months over alleged investment violations, said the e-commerce giant followed local laws when it entered the market. The shares fell for a fourth day.
"Taiwan is very important for Alibaba," Ma told reporters Tuesday after delivering a speech to university students in Taipei. "As a global company, no matter where we go in the world, we need to comply with the local laws."
Ma's remarks came after Taiwan's Investment Commission asked Alibaba to leave by the end of August because its local entity was registered as a Singaporean company instead of mainland Chinese. Such business investments in Taiwan, which views Communist Party-led China as its largest political and military rival, require commission approval.
Alibaba dropped 2.7 percent to $81.74 as of 10:35 a.m. in New York Tuesday, the lowest price since it started trading on Sept. 19. The shares have declined 21 percent this year.
While Alibaba registered as a Singaporean entity in 2008, the company's filings for its U.S. share sale last year provided evidence of Chinese control, Emile Chang, acting executive secretary of the commission, said Tuesday.
"We have asked Alibaba to leave," he said. "We just want mainland investors who invest in Taiwan to follow the rules."
Like many Chinese corporations, Alibaba relies on holding companies to operate and raise funds overseas, with the U.S.- listed entity being a Cayman Islands company.
'Proper Actions'
"We will actively communicate with related parties to clarify the issues and, if necessary, will take proper actions to protect the legitimate interests of Alibaba.com," the Hangzhou-based company said in an e-mailed statement.
Alibaba employs about 100 people in Taiwan and Alibaba.com has 140,000 registered users in the market, mainly serving small and medium-sized businesses on its business-to-business platform, the company said.
Alibaba, which was founded in Ma's apartment 15 years ago, faces increasing oversight in mainland China as it expands into everything from taxi-hailing applications to online lending. The State Administration for Industry & Commerce issued a "white paper" in January, accusing the company's online malls of accepting bribes and peddling knock-offs.
While application process for a mainland investment in Taiwan takes about two months, Chang said he "cannot guarantee" that any new application by Alibaba to operate would be approved before the August deadline.
"Alibaba's Singapore subsidiary didn't get approval from my office," Chang said. "They can choose to sell the branch to another investor" or close it.
Ma said he wants more than half of sales to come from outside of China, compared with 5 percent now, Alizila, Alibaba's news portal, said Tuesday in a Twitter post.