Saudis Boost Oil Pricing to Asia Most in Three Years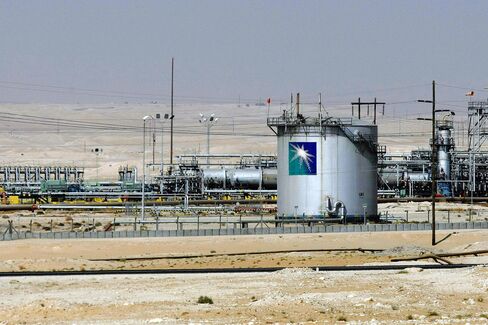 Saudi Arabia, the world's largest crude exporter, increased the pricing terms for Arab Light sold to Asia by the most in three years as demand improved. Abu Dhabi raised its export prices for the first time since June.
State-owned Saudi Arabian Oil Co. said Tuesday it will sell cargoes of Arab Light in April at 90 cents a barrel below Asia's regional benchmark. That narrows the discount by $1.40 from March, the biggest price increase since January 2012, according to data compiled by Bloomberg. The company also raised prices it offers to refiners in the U.S.
"We expected an increase, but the degree of increase is on the higher side of expectations," Eugene Lindell, a senior analyst at JBC Energy GmbH in Vienna, said Tuesday by phone. "The Asian market is a little bit stronger compared to the last months," and Aramco's adjustments reflect that strength.
Three months after Saudi Arabia made clear it would defend market share against rising U.S. production rather than cut output to support prices, the strategy is showing signs of working, according to banks including Standard Chartered Plc and Bank of America Corp. Oil producers outside the Organization of Petroleum Exporting Countries are curbing investment and idling drilling rigs. Demand is growing and the market is calm, Saudi Oil Minister Ali Al-Naimi said Feb. 25.
"Saudi Arabia has committed to staying with its policy of flooding the market with crude," John Kilduff, a partner at Again Capital LLC, a New York-based hedge fund that focuses on energy, said Tuesday by phone. "The Saudi pricing formula is a technical methodology."
Saudi Production
Output in Saudi Arabia climbed 130,000 barrels to 9.85 million a day in February, the highest level since September 2013, according to a Bloomberg survey of oil companies, producers and analysts.
Demand from Asian refiners increased, while weather disruptions to Iraqi exports constrained supply, Lindell said. Iraq exported 2.3 million barrels a day from the southern oil hub of Basra last month, compared with about 2.4 million in January, according to the country's Oil Ministry.
The narrowing of the April discount is a reflection of "stellar refining margins" in Asia, Amrita Sen, chief oil analyst at consultants Energy Aspects Ltd., said by e-mail from London.
Abu Dhabi National Oil Co., which provides prices for crude shipped the previous month, raised its main Murban grade to $56.55 a barrel in February from $46.40 in January, according to an e-mailed statement from the company on Wednesday.
Brent Rebounding
Oil fell almost 50 percent in 2014 before rebounding 5.8 percent this year, with Brent crude in February posting its first monthly gain since June. The April contract dropped 32 cents to $60.70 a barrel on the London-based ICE Futures Europe exchange at 8:35 a.m. local time. West Texas Intermediate, the U.S. benchmark grade, advanced 24 cents to $50.76 a barrel.
Middle Eastern producers are increasingly competing in Asia with cargoes from Latin America, North Africa and Russia. Exporters in the Persian Gulf sell mostly under long-term contracts to Asian refiners at a premium or discount to the average of regional benchmarks Oman and Dubai crude.
Aramco's discount on March sales of Arab Light to Asia of $2.30 a barrel was the widest in at least 14 years, when Bloomberg began compiling the data. Iraq, Kuwait and Iran joined Saudi Arabia in cutting their March crude prices for Asia in a signal the competition for market share that began last year was continuing.
The change in the Arab Light discount for April was bigger than the median estimate of $1.10 a barrel in a Bloomberg News survey of 10 refiners and traders. Aramco also increased the price, relative to regional benchmarks, of the other four grades of crude it ships to Asia and all four it offers to U.S. refiners.