Apple's Looming Watch Spurs Frenzy of Upgrades for Android Timepieces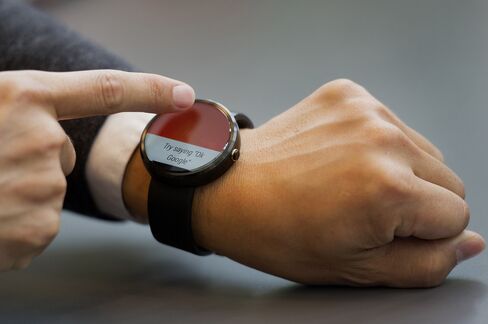 As Apple Inc. prepares to release its much-heralded smartwatch, rival gadget makers are racing to upgrade their own devices to ward off market-share losses.
By mid-2016, Apple will account for 15 percent to 20 percent of sales of the devices, estimates Transparency Market Research analyst Saurav Kumar in Pune, India. That will come partly at the expense of current vendors, such as Motorola Mobility Holdings LLC and Samsung Electronics Co., he said.
With Apple expected to commandeer sales among its iOS-using crowd, the competition for Android users is heating up. Withings Inc., maker of the Activité watches that work with iOS phones, is releasing new software this week that will make the devices compatible with Android phones. Rival Pebble debuted a new watch last week, while Motorola is pouring money into its Moto 360, a watch based on Google Inc.'s Android Wear operating system.
"We intend to continue to spend heavily in this space," Rick Osterloh, president of Motorola Mobility, said in an interview. "What the Apple launch has done is raise awareness for the category in general, and it may improve our sales by driving overall awareness."
The market for watches that deliver information from text messages and e-mail alerts to pulse and steps walked may reach $12.9 billion by 2020 in the developed world, according to Analysys Mason.
Apple, which plans to ship the Apple Watch in April, will provide more details about its device at a March 9 event in San Francisco, according to a person with knowledge of the matter. The watch must be paired with an iPhone, and while it will only work with newer models, that still could eat into the business of companies like Withings and Pebble, which also makes iOS-compatible devices.
'Opportunity' Year
Withings, based near Paris, has attracted more than $35 million in funding to date. To help it expand, the company may seek a fundraising round this year, Chief Executive Officer Cedric Hutchings said in an interview.
"We are looking at this coming year as an opportunity to accelerate even more," Hutchings said. Withings sells a variety of Web-connected health devices, though smartwatches are its best-selling products, he said.
While the smartwatch market is relatively tiny -- at $130 million last year in developed countries, according to Analysys Mason -- Apple could catapult the business as it did in the mobile and music industries with its ubiquitous iPhone and iPod. Sales of smartwatches this year may surge 28-fold to $3.6 billion, said Enrique Velasco-Castillo, an analyst in London at Analysys Mason. Apple will rapidly gain dominance, he said.
Consumer Awareness
"I'd expect that to happen relatively quickly, because the awareness of consumers about smartwatches has been brewing," Velasco-Castillo said in an interview. His firm predicts Apple will sell as many as 6 million units in the first year, even as its basic model starts at $349, double the price of some other smartwatches.
Apple declined to comment for this story, as did Samsung, which makes the Gear line of smartwatches. While most of the bigger players haven't released sales numbers for their devices, Samsung is seen as the market leader, Transparency Market Research's Kumar said.
Pebble, based in Palo Alto, California, also released new software last week that structures app data feeds around users' timelines, so they can see what appointments are coming up, for instance, without opening individual apps.
Apple's Watch is likely to be the device of choice for people carrying multiple mobile devices, such as an iPhone and an Android phone, said Werner Goertz, an analyst at Gartner Inc. For other vendors, applications are key, he said.
Apps 'Race'
"Whoever has the better and more valuable applications is going to win that race," Goertz said.
Apple may have about 100,000 Apple Watch apps available when the device goes on sale, Trip Chowdhry, an analyst at Global Equities Research, said in a Feb. 22 research note after talking to about 500 Apple developers. An average Apple Watch user will install 100 apps, he predicted.
Companies are also stepping up design and distribution efforts. Many simply copy the smartphone experience -- the way users interact with apps and have to charge devices nightly, said Eric Migicovsky, CEO of Pebble. Instead, they should be creating something between a smartphone and a traditional watch, which doesn't need to be recharged all the time, and is simple and easy to use.
A smartwatch "deserves something that's authentically designed to be on the wrist," Migicovsky said in an interview.
Design, Distribution
Pebble, which has sold more than 1 million watches, currently has about 6,400 apps and that number is growing by 15 percent a month, he said. The company's newest watch has a color e-paper display viewable in sunlight that will help save battery life. It's 20 percent thinner and lighter than the prior Pebble sports watch.
In January, Withings released the water-resistant Activité Pop, which has an eight-month-plus battery life.
Design and distribution will be increasingly important as Chinese vendors pour into the market, with smartwatches for as little as $30, Goertz at Gartner said.
Smartwatches from Motorola Mobility, which Beijing-based Lenovo Group Ltd. bought from Google in October, are available from retailers including Bloomingdale's and Costco. Motorola is expanding into more stores in the U.S., Latin America and the Asia Pacific region, President Osterloh said.
"It's not a stretch to imagine that more and more of these will be available everywhere watches are sold," he said.
Before it's here, it's on the Bloomberg Terminal.
LEARN MORE