Netanyahu Ready to Press Congress to Help Delay Iran Deal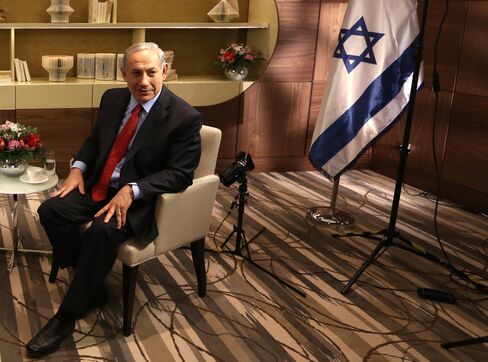 Israeli Prime Minister Benjamin Netanyahu knows what's in a potential nuclear agreement with Iran and will ask the U.S. Congress to pose questions that may delay a deal, according to an official traveling with him.
The official, who asked not be named because of the trip's diplomatic sensitivity, said Israel knows enough about compromises that have been made during negotiations to be certain a deal would threaten the Jewish state's security.
Netanyahu arrived in Washington to speak Monday to the American Israel Public Affairs Committee, the biggest U.S. pro-Israel lobbying group. That may provide a preview of his address Tuesday to the U.S. Congress at the invitation of Republican House Speaker John Boehner, an event arranged without consulting the White House that has exacerbated tensions between the Israeli leader and President Barack Obama.
Obama administration officials have said an attempt by Congress to intervene would wreck chances for an accord between Iran and world powers and the president would veto such a measure. Netanyahu will tell lawmakers they should press for a delay in a deadline at the end of this month to agree on the framework for a deal and should change the agreement if they aren't satisfied with it, the official traveling with the prime minister said.
Congressional Review
A bipartisan group of senators introduced legislation last week that would give Congress the power to review any agreement that the U.S. and five other nations reached with Iran to curb its nuclear program in exchange for easing economic sanctions.
The measure offered by Robert Corker of Tennessee, the Republican chairman of the Senate Foreign Relations Committee, and Robert Menendez of New Jersey, the committee's top Democrat, would delay any easing of sanctions on Iran for as long as 60 days. Under the bill, sanctions relief would remain prohibited if Congress voted against an Iran agreement and then overrode an expected veto by the president within the 60 days.
Netanyahu continues to discuss the issues with U.S. officials, and spoke with Secretary of State John Kerry by phone over the weekend, the official accompanying him said.
'Political Football'
While the official expressed confidence that Israel knows what's in the deal that's taking shape with Iran, Kerry said last week that "anybody running around right now jumping in to say, 'well, we don't like the deal,' doesn't know what the deal is."
Kerry said on Sunday that the U.S. and Israel share an interest in preventing Iran from getting nuclear weapons.
"We don't want to see this turned into some great political football," Kerry said in an interview on ABC's "This Week" program.
Netanyahu's opponents in Israel have said his Washington trip is aimed at bolstering his standing before Israelis vote March 17 whether to give him a fourth term, and the White House has said Obama won't see him during this visit because it's so close to election day.
Netanyahu in the past has threatened Israeli airstrikes to thwart Iran, though it would take U.S. military capabilities to do more than delay an Iranian effort to develop nuclear weapons.
"We are going to test whether or not diplomacy can prevent these weapons from being created so that you don't have to turn to additional measures, including the possibility of a military confrontation," Kerry said.
While the U.S. and allies say Iran is seeking the capability to build nuclear weapons, the Islamic Republic says its program is purely for peaceful, civilian purposes.
Kerry in Geneva
While the confrontation over Iran festers, Kerry will have an opportunity to showcase U.S. support for Israel on Monday at a United Nations conference in Geneva just hours before Netanyahu speaks before the pro-Israel activists in Washington.
State Department officials said Kerry's speech to the UN Human Rights Council, a group often hostile to the Jewish state, will provide a tangible example of how the Obama administration looks out for Israel's interests.
The U.S. works hard in international bodies, such as the human rights council, the International Criminal Court and the UN Security Council, to thwart anti-Israel actions, said the State Department officials, who briefed reporters on condition of anonymity under the department's protocol.
"We have intervened on Israel's behalf the last few years more than several hundred -- a couple of hundred -- times in over 75 different fora in order to protect Israel," Kerry said in the ABC interview.
Before it's here, it's on the Bloomberg Terminal.
LEARN MORE