China Seeks to Cushion Economy as Leaders Meet to Set Goals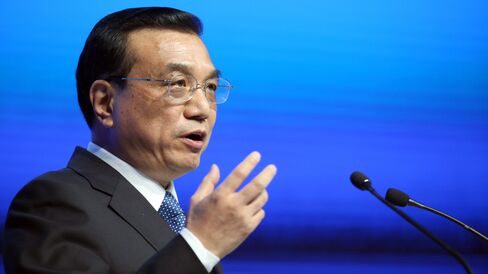 China showed its determination to combat a slowdown in the world's second-largest economy, cutting interest rates before a yearly gathering of the legislature where the Communist leadership typically unveils its goals for the year.
The People's Bank of China announced a benchmark lending and deposit rate cut of a quarter percentage point Saturday. A day later, a factory gauge for February signaled contraction for a second month, underscoring the need for looser policy.
The easing saw China join counterparts from Europe to Canada to Southeast Asia in taking steps against deflationary pressures, and will probably be followed by a reduction in the amount of money banks must hold in reserve, according to analysts including at Goldman Sachs Group Inc. Economists expect Premier Li Keqiang will announce a growth target of around 7 percent for 2015, down from 7.5 percent last year.
"2015 will be another difficult year for China's cyclical and structural adjustment," said Chang Jian, chief China economist at Barclays Plc in Hong Kong. "Further monetary easing will help prevent a downward growth and deflation spiral, but is unlikely to lift growth significantly."
The PBOC lowered the one-year deposit rate to 2.5 percent and the one-year lending rate to 5.35 percent, effective Sunday, the Beijing-based central bank said on its website. It increased the deposit-rate ceiling to 1.3 times from 1.2, meaning lenders can pay a larger margin over the benchmark. That eases the financial repression that has seen China's savers effectively subsidize debt-funded investment.
Housing Measures
The nation is preparing measures to counter a housing market slump and will roll them out if the economy needs support, people with knowledge of the matter said last week. Those plans come after new-home prices posted a record year-on-year decline in January, according to Bloomberg Intelligence analysis of government data tracking 70 cities.
Pro-growth measures may not extend to China's currency, with the central bank unlikely to allow a large depreciation even as the rate reduction adds further pressure on the yuan, said Larry Hu, head of China economics at Macquarie Securities Ltd. in Hong Kong.
"If the PBOC adds liquidity and lets the yuan depreciate at the same time, it's like turning on the tap while pulling out the plug," Hu said. "The PBOC has two strings in its bow: it uses a stable currency to maintain the external balance, and loose liquidity to keep internal stability."
China reduced the yuan reference rate to the lowest level since November and the currency weakened Monday.
Stocks Reaction
As for the stock market, which received a fillip from the PBOC's first interest-rate cut in two years in November, the reaction may be muted this time because Saturday's move was largely priced in, Hu said. The Shanghai Composite Index was little changed at 9:50 a.m. local time.
A final manufacturing PMI reading for February from HSBC Holdings Plc and Markit Economics rose to 50.7 from an initial 50.1 and up from 49.7 in January.
The monetary authority followed up November's rate reduction with a cut in banks' required reserve ratio announced Feb. 4 -- the first across-the-board lowering since May 2012. While rate reductions lower the cost of credit, RRR cuts inject liquidity.
The central bank Saturday said that while the November action achieved "certain effects" in lowering financing costs, economic restructuring and falling global commodity prices cut consumer and industrial prices in recent months, leading to higher real interest rates.
Tame Prices
Consumer prices rose at the slowest pace in more than five years in January and factory-gate deflation deepened to the lowest level since 2009.
"It's a hedging step against worsening deflation," Bao Beibei, an analyst in New York with Rhodium Group, said of the PBOC's interest-rate reduction. "The rising real interest rates as a result of the contracting price level impede businesses' investment appetite, and that threatens Beijing's plan to maintain an overall stable growth environment this year to facilitate economic restructuring."
The government is likely to adopt a more "proactive" fiscal stance with its budget-deficit target likely to widen to 2.8 percent of gross domestic product, analysts at Nomura Holdings Inc. led by China chief economist Yang Zhao wrote in a note on Feb. 27. Still, the actual fiscal stance may be contractionary due to tighter control of local government debt, while the ability to use land sales to finance budgets will be subdued given the property market correction, Zhao wrote.
Manufacturing Subdued
The manufacturing Purchasing Managers' Index was 49.9 last month from 49.8 in January, according to the statistics bureau and the China Federation of Logistics and Purchasing report released in Beijing on Sunday. Numbers below 50 signal contraction. Non-manufacturing PMI, a gauge for services and construction, rose to 53.9 in February from January's 53.7.
Due to the increased deposit cap, the effect of the rate reduction will be "asymmetric," said Liu Dongliang, a senior analyst at China Merchants Bank Co. in Shanghai. With only a limited drop in the cost of funds and an aversion to risk, it may be difficult for banks to increase lending, Liu said.
"The main beneficiaries will be the large firms that are the typical borrowers from banks," said Mark Williams, Capital Economics Ltd.'s chief Asia economist in London. "This won't make much difference to many smaller firms that borrow through the shadow banking system."
Global Easing
The global easing wave comes as the Federal Reserve edges closer to increasing interest rates, a move that would draw funds away from emerging markets. Fed Chair Janet Yellen last week said the U.S. monetary authority's pledge to be "patient" on raising the benchmark rate means an increase is unlikely for "at least the next couple" of meetings. The Fed adopted the guidance in December and repeated it in January.
"Growth and inflationary pressures are easing" in China, said Edwin Truman, a former U.S. Treasury official who's now a senior fellow at the Peterson Institute for International Economics in Washington. "The PBOC is responding like any central bank."
— With assistance by Xiaoqing Pi
Before it's here, it's on the Bloomberg Terminal.
LEARN MORE