Gold Imports by India May Surge While Jaitley Retains Tax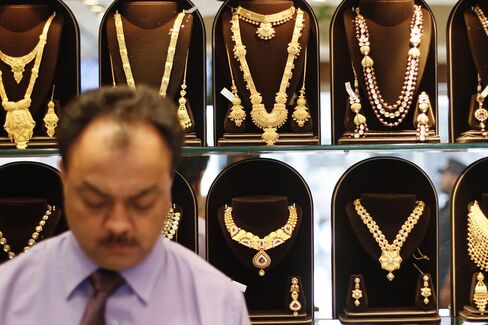 Gold imports by India, the world's biggest consumer, are poised to surge after Finance Minister Arun Jaitley confounded industry expectations for a reduction in tax.
Overseas purchases may jump to 100 metric tons in March from about 25 tons in February as jewelers and traders, who delayed purchases in anticipation of the tax cut, replenish stockpiles, Rajesh Mehta, chairman of Rajesh Exports Ltd., said by phone from Bengaluru on Feb. 28. Domestic demand will also increase as retail buyers return to the market, he said.
The revival in Indian demand may help prices in London to extend the first weekly gain in five and spur smuggling. Jaitley retained the duty at a record 10 percent in the budget on Feb. 28, while announcing plans to tap a part of the 20,000 tons of locally stockpiled gold to lower reliance on imports. Seven of the 10 jewelers and analysts surveyed by Bloomberg in February had predicted a tax cut.
"Imports will pick up in March because in the past one month there wasn't much imports," Mehta said. "Everyone was waiting for the duty changes."
The tariff is the last of the import restrictions imposed in 2013 to contain a record current-account deficit that drove the rupee to an all-time low. The deficit has narrowed with the plunge in crude oil, helping the rupee rebound and allowing Jaitley to ease controls on shipments.
"With Akshaya Tritiya festival around the corner, imports will only rise next month," Mehul Choksi, chairman of Gitanjali Gems Ltd., said by phone from Mumbai on Feb. 28.
Festival Demand
Akshaya Tritiya, considered by India's more than 900 million Hindus as an auspicious day to buy precious metals, falls on April 21 this year. Bullion is bought in India during festivals and marriages as part of the bridal trousseau or gifted in the form of jewelry by relatives.
India raised the tax three times in 2013 and linked imports to re-exports to contain the deficit and the decline in the currency. The steps helped narrow the deficit to $32.4 billion in the 2013-14 financial year, from $87.8 billion the previous year, according to the Reserve Bank of India. The government allowed more agencies to import gold in May and scrapped the 20:80 rule requiring importers to sell 20 percent of their purchases to jewelers for re-export in November.
The measures raised expectation that the government may lower the duty. The All India Gems & Jewellery Trade Federation, which had urged the government to cut the tariff to 2 percent, said on Feb. 28 the industry was disappointed with Jaitley's decision to retain the tax.
Monetizing Gold
"India has elevated inventories that will need to be eroded before we can expect a sustained rise in gold imports," Barclays Plcanalysts led by Suki Cooper wrote in a report on Monday. "For a sustained pick up in demand, not only was a cut in the duty required, but it needed to be large enough to offset the cost of smuggling."
Futures on the Multi Commodity Exchange of India Ltd. rallied as much as 1.1 percent to 26,769 rupees ($433) per 10 grams on Monday, the highest since Feb. 16. Bullion for immediate delivery in London rose 0.9 percent last week and extended gains on Monday, rising 0.3 percent to $1,216.80 an ounce at 4:57 p.m. in Mumbai.
"The budget offers nothing for the gems and jewelry sector," Bachhraj Bamalwa, federation's director, said by phone from Kolkata. The plan to monetize gold won't be effective unless jewelers are involved with the banks, he said.
'Nurture Savings'
The plan to monetize domestic gold will allow depositors to earn interest in their metal accounts and jewelers to obtain loans against such deposits, Jaitley said. Government will also begin production of gold coins embossed with Ashoka Chakra, a 24-spoke wheel symbol on the Indian flag, to cut dependence on imports and spur recycling of domestic stockpiles.
India plans to offer sovereign gold bonds to investors as an alternative to bullion, Jaitley said. The bonds will carry fixed rate of interest and will be redeemable in cash at the face value of the metal, he said.
"It is imperative to nurture the savings mindset embedded in households through gold accumulation, and then use it to enhance savings, putting it to work for the economy," P.R. Somasundaram, managing director for the World Gold Council in India, said in a statement. "The import duty at 10 percent continues, but we believe it should be rationalized soon."
China's Spot
India took China's spot as biggest buyer of the metal last year, reclaiming the position it last held in 2012, after jewelry demand jumped to the highest level since at least 1995, according to the council. India's total demand in 2014 was 842.7 tons, 14 percent lower on year, while China's sank 38 percent to 813.6 tons, it said.
"Smuggling of gold plagues the industry and leads to illegal trading and the duty reduction would have helped us control the issue to a very large extent," Vipul Shah, chairman of the Gem & Jewellery Exports Promotion Council, said in an e-mailed statement on Feb. 28.
About 200 tons of gold was smuggled in 2014, after controls drove premiums paid by jewelers to as much as $160 an ounce over the London cash price, according to the federation. Since then, the premium has tumbled to about $1, it estimates.
Before it's here, it's on the Bloomberg Terminal.
LEARN MORE