Chicago May Owe Wall Street $58 Million After Moody's Rating Cut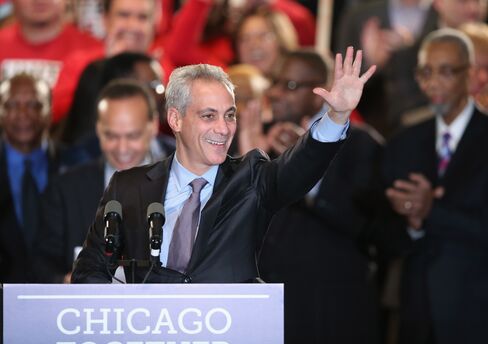 Chicago may have to pay $58 million to unwind interest-rate swaps after Moody's Investors Service cut the city's credit rating within two steps of junk because of mounting pension liabilities.
The reduction on Friday to Baa2 affects $8.3 billion of general-obligation bonds, which were already the lowest-rated among the 90 biggest U.S. cities, excluding Detroit. The outlook remains negative, signaling more cuts are possible, underscoring the city's fiscal stress as Mayor Rahm Emanuel faces a runoff election.
Because of stipulations in four of the city's swaps contracts, which it entered into as a hedge, the rating cut may terminate the agreements early and trigger the $58 million cost, Moody's said in a report. The city is also closer to ratings that may force an additional $133 million of payments.
"This is a very significant, negative development for the city of Chicago's financial position," Laurence Msall, president of the Civic Federation, a nonpartisan research group in Chicago, said in an interview. "This is a very big deal."
Swaps agreements, which issuers enter into with banks, exchange fixed interest payments for floating ones. They're designed to cut borrowing costs. They can backfire when interest rates move in an unexpected direction, as happened in the U.S. with the Federal Reserve keeping its overnight target close to zero since 2008. Most swaps can be ended if one party fails to maintain a minimum credit rating, requiring payment of the entire amount due.
15 Accords
Chicago has 15 agreements tied to variable-rate general-obligation debt and one to variable-rate sales-tax bonds, according to Moody's. While the company said the city has the resources to cover the $58 million payment, it said the cut moves Chicago closer to further termination payments triggered by going below Baa2 or Baa3.
Kelley Quinn, Emanuel's spokeswoman, didn't immediately respond to voicemail and e-mail queries on the potential terminations.
Chicago, like Illinois, has struggled with rising pension costs. The city is obligated to pay $600 million into four pension funds in next year's budget, though Standard & Poor's said the contribution may be delayed after Feb. 24 elections led to a runoff vote between Emanuel and Jesus "Chuy" Garcia. The former White House chief of staff failed to capture more than 50 percent of the vote.
'Out of Step'
"The city's credit quality could weaken as unfunded pension liabilities grow and exert increased pressure on the city's operating budget," Moody's analysts wrote.
"Moody's has been consistently and substantially out of step with the other rating agencies, ignoring the progress that has been achieved," Quinn said in an e-mailed statement.
"What we can agree with Moody's about is that the city continues to face serious fiscal challenges and that difficult work remains to continue strengthening the city's finances and securing our city's future," Quinn said.
Credit raters differ on Chicago's standing. S&P affirmed it at A+ on Friday, citing its diverse economy. That's the fifth-highest rank and four levels above Moody's. Fitch Ratings affirmed Chicago at two steps higher than Moody's.
The third-most-populous U.S. city has $20 billion in unfunded pension obligations that it can't address without the approval of the state legislature. Lawmakers in June restructured two city pension plans with about $9.4 billion in underfunded liabilities for about 60,000 municipal workers and retirees by making them pay more and reducing benefits. The changes didn't apply to the police and fire systems.
Unions sued to block the law in December, and the litigation was put on hold pending the outcome of an Illinois Supreme Court ruling on a state pension overhaul.
The April 7 runoff is the first for the city of 2.7 million since it went to nonpartisan elections in 1999. Garcia's campaign said the rating cut showed the city needs new leadership.
"The downgrade is an objective verdict on Emanuel's lack of fiscal stewardship," Andrew Sharp, Garcia's campaign manager, said in an e-mailed statement.
Before it's here, it's on the Bloomberg Terminal.
LEARN MORE