Putin Scores Victory Over Ukraine Allies in Bond Market Collapse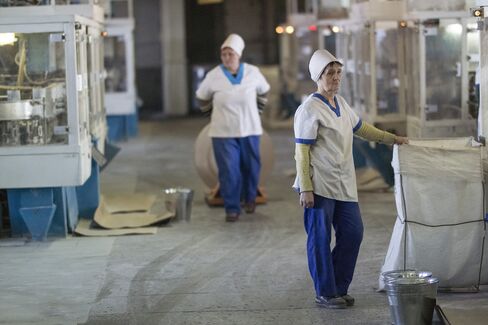 Russia is damaging Ukraine's economy faster than the U.S. and its European allies can provide support.
That's the conclusion of investors, who have sent the price of Ukrainian bonds to record lows even as the country awaits $17.5 billion of emergency loans from the International Monetary Fund. Ukraine's currency, the hryvnia, has lost about a half of its value this month, forcing the central bank to tighten capital controls to keep money from fleeing the country.
As a separatist insurgency in eastern Ukraine pits Russia against its Cold War-era foes, the conflict is also playing out in the trading rooms of Wall Street banks and hedge funds. Investors trying to anticipate the next move of rebels backed by Russian President Vladimir Putin are also weighing the ability of the Kiev government's allies to counter the Kremlin's economic maneuvers as Ukraine seeks to restructure its $16 billion of foreign-currency debt.
"It is clear the country has a powerful neighbor intent on destabilizing it, while the West simply doesn't care enough about Ukraine to do anything with significant costs attached," Paul McNamara, a money manager who helps oversee $6.3 billion of debt including Russian bonds at GAM UK Ltd., said by phone from London on Feb. 25. "I don't think Ukrainian bonds and the hryvnia are especially cheap."
Ukraine has $5.4 billion in Eurobond principal and interest payments due this year and $6.4 billion in foreign reserves, a record low and down 64 percent from a year earlier.
'Debt Dynamics'
Analysts at Goldman Sachs Group Inc., JPMorgan Chase & Co. and Bank of America Corp. have said investors face more losses on their bonds as the government plans restructuring talks to save as much as $15 billion on foreign-debt payments.
The nation's $2.6 billion of benchmark notes maturing in July 2017 dropped to a record 41.3 cents on the dollar this week from almost 57 cents on Feb. 12, when the IMF loan was announced, and above par in July. The bond traded at 42.2 cents on Thursday as of 4:47 p.m. in Kiev. The hryvnia weakened to a record 33.75 per dollar on Thursday from 9.725 a year ago.
"We see increased risk of substantial haircuts" reducing the bonds' coupons or their face value, Vadim Khramov, a London-based economist at Bank of America, said in an e-mailed report on Tuesday. Even such a restructuring may not be enough "if the hryvnia's devaluation is not managed, leaving debt dynamics unsustainable," he said.
The plunge prompted the central bank to tighten capital controls twice this week, with the second spate of measures effectively freezing the country's trade on Wednesday. The regulator reversed some of the meastures later the same day.
Industrial Base
With much of Ukraine's industrial base ravaged by the fighting in the Donetsk and Luhansk regions, gross domestic product shrank as much as 7.5 percent last year, the IMF estimates. The slump accelerated in the fourth quarter, with GDP falling 15.2 percent from the same period of 2013, the most in five years. The economy will probably contract 5.5 percent in 2015, Finance Minister Natalie Jaresko said Feb. 16.
While the U.S. and the European Union accuse Russia of backing rebels with weapons, troops and money -- allegations the Kremlin denies -- Ukraine hasn't been able to access IMF funds since September. The cash has been blocked by political bickering in Kiev, discussions over whether the country is meeting bailout conditions and talks over further assistance.
Prime Minister Arseniy Yatsenyuk on Wednesday urged an immediate meeting of parliament to expedite laws required for the IMF's approval. The Washington-based lender's decision would unlock as much as $40 billion, including bilateral loans and about $15 billion in savings expected from negotiations the country is pursuing with bond investors.
'Much Faster'
Otilia Dhand, an analyst at political-risk advisory Teneo Intelligence in Brussels, says Ukraine's allies have been too slow to react to Putin's moves. The process has suffered delays because of the need to coordinate policy between the U.S. and Europe as well as gaining consensus within the 28 EU nations.
"The speed of making and implementing decisions is much faster on the Russian side and that obviously puts Russia at an advantage," she said by phone on Feb. 24. "The pain can be inflicted faster than the remedy can be administered."
Ukraine risks losing support from the IMF member countries for the bailout if the conflict in the former Soviet republic escalates, according to two people familiar with the matter, who asked not to be named because the matter is confidential.
While the holders of Ukraine's Eurobonds have lost 26 percent this year, the most among 58 nations in Bloomberg's USD Emerging Market Sovereign Bond Index, most investors don't expect the country to be abandoned by its financial backers.
'Mismanaged' Country
"There is no way the West or the IMF is going to say 'we'll leave you alone'," Michael Ganske, head of emerging markets at Rogge Global Partners Plc, said by phone on Monday. "It's a leaking pot, so it's not just about economic growth and reform, it's about debt re-profiling. At the end of the day it's about helping a country which has been mismanaged in the last 20 years."
Germany "won't hesitate to do everything to ensure that Ukraine is able to choose its own path and to preserve its territorial integrity," Chancellor Angela Merkel said Feb. 18.
The government seeks to negotiate a debt-reorganization agreement with bondholders by June. A deal may be delayed by continued fighting with separatists and Russia's opposition to restructuring, Andrew Matheny, a Moscow-based economist at Goldman, said in a research note last week.
The hryvnia's free-fall is adding to the financial distress by driving up prices of imports, including oil and gas, as well as boosting the cost of repaying foreign bonds.
Armed Conflict
"The Ukrainian economy is in serious liquidity crisis with its external financing needs rising," Lilit Gevorgyan, senior analyst at IHS Global Insight Inc. research company in London, said by e-mail on Monday. "Even with the help of donors, Ukraine's currency can only start stabilizing when the armed conflict freezes."
Ukraine's military said on Thursday it would start pulling back heavy weapons as a cease-fire agreed two weeks ago may be taking hold. Since the truce was sealed after all-night talks between the leaders of Ukraine, Russia, Germany and France, insurgents have seized a key transport hub and the U.S. and the EU have threatened more sanctions against Russia.
Highlighting the extent of Russia's leverage, state-run gas monopoly OAO Gazprom on Tuesday threatened to cut off shipments unless Ukraine pays for the fuel sent directly into rebel-held regions, an area about the size of New Hampshire.
Putin's Tools
Another tool at Putin's disposal is Russia's holding of $3 billion in Ukrainian Eurobonds. The Kremlin says the government in Kiev has breached the terms of the loan, which gives it the right to demand early payment -- even if Russia says it doesn't want to bankrupt its neighbor.
Russia annexed Ukraine's Crimea region last March, a month after its neighbor's people-power revolution forced out Putin's ally, President Viktor Yanukovych, and ushered in leaders seeking closer ties with the EU and the NATO military alliance.
Putin's "aim is to call the West's bluff, to raise the costs of financially supporting Ukraine beyond that which the cash-strapped West" can bear, Timothy Ash, the chief emerging-markets economist at Standard Bank Group Ltd. in London, said by e-mail on Feb. 24. Putin is trying to demonstrate "that the West is a very poor substitute for Russia, and will inevitably disappoint Ukraine and Ukrainians."
Before it's here, it's on the Bloomberg Terminal.
LEARN MORE