Euro-Area Consumers Help Recovery as Confidence Rises: Economy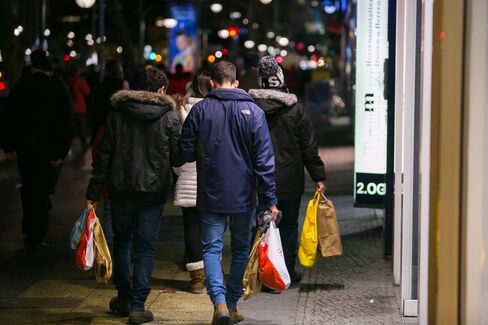 Economic sentiment in the euro area rose to a seven-month high and German unemployment dropped, keeping the region on a recovery path as the European Central Bank prepares to unleash its quantitative-easing program.
An index of executive and consumer confidence climbed to 102.1 in February from a revised 101.4, the European Commission said on Thursday, beating the 102 median estimate in a Bloomberg survey. In Germany, the number of people out of work declined a seasonally adjusted 20,000 to 2.81 million, twice as much as predicted.
German economic growth accelerated in the fourth quarter, helping to lift the pace of euro-area expansion. Sentiment is picking up as concern about Greece's future in the euro area is countered by anticipation of more ECB stimulus and the boost to incomes from falling oil prices.
"Consumers are now clearly leading the turning of the euro-zone economic cycle," said Teunis Brosens, an economist at ING Group NV in Amsterdam. "With austerity out of the way in most countries, low oil prices and the risk of a Grexit contained for now, there is scope for further consumption-led growth in 2015."
The commission report showed industrial confidence rose to minus 4.7 from minus 4.8 in January. Sentiment among consumers increased to minus 6.7 from minus 8.5, while confidence in the services sector declined.
German Unemployment
In Germany, the adjusted jobless rate remained at 6.5 percent this month, the lowest level in records going back more than two decades. The number of people without work dropped by 11,000 in the western part of the country and 8,000 in the east.
"We are optimistic about the labor market, as companies and businesses will expand activity and maintain a good level of orders," Frank-Juergen Weise, president of Germany's Federal Labor Agency, said at a press conference in Nuremberg.
The jobless rate in the euro area was 11.4 percent in December, according to Eurostat. Figures for January will be published on March 2. The currency bloc's economy expanded 0.3 percent in the fourth quarter.
The German economy, which flirted with recession last year, grew 0.7 percent in the October-December period, driven by strong domestic demand and rising exports. Economic momentum in Europe's powerhouse coincides with an improving outlook for some periphery countries.
As French growth slowed and Italy's economy stagnated, the Portuguese expanded at the fastest pace in a year in the three months to December. Spain has posted six consecutive quarters of growth after gross domestic product increased 0.7 percent.
Greek Tensions
At the same time, a standoff between the Greek government and its creditors over the terms of the nation's bailout threatened to derail optimism. ECB President Mario Draghi is expected to provide more details of the institution's 1.1 trillion euros ($1.3 trillion) of stimulus on March 5. He will also announce new economic forecasts.
"The short-term outlook looks much better than it did six months ago, due to lower oil prices and accommodative monetary policy from the ECB," said Silvio Peruzzo, senior European economist at Nomura International. "But structural damage as a result of the crisis in the periphery is substantial, unemployment in countries like Spain remains high and we're yet to see strong wage growth."
Before it's here, it's on the Bloomberg Terminal.
LEARN MORE