Anti-Putin Opposition Looks to Russian Spring for Revival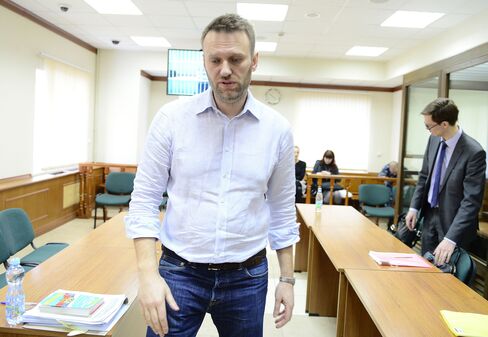 Just before he was jailed for handing out leaflets at a metro station, Russian opposition leader Alexey Navalny used his last moments in a Moscow court to record a video urging supporters to join a March 1 protest against President Vladimir Putin.
Navalny's removal from the "Spring" rally by a 15-day sentence underlined the beleaguered state of an opposition movement that brought 100,000 onto Moscow's streets three years ago as well as the Kremlin's unease about the potential for unrest in Russia.
"The current regime, after years of eating through the oil money, has brought the country to a dead-end and is completely bankrupt," protest organizers, who include Navalny and former Yukos Oil Co. chief Mikhail Khodorkovsky, said in a website appeal to supporters. "Putin and his government can't lead the country out of the crisis and must go."
Squeezed by government persecution and Putin's near-record approval rating, Russia's opposition is betting that an unfolding economic crisis will spark a spring revolt on a scale last seen at the winter protests of 2011-2012, the largest since the collapse of Communism 20 years earlier. It seeks to draw as many as 100,000 people to the "anti-crisis march" in Moscow, with protests also planned in 15 other cities. They'll highlight declining living standards and the conflict in eastern Ukraine that triggered U.S. and European Union sanctions against Russia.
Protest 'Energy'
"I think the energy that is hidden in the masses can start unleashing now for many reasons," Sergei Parkhomenko, a publisher and activist who was prominent in the 2011-2012 protests, said by phone. "I will go because of the war Russia is waging in Ukraine, somebody will go because Russia lost any economic prospects, others will join because their consumption habits are affected."
The opposition "hasn't been this weak for many years," Stefan Meister, an analyst at the German Council of Foreign Relations in Berlin, said by phone. "Even when we have a growing economic crisis in Russia, there's still high support for Putin."
The 2011-12 protests catapulted Navalny to the head of a movement driven by anger at alleged ballot fraud in parliamentary elections and discontent over Putin's return for a third presidential term in 2012.
Navalny's arrest was upheld by a Moscow city court Friday, Tass reported, citing the ruling. He was detained Feb. 15 for recruiting for Sunday's rally before it had been officially approved and jailed Feb. 20.
Patriotic Support
Buoyed by a wave of patriotism after Russia's annexation of Crimea from Ukraine last March, Putin now enjoys 86 percent support, according to a survey published Thursday of 1,600 people from Feb. 20-23 by the Moscow-based pollster Levada Center. It placed the president just below October's record-matching 88 percent and well above his 69 percent rating before the Black Sea peninsula was taken.
"The patriotic 'Crimea' mobilization still is present," though polls can be "deceitful," Lilia Shevtsova, senior fellow at the Brookings Institution, said from Moscow by e-mail. "The Communist party in Russia unraveled when the polls still showed 99.9 percent approval."
Russians are nervous about the economic crisis, a survey by state pollster VTsIOM showed last week. One in three expects wage cuts to reduce their family's income in the next three months and a quarter fears they or family members will lose their jobs, according to the Jan. 31-Feb. 1 poll of 1,600 people. It had a margin of error of 3.5 percentage points.
Wage Cuts
Real wages fell in January by the most since 1999 and retail sales fell for the first time in more than five years, according to the Federal Statistics Service, as tumbling oil prices help push the economy of the world's largest energy exporter toward recession. The fastest inflation rate in almost seven years, reaching 15 percent in January, and the ruble's 46 percent slump against the dollar in 2014 eroded workers' earnings, putting Russia on track for the biggest drop in consumption in more than two decades.
The opposition's failure to gain traction in Kaluga, a region bordering Moscow that faces a slowdown in its flagship auto industry, exemplifies its lack of appeal for many Russians despite the country's economic woes. The local Volvo AB plant said this month it will halt production and cut its workforce by 30 percent, while Volkswagen AG and PSA Peugeot Citroen factories have idled at times this year as Russian carmakers brace for a 24 percent decline in 2015 sales.
Jobs, Politics
"I hope for the best and expect the worst," said Oleg Absalyamov, who works at the Peugeot plant on a six-month contract that expires March 31. "It all depends on the market, but I don't think a revolution would boost car sales."
Workers are focusing on their job prospects rather than on politics and are reluctant to take action, said Anatoly Demidov, a union leader at the Volkswagen plant.
"I'm on a forced vacation," Vladimir Sorokin, a Peugeot line worker, said after the company halted production from Feb. 23 to March 9 for what it says is a scheduled technical adjustment. "Even so, I wouldn't waste my time going to a Moscow protest. I can't even honestly say there's a difference between Navalny and Putin, not for a worker anyway."
The auto sector faces many layoffs, though unemployment in the region remains low and "I'm confident our economic situation is stable," Kaluga's First Deputy Governor Alexei Laptev said by phone.
Russians' reluctance to rebel was shown in another VTsIOM poll that found 77 percent won't join street protests, though 27 percent think they may happen. Only 16 percent would take part, according to the Jan. 10-11 survey of 1,600 people, with a margin of error of 3.5 percentage points.
'High Courage'
"Anyone who comes to this protest is demonstrating high civic courage, which is necessary if we want to reform our country," Khodorkovsky said in London on Thursday. "It's very important to demonstrate to the Ukrainian people and our own citizens that not everyone thinks the way Putin does."
The rally is the first to include Khodorkovsky as co-organizer after his release from a decade in jail by presidential pardon in December 2013. Now in exile in Switzerland, he said at the London event he is developing a plan to return Russia's economy to growth and will propose a new, non-confrontational foreign policy.
"The Khodorkovsky factor is a big unknown," Kadri Liik, a London-based analyst with the European Council on Foreign Relations, said by phone. "Some people associate big hopes with him," she said, though "I don't think he'll be a political figure comparable to, say, Boris Yeltsin, who destroyed the communist system."
Rejected Demand
The location of Sunday's march symbolizes the weakness of the anti-Putin movement. While the opposition insisted on holding rallies in central Moscow in 2011-2012, organizers agreed this time to move to Marino, on the outskirts of the capital, after city officials rejected their demand for a site close to the Kremlin.
Meanwhile, police said 35,000 marched through central Moscow at a pro-Kremlin "Anti-Maidan" rally on Feb. 21, the anniversary of Ukrainian President Viktor Yanukovych's ouster in the "EuroMaidan" uprising. Protest banners at the march, which was promoted strongly on state television, derided Putin's opponents as a treacherous "fifth column."
'Dramatic Situation'
Russia's in a "dramatic situation" and "everything depends on how many people will take to the streets in Moscow," Shevtsova said. "On the one hand, Russia is falling into economic and social crisis," she said. "On the other, Russian society is so demoralized and atomized that it has no drive and energy, so far, for a strong demonstration of dissatisfaction and anger."
An "immediate end to the war" is among protesters' demands, as well as fair elections, judicial reform, access to television, and cancellation of Russia's ban on foods from the U.S. and the EU in retaliation for their sanctions over Ukraine.
It's good the opposition "are trying to show that they are still around and that the Kremlin's view on things including Ukraine is not the only view," Liik said. "But it's not going to find very wide resonance."
The authorities' "moment of truth" hasn't yet arrived, said Shevtsova. "But there is no doubt that the protest bubbles are forming beneath the surface. They can burst at any time."
Before it's here, it's on the Bloomberg Terminal.
LEARN MORE