RadioShack to Sell Name Alone With $20 Million Opening Bid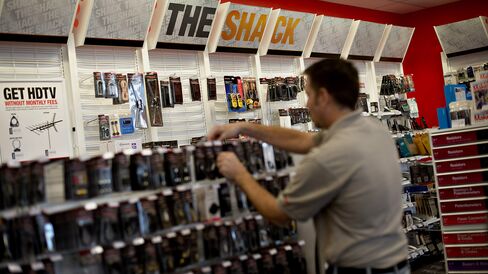 RadioShack Corp.'s biggest shareholder, already seeking to buy hundreds of stores from the bankrupt electronics retailer, agreed to a separate sale of the chain's name, with bids to start at $20 million.
The plan to break off the sale of trademarks and other intellectual property from the auction for store leases would put the 94-year-old brand up for grabs without forcing buyers to also bid on the stores.
U.S. Bankruptcy Judge Brendan Shannon in Wilmington, Delaware, approved procedures for a sale of stores, fixtures and inventory and gave permission for a March 23 auction with the offer from Standard General LP as the lead bid.
Shannon agreed with the creditors' committee that the bidding rules can't unfairly shorten the amount of time that that panel has to investigate details of the debt held by Standard General. Initially the proposed rules would have cut short the committee's right to challenge the legitimacy of some of Standard General's debt. The hedge fund plans to try to swap that debt for ownership of RadioShack assets during the auction in a process known as credit-bidding.
Greg Gordon of Jones Day, a lawyer for RadioShack, announced the arrangement Wednesday in court as he outlined a series of last-minute changes to a proposal by Standard General, which holds 10 percent of the company's stock, to buy as many as 2,000 stores.
4,000 Locations
Before the Fort Worth, Texas-based retailer filed for bankruptcy this month, Standard General agreed to bid on about half of the company's 4,000 locations, with plans to co-brand some of the stores with Sprint Corp., the wireless carrier.
An official committee of unsecured creditors has objected to various aspects of the proposal.
Susheel Kirpalani, a lawyer for the committee, told Shannon Wednesday that Standard General is negotiating to buy senior debt owned by other hedge funds to improve its ability to trade debt for RadioShack assets, rather than pay cash, during an auction. A bigger claim would give Standard General a bigger credit bid.
The 'Elephant'
Kirpalani, a partner at Quinn Emanuel Urquhart & Sullivan LLP, said it was too soon to release those entities from any liability they may have incurred before the Feb. 5 bankruptcy filing. Calling the release demand the "elephant in the room," he said it was too soon to shield those investors. The committee is seeking to investigate the funds and, if necessary, sue them to increase creditor recoveries.
Tom Howley, another RadioShack lawyer, said a unit of video-game chain GameStop Corp. is in the running for leases that the bankrupt consumer-electronics retailer put up for auction Wednesday. Spring Communications, the wireless unit of GameStop, submitted a significant bid, Howley told Shannon.
Lease Auction
The Wednesday auction is for the rest of the leases, which RadioShack plans to abandon. Even though Spring Communications is the bidder, "some locations might be GameStop" if it wins at auction, David Pollack, an attorney for landlords, told Shannon.
GameStop confirmed that it submitted a bid.
"Managing real estate has always been one of our strengths and while it is still early in the process to offer further detail, if awarded these leases the locations would be primarily used to expand the retail footprint of our Spring Mobile business, which is an exclusive AT&T dealer," Joey Mooring, a spokesman for GameStop, said in an e-mail.
RadioShack also sought approval of so-called debtor-in-possession financing. Shannon said he was skeptical about fees being charged as part of a bankruptcy loan RadioShack said it needs to keep functioning while it sells itself at the auction. Shannon agreed to approve the loan after RadioShack and the committee of unsecured creditors work out a compromise on the fees and other loan details.
The case is In re RadioShack Corp., 15-10197, U.S. Bankruptcy Court, District of Delaware (Wilmington).
Before it's here, it's on the Bloomberg Terminal.
LEARN MORE