Home-Price Gains in 20 U.S. Cities Accelerated in December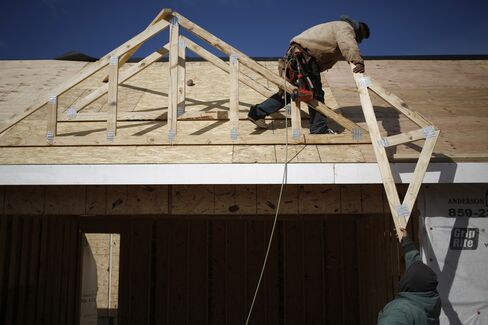 Home prices in 20 U.S. cities appreciated at a faster pace in the year ended in December, a sign that a limited supply is forcing up property values.
The S&P/Case-Shiller index of property values increased 4.5 percent from December 2013, after rising 4.3 percent in the year ended in November, a report from the group showed Tuesday in New York. The median projection of 30 economists surveyed by Bloomberg called for a 4.3 percent advance. Nationally, prices rose 4.6 percent year-over-year in December.
Moderate price gains bode well for home owners, improving their financial picture and boosting confidence. At the same time, a surge that outpaces wage growth and consumer price inflation could have undesired effects, like making homes unaffordable to young or first-time buyers and pushing them out of the market.
"If you continue to bounce around here in the 4.5 percent range for some time, that's a good, healthy pace," said Tom Simons, an economist at Jefferies LLC in New York, who correctly forecast the increase. "That's enough to keep people that are in the market happy and not enough to keep people out of the market, especially if we get some increase in wages."
Stock-index futures were little changed, with the Standard & Poor's 500 Index near an all-time high, as investors awaited testimony by Federal Reserve Chair Janet Yellen. The contract on the S&P 500 maturing in March rose less than 0.1 percent to 2,107.1 at 9:20 a.m. in New York.
Economists' estimates in the Bloomberg survey ranged from gains of 4.1 percent to 4.8 percent. The S&P/Case-Shiller index is based on a three-month average, which means the December figure also was influenced by transactions in October and November.
Monthly Gain
Seasonally adjusted home prices in the 20-city index increased 0.9 percent in December from the prior month, the biggest advance since March. Unadjusted prices climbed 0.1 percent.
All 20 cities in the index showed year-over-year gains, led by a 9.3 percent climb in San Francisco and an 8.4 percent advance in Miami. Chicago showed the smallest increase, with prices rising 1.3 percent. The year-over-year gauge, based on records dating back to 2001, provides a better indication of trends in prices, the group has said.
The advances showed a regional bias with most cities in the West plus Miami and Atlanta strengthening.
Faster Appreciation
Twelve cities, including Denver, Cleveland and Seattle, experienced larger year-to-year gains in December compared with the prior month.
Easing credit standards would help draw more first-time buyers into the market, while borrowing costs for those who can obtain credit remain near historic lows. The average rate on a 30-year, fixed mortgage was 3.76 percent in the week ended Feb. 19, according Freddie Mac in McLean, Virginia. That's still close to the record-low of 3.31 percent reached in November 2012.
Wider credit availability will mean growth for builders like Scottsdale, Arizona-based Taylor Morrison Home Corp.
"We are excited to see incremental positive changes in the mortgage market that should continue to move the recovery forward," Sheryl Palmer, the company's chief executive officer, said on a Feb. 4 earnings call. Signs of first-time home buyers and reentrants to the market suggest future growth is coming.
Other data show the residential real estate recovery remains uneven. Purchases of previously owned homes fell more than expected in January to a 4.82 million annualized rate, as a tight supply forced up prices, figures from the National Association of Realtors showed Monday.
Housing Starts
Another report last week showed builders broke ground on fewer residential construction projects in January as demand for single-family homes cooled from an almost seven-year high.
"The regional patters and the weakness in new construction and new sales may reflect decreasing mobility -- fewer people moving to different parts of the country or seeking jobs in different regions," David Blitzer, chairman of the S&P index committee, said in a statement.
Builders expect labor market gains to rally prospective home buyers to jump into the market in the busy spring season. A 257,000 month-over-month jump in payrolls capped the biggest three-month gain in 17 years, according to Labor Department figures. The unemployment rate rose to 5.7 percent from 5.6 percent as more than a million Americans streamed into the labor force seeking work.
==============================================================
                 Current Previous     3-Mth     YoY%    Index
                    MoM%     MoM%  Annual %   Change    Level
==============================================================
US 20-City         0.06%   -0.23%    -1.19%    4.46%  173.02
--------------------------------------------------------------
Miami              0.71%    0.60%     7.03%    8.40%  192.49
Denver             0.50%    0.09%     4.36%    8.14%  158.17
San Francisco      0.45%    0.16%     6.23%    9.35%  197.43
Los Angeles        0.35%    0.30%     3.63%    5.51%  226.68
Phoenix            0.18%    0.18%    -1.39%    2.42%  147.98
Atlanta            0.17%    0.17%     6.81%    5.12%  119.15
Charlotte          0.16%   -0.30%    -5.20%    3.55%  128.47
Portland           0.15%    0.06%    -6.00%    6.79%  170.70
Tampa              0.05%    0.83%     1.75%    6.42%  165.19
==============================================================
                 Current Previous     3-Mth     YoY%    Index
                    MoM%     MoM%  Annual %   Change    Level
==============================================================
Washington DC      0.01%   -0.64%    -4.05%    1.48%  207.09
Dallas             0.01%    0.11%    -0.37%    7.48%  142.77
Detroit            0.01%   -0.84%     0.37%    2.76%   97.21
New York           0.00%   -0.79%    -5.25%    1.91%  175.24
Seattle           -0.01%   -0.38%     1.02%    6.56%  169.77
Boston            -0.23%   -0.20%    -3.66%    3.79%  175.04
San Diego         -0.25%    0.32%     0.02%    4.78%  203.14
Minneapolis       -0.30%   -0.69%    -3.85%    1.87%  140.73
Las Vegas         -0.32%    0.37%     0.44%    6.91%  137.41
Cleveland         -0.52%   -0.37%    -1.21%    1.53%  105.79
Chicago           -0.91%   -1.16%   -11.94%    1.35%  126.98
==============================================================
NOTE: Non seasonally adjusted data
Before it's here, it's on the Bloomberg Terminal.
LEARN MORE