Four Ways Millennials Are Still Scarred From the Recession
You should read this if you're a young person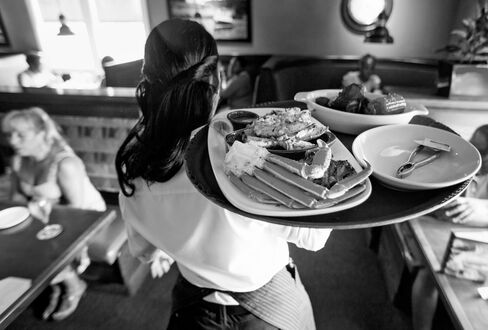 With the U.S. economy gaining steam, employers are finally hiring -- and those benefits have spread to most corners of the job market. Even America's young adults, who bore the brunt of the downturn, are starting to regain their economic footing.
That doesn't mean all is well for millennials, especially those who entered the workforce when things were at their worst. Improvements in the headline statistics mask some of the longer-lasting effects of the recession. Here are some of the scars that recession graduates may bear for a long time to come.
They may never make as much money
When you're desperate for a paycheck, you take whatever you can get. During periods of economic turmoil marked by high unemployment, job-seekers are more likely to take roles at lower paying companies, because that's what's available to them, according to a National Bureau of Economic Research paper by Yale Economist Lisa Khan. The pool of talent is bigger and more competitive, allowing employers to cut salaries.
A depressed starting salary could mean less income for decades, Khan's research showed. Setting a low bar on your payscale to begin your career makes it harder to climb the ladder. Another study found the initial losses in income endured by new graduates entering the labor force during a downturn are significant and persist for 8-10 years. It also means your annual raise could be incrementally smaller for years thereafter, eroding your lifetime earnings.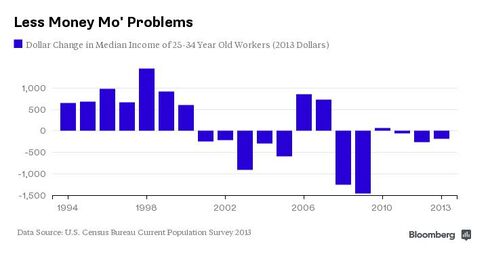 They're not leaving their low-pay jobs
Of course, you could change jobs when a more lucrative opportunity comes along, as that's often the best way to get a meaningful salary bump. The quits rate, which shows the willingness of workers to leave their jobs, held at 1.9 percent in December for all U.S. workers. Even six years into the recovery, that's still down from the pre-recession average of 2.1 percent.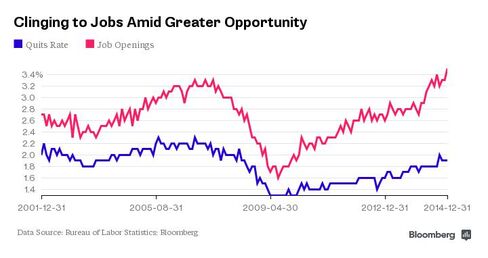 Looking at job tenure, millennials were more likely than older generations to hold onto their jobs early in their career, the Washington Post reported, citing Census data. Jobs were hard to come by during the slump, and now young people may be too scared to let them go.
What's more, the jobs they're clinging to are probably wrong for them. One study led by Ohio University professor emeritus Richard Vedder found that a larger share of graduates have taken jobs that require less than a college education. Vedder's research showed the pool of college-educated workers was disproportionate to the demand for skilled laborers, forcing a growing number of graduates to take jobs which historically have been filled by those with lower levels of educational attainment.
By being less picky and taking jobs out of necessity during the recession, many graduates pigeon-holed themselves to industries they weren't interested in or jobs below their skill level.
It's been even worse for low-end workers. They had to contend with higher-skilled workers who were pushed out of better-paid positions in the recession--think of the college-educated 20-something who got fired by his advertising agency and resorted to waiting tables to pay the bills. BLS data show 20.4 percent of bartenders 25 and older have a bachelor's degree or higher. That pushes lower-skilled workers into even lower paying jobs -- or even worse, unemployment.
They turned into awful investors
Their risk aversion extends beyond job hopping. The economic circumstances we live in have a major impact on how people spend and invest their money. For young people, many of whom don't remember or weren't alive during boom times, putting money in the stock market is too dangerous of a proposition.
Millennials have continued to forsake the stock market, a Gallup poll from last April shows. Instead of plunging into equities, which can provide better returns over the long run, young people are stashing savings in bank accounts and securities that pay near-zero interest.
A UBS Wealth Management survey last year found that millennials hold 52 percent of their assets in cash and 28 percent in stock, while older cohorts hold 23 percent in cash and 46 percent in stocks.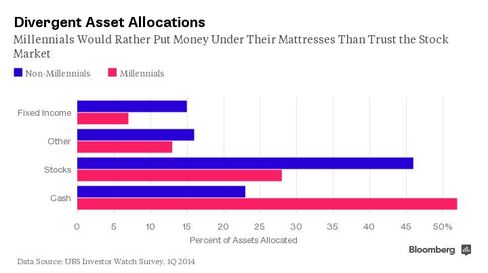 The effect is exacerbated by the fact that young people have a shorter frame of reference. While their older counterparts saw some ups and downs in their day, young adults are more likely to change their behavior based on one bad year because of limited experience, according to a paper from National Bureau of Economic Research.
They're drowning in student debt
During the recession, education loans became the largest share of household debt excluding mortgages. Balances more than tripled to $1.2 trillion in 2014 from 2004. In that time period, the average balance increased 74 percent to $27,000, and the number of borrowers skyrocketed 92 percent. It's the 800-pound gorilla on young adults' backs.
Among the consequences: Young people will probably need to work for so much longer than previous generations. NerdWallet, a personal finance website, estimated that the average retirement age for recent college graduates will be 73, or 12 years older than the average age of today's retiree--mostly due to higher levels of education debt.
A misstep in paying off student loans can also imperil young people's home ownership prospects, New York Fed researchers also found. Delinquencies can destroy a person's chances of getting a mortgage, especially at a time when credit is tight.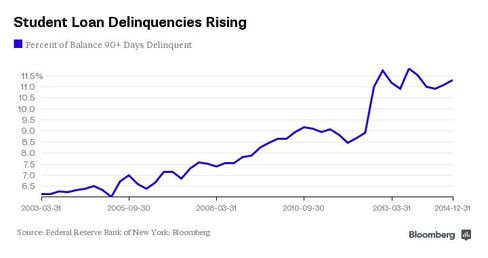 The share of loans that were officially delinquent—at least 90 days overdue—rose to 11.3 percent in the last three months of 2014, up from 11.1 percent the previous quarter.
For more, read this QuickTake: Recession's Lost Generations
Before it's here, it's on the Bloomberg Terminal.
LEARN MORE