Oman Producing All-Out on Oil as Price Rout Seen Over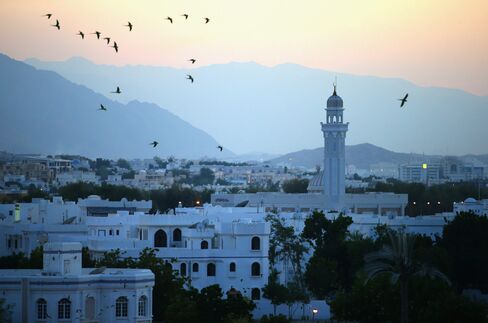 Oman, the biggest Middle Eastern oil producer that's not a member of OPEC, is boosting crude output to as much as possible with the global price rout over, Salim Al Aufi, undersecretary of the oil and gas ministry, said.
Oman will produce 980,000 barrels a day this year, Al Aufi said in an interview in Muscat on Sunday. That would be 4 percent higher than in 2013, according to BP Plc data. Oman will provide 2014 production figures in April, Al Aufi said.
"It's crucial that we continue executing the future projects," Al Aufi said. "It's crucial that we continue the seismic activities and the exploration activities because when the market turns around, we need to have these opportunities identified and ready to go."
Rising supply from the U.S. to Russia and slower growth in China, the world's second-biggest oil user, are contributing to a worldwide crude surplus that Oman estimates at 1 million barrels a day. Brent crude futures have climbed 4.3 percent this year and were 42 cents lower at $59.80 a barrel on the London-based ICE Futures Europe exchange at 8:54 a.m. local time. The contract fell 48 percent last year.
"Has it bottomed?," Al Aufi said, when asked about the oil price. "It probably did."
Governments in the region have had to reduce subsidies on diesel, natural gas and utilities while companies cut billions from capital budgets because of low oil prices. Qatar Petroleum and Royal Dutch Shell Plc called off plans to build a $6.5 billion petrochemical plant.
Oman's Budget
Oil and gas accounts for 79 percent of Oman's revenue, Al Aufi said. With a projected deficit of 2.5 billion rials ($6.49 billion), Oman's 2015 budget assumes an oil price of $75 a barrel, he said. A balanced budget would need oil to be over $100, he said.
Oman has no plans to join the Organization of Petroleum Exporting Countries, which controls about 40 percent of the world's crude output, he said. Saudi Arabia, the world's biggest oil exporter, led OPEC's decision to keep output targets unchanged rather than cut production to boost prices.
"If you're a member of OPEC then you will follow," Al Aufi said. "We like to stay independent as much as possible unless we can influence the decision that will be taken by whatever organization."
Reducing Costs
Oman's oil ministry asked energy companies about three weeks ago to review their costs to ensure production is still economical, he said.
"There are indications that there will be some cost reduction," he said. "Not activity reduction, cost reduction."
The government is still in talks with Iran to build a natural gas pipeline, he said. In March, Iran announced that it signed an agreement to build a $1 billion pipeline to transport natural gas from the South Pars field to Oman.
"The intentions are still there, that at some point in time we start importing gas from Iran," Al Aufi said. Natural gas demand in Oman is growing six to 10 percent a year and domestic prices will increase at least 3 percent a year, he said.
Before it's here, it's on the Bloomberg Terminal.
LEARN MORE